View of Ulyanovsk from my 20th floor hotel room
On a Sunday evening in Ulyanovsk, after the Give Birth to a Patriot ceremony, I found myself in a movie theater watching Wanted, the new Russian-directed Angelina Jolie flick, with a 19-year-old prostitute named Katya. At least she said she was a prostitute. I met her while doing man-on-the-street interviews during the ceremony, and we ended up getting sloshed at an Aztec-themed nightclub a couple miles from Lenin's birthplace. After downing three champagnes and one small bag of salted calamari chips, she took me out for a guided tour of the city. Along the way, she told her life story to me, including the three johns she had just serviced the night before. The only thing she wanted from me was a ticket to the movies.
After Wanted ended, she led me into a local shopping center because she needed to buy some lip gloss. She was going to work later that night and she needed to cover up the huge herpes sore on her upper lip.

A sign outside the airport reads: "Welcome to Lenin's Homeland"
Katya was a mix of Russian and Tatar, and it showed in her flat round face and high-set eyes. She was wearing black tights, a skimpy neon green mini-dress with the words "LOVE TO LOVE" printed across in bold letters, and cheap platform sandals. All in all, she dressed not much differently from the other girls strutting around town…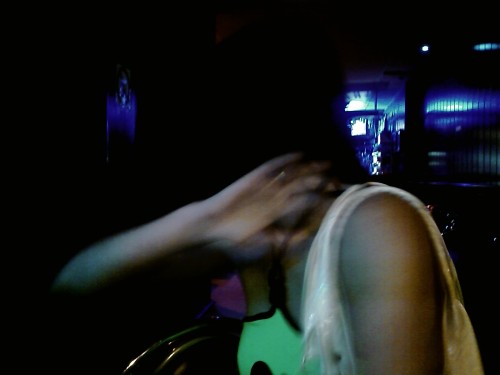 Waiting for the film. Katya is camera shy.
Finally we leave the shopping center and she flags down in a Lada and we start making a wide circle around town.
"See that," she said proudly pointing to a huge statue. "That's a statue to Aliyev. We have a very big Azerbaijani community here." As it turned out, she had some Azeri blood in her as well.

Aliyev Sr. is about as tall as the city's main Lenin statue.
We drive around town in a wide circle, past a beach with cemented shores, past low, slanted pre-revolutionary wooden houses, the same kind that Lenin was born and raised in. Some of them had been recently leveled to make room for the brick high-rises. But even they have a drab, dusty and abandoned quality. In untended front yards, weeds grew to shoulder length. It had been raining here for an entire week and most of the sidewalks had turned into an impassable mix of mud, wooden planks and cracked concrete. Yet some of the roads were freshly paved.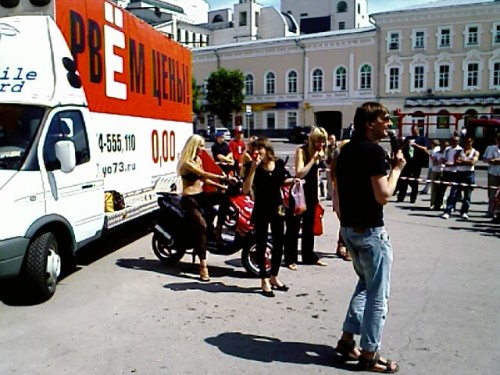 Tomato eating contest on the streets of Ulyanovsk. Whichever girl manages to eat four tomatoes first, wins a t-shirt and a baseball cap with the mobile operator's logo on them.
Somehow the subject of the local governor comes up. "Morozov is better than the previous governor," says Katya as we cruise through the center. "But he still steals a lot. They paved these in roads right before the winter and they had already fallen apart by spring time."
We pull up to a kiosk so that I get a refill on my beer. "You know, we only recently got kiosks," she says optimistically. "Yes, it was bad two years ago. You couldn't buy any cool clothes or jewelry, even good makeup was hard to find. It was too expensive for us. Today it seems like a completely new city, you wouldn't recognize it." She was referring to a couple of malls and a dozen restaurants that opened up in the center. Katya has dreams of her own to ride Ulyanovsk's economic resurgence. After she graduates from a local institute with a economics degree, she plans to open up a chain of tailor shops with a cheesy and catchy name that I can't remember, something like "Stitched Up Services."

The house where Lenin spent his childhood is now hidden in the courtyard of a huge Soviet building
I ask her what she thinks about women going into forced labor in order to win the Give Birth To A Patriot prize. Would she do it herself?
She giggles. "I can't help but laugh when you say that. It sounds funny."
"Well, why not," she says after a few seconds of thought. "If I was due for June 13, I'd ask the doctor to start my pregnancy early, sure. It would be good for the little one and presents don't hurt anyone, especially if it is money." I tell her most women got 10,000 rubles, about $400. "Are you kidding?! For that kind of money, of course I would."
We drive across a long and narrow bridge built before the revolution. Even at 9 p.m., it is congested.
"There's probably a traffic accident," Katya says. On the other side, a huge suburb stretches on as if it is a separate town. It was built in the 80s to house the tens of thousands of workers toiling at the newly built Aviastar plant. According to the locals, it is the biggest aero-industrial complex in Europe. It now works at about 10% capacity, if that.
She quiets down and gets introspective. "You know, it's really bad here. There are no jobs. Most of the guys here are bandity. Most of them end up driving trucks and the rest are sitting behind bars or are on drugs." What drugs? "Heroin."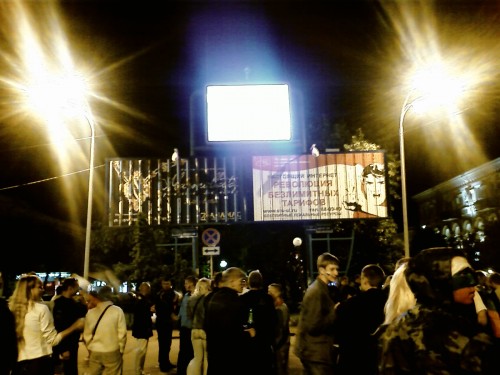 In the center of town, a few hundred young gopniks watch Russia get slaughtered by Spain in the Euro Cup semi-finals and then go on a drunken tear through the city. The next day, the city's fountains were clogged with broken bottles.
"I think this turns into a tochka when it gets dark," she says pointing as we drive by an abandoned playground. "If you need girls, you should come to this side of the Volga. Girls here are half the price as girls on the other side. An hour will cost you no more than 500 rubles ($20) and the girls are younger." According to Katya, this has to do with the fact that the Soviet government populated the neighborhood with people from surrounding villages. Because villagers tended to have more kids, they birthed an abundance of girls in the late 80s and then found themselves out of work. Naturally, this set the conditions for fierce competition in the prostitute sector.
By the time we crossed the bridge back the center it was around 11 p.m. and time for Katya to make the call so that her pimp could pick her up. "It's interesting work. I like it. I get to find out things about all sorts of people, in every layer of society."
Hotel lobby bathroom. Notice the waste bin. It's for shit-soiled toilet paper.
Check out the accompanying article on Ulyanovsk's baby-boosting competition, which first appeared in Moscow's Bolshoi Gorod. You can contact Yasha at levine@exiledonline.com.
Tweet
Read more: photo essay, Russia, russian travel, ulyanovsk, Yasha Levine, Russia Babylon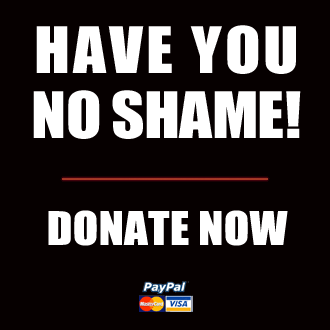 Got something to say to us? Then send us a letter.
Want us to stick around? Donate to The eXiled.
Twitter twerps can follow us at twitter.com/exiledonline