Dude

Where's

My

Oscar?
SHOW TIMES
All films shown in Russian, except those marked * (subtitled) and as otherwise indicated.

AMERICAN HOUSE OF CINEMA
Radisson-Slavjanskaya Hotel
M: Kievskaya, 941-8747
(All films in English; Russian headphone translation Tue.-Sun.)
Enemy at the Gates Apr. 6: 20.30; Apr. 7: 18.00, 22.00; Apr. 8: 16.30, 20.30; Apr. 9-12: 20.30; Apr. 13: 18.00, 22.00; Apr. 14: 14.00, 18.00, 22.00; Apr. 15: 15.30, 19.30
Traffic Apr. 6: 18.00; Apr. 7: 14.00; Apr. 8: 14.00
Dude, Where's My Car? Apr. 6: 23.00; Apr. 7: 16.30, 20.30; Apr. 8-12: 19.00; Apr. 13: 20.30; Apr. 14: 16.30, 20.30; Apr. 15: 14.00, 18.00

DOME CINEMA
18/1, Olympiysky prospekt
M: Prospect Mira, 931-98-73
(All films in English; Russian headphone translation by headphones)
Crouching Tiger, Hidden Dragon Apr. 5: 21.30; Apr. 6-8: 19.00, 21.30
Snatch Apr. 14: 14.20, 16.30, 19.00, 21.30, 23.45; Apr. 15: 14.20, 16.30, 19.00, 21.30
What Women Want Apr. 5: 19.00; Apr. 6: 17.00, 23.45; Apr. 7: 16.30, 23.45; Apr. 8: 16.30
102 Dalmatians Apr. 7-8: 12.30, 14.30; Apr. 14: 12.30; Apr. 15: 12.30

35 MM
47/24, Ul. Pokrovka
M: Krasnye Vorota, 917-5492
Human Traffic Apr. 6-11: 9.00, 11.00, 13.00, 15.00, 17.00, 19.00, 21.00, 23.00, 01.00; Apr. 12: 9.00, 11.00, 13.00, 15.00, 17.00, 01.00
The Princess and the Warrior Apr. 12: 22.00, 01.00; Apr. 13: 9.00, 14.00, 16.30, 19.00, 21.30, 01.00; Apr. 14-15: 9.00, 11.30, 14.00, 16.30, 19.00, 21.30, 01.00

KODAK-KINOMIR
2, Nastasyinsky pereulok
M: Pushkinskaya/Chechovskaya, 209-4359
Traffic Apr. 5: 9.00, 11.50, 16.50, 21.50; Apr. 6: 11.10, 14.00, 21.30; Apr. 7-8: 13.40, 21.10
Enemy at the Gates Apr. 6: 19.00; Apr. 7-8: 11.10, 16.30
Six-Pack Apr. 5: 14.40, 19.40; Apr. 6: 9.00, 16.50, 00.20; Apr. 7: 9.00, 19.00, 00.00; Apr. 8: 9.00, 19.00

GORIZONT
21/10, Komsomolsky prospekt
M: Frunzenskaya, 245-3143
Dude, Where's My Car? Apr. 5-15: 9.00, 11.00, 13.00, 15.00, 17.00, 19.00, 21.00, 23.00, 01.00

ROLAN
12a, Chistoprudny bulvar
M: Chistye Prudy, 916-9190
Chicken Run Apr. 5: 10.30, 12.15; Apr. 6-8: 12.00
102 Dalmatians Apr. 5: 13.00
Traffic Apr. 5: 14.00, 15.00, 16.45, 17.45, 19.30, 20.30, 22.15, 23.15; Apr. 6-11: 11.00, 13.45, 16.30, 19.30; Apr. 12: 13.45, 16.30, 19.30; Apr. 13-14: 20.00, 23.30
The Watcher Apr. 13-14: 13.30, 18.00, 22.45
Mystery Apr. 6-8: 16.45, 21.00; Apr. 9-12: 16.45
Enemy at the Gates Apr. 6-8: 14.15, 18.45, 23.00; Apr. 9-12: 14.15, 21.00, 23.30; Apr. 13-14: 11.00, 15.30, 21.00
Billy Elliot Apr. 9-12: 12.00, 18.45; Apr. 13-14: 12.00, 14.15, 16.30, 18.45

PUSHKINSKY
2, Pushkinskaya ploshchad
M: Pushkinskaya/Chechovskaya, 229-2111
Dungeons & Dragons Apr. 5-15: call for showtimes

Well, they went ahead and done did it, honoring Gladiator above all other films at this year's Academy Awards. True, it did not win in all 12 nominated categories as I had been hoping would occur, but five trophies (including best picture and lead actor) ain't too shabby for such a paragon of mediocrity. Still, assuming just for a second that we should take the Oscars at all seriously, it's the triumph by TRAFFIC in four of five categories that really ought fill us with shame and anger.
Let's consider the wins one by one.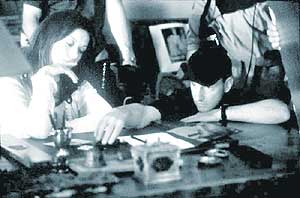 Stephen Soderbergh, best director. This is a joke and an insult, pure and simple. I won't even get into the fact that Ang Lee should have had no real competition in this category. Soderbergh is a pretentious twerp who's as untalented as he is unimaginative. His acclaimed directing here (in at least his last four films, actually) is an unsightly mishmash of pointless stylized gimmickry and appropriations from more capable filmmakers. Here's just one hint to Mr. Soderbergh for future reference: if you find yourself using off-putting chiaroscuro lighting filters to differentiate between the action of your four jumbled subplots, then you might want to consider rethinking the whole picture before you even pick up the camera. Essentially, this film de-monstrates that Soder-bergh is more of a photographer (and not even an interesting one, at that) than a filmmaker. Not unlike the "Portuguese" photographer in Fear and Loathing in Las Vegas, he just keeps attempting different combination of films, lenses, and angles in hopes that he'll finding something that works. Unfortunately, he never bothers to work the resulting mess into a cohesive whole that makes any kind of sense stylistically or dramatically. But the worst thing about Traffic is that it's like watching a remake of Heat made by an utterly humorless fuck who has failed to recognize the latter film's unapologetic B-movie heart. Viewed from the proper perspective, Heat is a laugh riot almost from start to finish. Traffic has not a single funny moment or line, whether intentional or otherwise.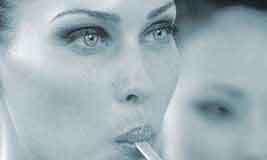 Stephen Gaghan, best adapted screenplay. Talk about humorless, pretentious twerps. As a writer, this guy is not only completely hopeless, but also superficially ambitious—sort of like a less-accomplished (but not for long, apparently) Paul Thomas Anderson. The comparison is apt, as I have not so thoroughly despised a film since it took me nearly a week (in 15-minute home-video sessions) to get through the latter's Magnolia. And now, thanks to the excessive critical acclaim heaped upon Traffic (and the screenplay in particular), we can look forward to plenty more Gaghan-penned crap. God forbid, he might even directing a picture or two before his 15 minutes are up. To get an idea of just how despicable this Gaghan fuck is, consider the character which is obviously meant to be the writer's younger self—the prep-school hard-drug dilettante who helps to turn new Drug Czar Michael Douglas's daughter into a crack whore. Played none too convincingly by Topher Grace (one of those adorable little scamps from the overrated Fox sleeper hit That 70's Show), this character has perhaps the most ludicrous misplaced message-monologue (deconstructing Douglas's hypocrisy against a blue-filtered Ohio inner-city backdrop) in a film that's chock-full of the damn things. It's not hard to imagine how such an over-privileged dickhead, the kind of moron who'd rather do crack than speed just because it's "cool" and "edgy," could grow up to write a film like this. But to reward this behavior with an Oscar and half a dozen other major awards (not to mention further work in the industry) should be regarded as a felony offense. I gave a hint to Soderbergh for future reference, so here's one for Gaghan: very few people outside of Alabama would consider "coercion" and "immunity" to be extraordinarily big words.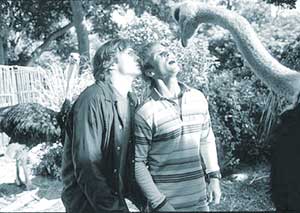 Stephen Mirrione (why are these guys all named Stephen, with a "ph"? Must be some Heathers-type thing), best editing. This is a tough one, considering that Mirrione was given the unenviable job of making some sense out of Soderbergh's clumsy, gimmicky direction of Gaghan's jumbled mess of a screenplay. Still, while there's no evidence that he personally made the film worse than it was when handed over to him, nor is there any indication that his editing resulted in any significant improvements. Besides, how this award could be given to any film other than Crouching Tiger, Hidden Dragon is beyond me.
Benicio Del Toro, best supporting actor. To be honest, it's hard to get too upset about this one. Del Toro was one of the few members of Traffic's enormous ensemble cast whose performance never once made me want to wretch, and he was probably the most deserving of the five nominated actors. Besides, Del Toro seems like a likable enough guy and is a personal friend of Hunter S. Thompson. Nevertheless, his portrayal of an honest Tijuana cop caught between the DEA and Mexican drug cartels was more solid than it was exceptional. If they were dead set on honoring a Hispanic actor from Traffic, they might have looked to Clifton Collins, Jr., in the lower-profile but more richly nuanced role of the feared but fickle assassin Francisco Flores. Then again, they could have recognized the guy who really deserved it—Chang Chen in Crouching Tiger, Hidden Dragon. Neither of these actors was even nominated, of course.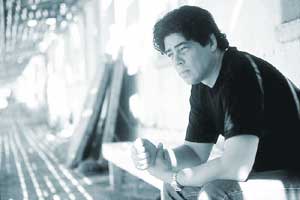 There has been a lot of talk about whether Traffic is pro- or anti-Drug War. The truth is, it makes an occasional show of being ambiguous and equivocal, but it also pretty clearly recognizes which side of the issue its bread is buttered on. Consider it this way: just as no Congressman (at least not one who has any aspirations of being reelected) will ever vote against the War on Drugs, and neither will a major Hollywood film.
About the only good thing about a totally overrated turd like Traffic is that it enables you to truly appreciate a simple pleasure such as DUDE, WHERE'S MY CAR? This is the kind of film that will never win an Oscar. Unlike Traffic, however, it has not the slightest need of such validation.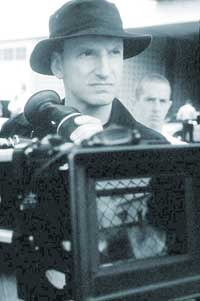 Unabashed stupidity should be the rule rather than the exception in teen comedies. Unfortunately, that basic rule has largely been forgotten over the last 15 years. But this flick serves as a happy reminder that at least a few young filmmakers have not forgotten the lessons taught by John Hughes and "Savage" Steve Holland at their prime.
Never mind that Ashton Kutcher is another star from That 70's Show taking his first tentative steps to the big screen. And never mind that he's a teenie mag heartthrob pretending to be a total loser. Costar Seann William Scott, who must be the most likable idiot frat-boy type in movie history, more than makes up for any ill will Kutcher might engender. There's also a palpable chemistry between the two—especially in the film's series of irresistibly repetitive exchanges, which are reminiscent of what I imagine Abbott and Costello's classic bits to have been like.
To ramble on any further would be to take Dude, Where's My Car? more seriously than does the film itself. And that is a path that leads to the world of stygian Stephens—Soderbergh, Gaghan, et al. In some rare cases, this brings with it Oscar-night glory, but that ain't nothing anyone should be striving for. I'll take a handful of inane boob gags any day.
My only caveat is that Dude, Where's My Car? is not a film with a lot of repeat-viewing potential. I should know—I watched it twice during the initial U.S. release, both times in nearly empty theaters. But it is a good laugh the first time through. Which is a hell of a lot more than I can say for Traffic.