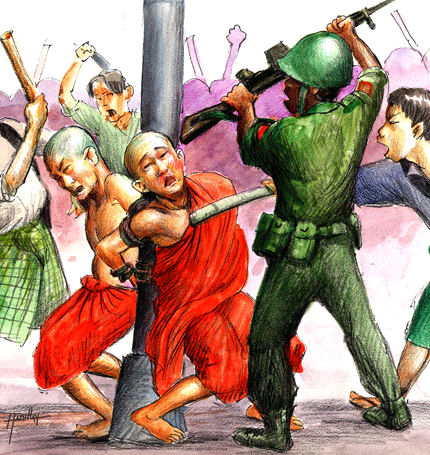 From The eXiled's Special Australasia Correspondent
PERTH, AUSTRALIA–Myanmar's been making news lately, especially here in Australia. Most of it involves Kevin Rudd, our Foreign Minister, who's gone there on a diplomatic mission, making weird pleas to the Burmese government not to kill Aung San Suu Kyi (as if they'd ever want to do that):
…it is absolutely critical that the Burmese government guarantee Aung San Suu Kyi's security while such a tour of the country was undertaken. I believe all governments around the world would be looking very carefully at how the security is provided for by the government.
If you aren't fluent in embassy-speak, this is what Rudd's really implying: "They're gonna kill that poor woman! They're gonna kill that PAAAW woman!" (more…)