By Gary Brecher
If you have friends or relatives who believe people are basically good or any such nonsense, give them this book for Christmas. It'll straighten them right out. People talk about "the banality of evil" but this is so much gnarlier than that. These guys wouldn't even get that notion. The only people they feel sorry for are themselves, because they have to sit in prison for a while before the UN lets them go. They talk about their "misfortune" meaning the fact that they got arrested. In a way they're right, because they're just about the only Hutu murderers who got caught and punished at all.
The rest fled into the forests of Eastern Congo. They're the "refugees" that Orla Guerin feels so sorry for: the frickin' monsters who did their best to kill the whole Tutsi population of Rwanda in ninety days, like they were on one of those timed shopping sprees.
They didn't change their ways in Congo, either. The Hutu militias kept their machetes ("pangas"), kept tight control of their people, and kept in practice by raiding local villages for women and girls. They're famous for branding the women they capture like cattle, marking them as sex slaves forever. Sometimes they let them go, when they're pregnant, so they can go back to their villages with a Hutu rapist's baby in their belly. That must be a fun homecoming. But most of the time, when they get tired of the woman they drag her into the forest, hack her to death, and leave her there for the animals.
You might be wondering where these fine specimens of humanity get their food and water. Well, the UN, always ready to take the wrong side in any conflict, was right there to help them with food and water as soon as they fled from Rwanda when the Tutsi RPF advanced and retook the country in a few weeks.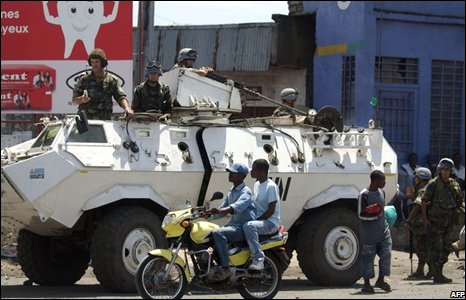 It's a funny thing, the way the UN was there so fast to help these miserable pigs, because nobody did a thing while almost a million Tutsi were being killed. It takes a while to kill that many people by hand. It's downright aerobic. And nobody, absolutely nobody, did a thing while machete season was in progress. Oh, but the second the defeated Hutus, still dripping babies' blood, fled across the border, the blue helmets and white trucks were there with sacks of rice and consolation.
Until recently there was no real explanation for this. Me, I didn't think we even needed one: that's how it is, especially in Africa. The bad guys always win, and the virtuous BBC reporters always take their side. Well, I still think that's generally how it is, but one piece of the puzzle has gotten a lot clearer lately. I'm sad to say that the French were knee-deep in blood themselves, all through machete season, according to an independent report that came out in August 2008. Even I was shocked by how bad it was. According to this report,
"France was responsible for killing some of the 800,000 people slaughtered in Rwanda between April and July 1994, most of them minority Tutsis or moderate Hutus killed by Hutu militias.
"French soldiers themselves directly were involved in assassinations of Tutsis and Hutus accused of hiding Tutsis," the report said. "French soldiers committed many rapes, specifically of Tutsi women."
France's late president, Francois Mitterrand, and former prime minister Dominique de Villepin were among a dozen French officials fingered in the report for providing support of 'a political, military, diplomatic and logistic nature.'"
I wish now I'd never defended the French's military rep the way I did back when all the NeoCons were bashing them. Got a ton of abuse for that, and for what? So they could help wipe out the Tutsi, "the tall people," one of the bravest, smartest, most soldierly tribes in the world. And all because the French liked the way the Hutu spoke French. That has got to be the most fucked-up reason for backing a genocide I've ever heard: "Ah, M'sieu, eez true zey killed babeez, but zey are so fluent! Zee Hutu would nev-air use zee wrong pronoun; when zey said, "We have come to Keel you, leetul child," it was al-vays 'tu' and when zey said 'Now we will keel you, old man,' or 'old woman,' eet was zee respectful 'vous'! And zeir accent, so Parisian!"
Yeah, a little revenge for the French I had to take in high school. The pious Europeans love to talk about how Central Africa is the heart of darkness, how deep and dark and existential it all is, but they never want to mention how much they help keep it that way by always, always, always backing the most evil fuckers in the whole forest. I knew that about the Brits; they've done things so awful in Africa that there's a whole publishing industry in London with the job of making sure the truth never comes out. Which is why you get stories like Orla Guerin's or that crap in the Guardian. And the funny thing is that the "progressive" newspapers and networks over there are the biggest liars, the best genocide-enablers around.
Well, now I see better that the French are just as bad. I kind of thought they might not be; there's always been this joke among military buffs that the French lose wars because they actually believe in fighting by the rules. I remember reading this furious letter Queen Elizabeth sent to Henri IV—a really great man, greatest man of his time—cursing him for not wiping out the whole population of this Catholic town during the wars of religion. But nah, this current crop of French, they're just as bad.
Nkunda will be dead soon. You can count on it, when all the "good" people are lined up against him. And those poor, poor "refugees" will be free to kidnap Tutsi girls and rape them and hack them up with their beloved pangas, and Orla can report that peace has returned to Congo now that the "rebel" is gone.
Read more: BBC, Congo, Goma, Laurent Nkunda, Tutsi, Gary Brecher, The War Nerd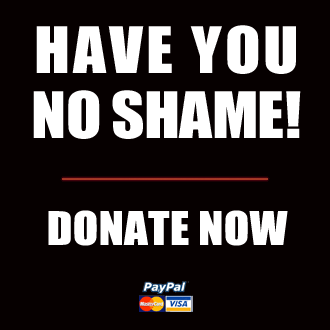 Got something to say to us? Then send us a letter.
Want us to stick around? Donate to The eXiled.
Twitter twerps can follow us at twitter.com/exiledonline