By Gary Brecher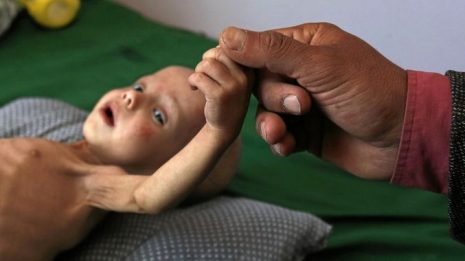 Radio War Nerd subscribers suggested reposting this newsletter on Yemen open to the public. Subscribe to Radio War Nerd on patreon!
We're living through a massive artificial famine, right now. In NW Yemen, home of the Yemeni Shia who've fought off a Saudi-financed invasion, the "coalition" of invaders has settled on a slower, more effective strategy: artificial famine and blockade. This is how you kill off a troublesome population, not with bombs and guns alone. Hunger and disease are much better mass killers than firearms and bombs.
NW Yemen has been blockaded for years now. And the Saudi strategy is working well. Yemen has had up to amillion cases of cholera, an illness unheard of in countries with modern antibiotics. Untreated cholera is fatal in about half of all cases (versus 1% when normal treatment is available). Since medical supplies are being blockaded (with the help of the US Navy), and few journalists have made much effort to find out what has been going on in the blockaded areas, we may be dealing with an unreported death toll of half a million people, most of them children.
Yemen is a perfect target for artificial famine and blockade, because it never had enough farmland to feed its people. Before the Saudi invasion, Yemen imported almost 90% of its food supplies. When the Saudis imposed their blockade, cutting off all food imports to Hodeidah, the one Red-Sea port serving NW Yemen, those imports stopped. There has never been any alternative route for food supplies to Yemen. Even before the war, road traffic between Saudi and Yemenwas all but shut down. (Which is why, in a year spent a few miles from the Yemen border, I went up to the border many times, looked over it, but never gave a thought to crossing it. It would never have been allowed.)
So NW Yemen is closed off very nicely, from the Saudi view. Which is also the view of the US, UK, UAE, Israel, Kuwait, and the oil companies — basically, anyone who matters in this world. Shia Yemenis are dying at a very satisfactory rate, children first (because children are always the first to die in long sieges like this).
The next step for the Saudi-led "coalition" will be taking Hodeidah, the Shia provinces' one source of food and medical aid. That operation is well underway as I write.
Last I've heard, Sunni forces are only a few km from Hodeidah town, and the Shia may choose to evacuate, withdraw inland to the mountains where they can fight more effectively against the expensive air power and armor of the invaders.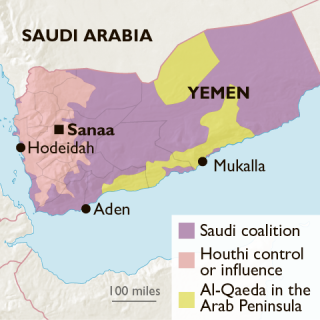 The coalition attackers have taken a sensible approach to conquering Hodeidah, coming from the south along the coastal plain, where air and armor are at their most effective. There's talk that this strategy was pushed by the UAE, which has bought some highly-placed foreign officers (including a US Lt. Col. who somehow insists he's not "in" the UAE military, though he wears the uniform and draws God-knows-what insane salary from it) — and plenty of mercenaries, from places as far afield as Sudan (plenty of unemployed ex-Janjaweed throat-slitters looking for work these days) and Colombia, where there's also a surplus of experienced killers.
The Saudis, who've been a disaster militarily from the start of this war, stalled out along the mountainous northern border and are now just trying to stop Shia technicals from overrunning any more Saudi towns along the border. So this advance toward Hodeidah from the south not only means the death of many inland civilians, it also shows the fracture-lines within the Saudi/UAE alliance running the invasion, suggesting that down the line a few months, even more Yemeniswill die as factions backed by the UAE fight others sponsored by Riyadh over who controls the conquered territory (think Saruman's vs Sauron's Orcs).
When the Shia fighters pull out — or even if they stay and make a last stand in the rubble of Hodeidah — the blockade will be airtight. From then on, it's just a matter of waiting for the blockaded population to die off in such numbers that they lose the will to fight.
It happens pretty quickly. You, a Shia fighter, might be willing to die fighting the invaders, but you're less likely to be willing to watch your children die. You'll give up eventually, and the "invaders" who failed on the battlefield but won by blockade will roll triumphantly into your towns as if they were brave warriors.
It's happened before. It's how the Nigerian Army crushed the Igbo in Biafra in the 1960s. The Biafrans won on the battlefield, but the Nigerian Army was as well-connected, world-wide, as it was cowardly and corrupt. So it laid out big money to its foreign friends and got a very cooperative silence while it starved Biafra to death. That huge international silence had a lot to do with oil and money, just as this one does. When oil, money, and a huge international alliance all line up with the people starving out a troublesome minority, you can expect a complete media blackout on news about those who are dying.
And you're living through one of those guilty silences right now. Very few journalists have shown any interest in reporting the suffering imposed by the blockade. One of the few to try is RWN guest Bethan McKernan, who just published the only story I can find in English about how losing Hodeidah will cause massive death among the Shia.
All the other media reports I've found on Hodeidah are so wildly pro-Saudi they read like parody. Here's one example from the Saudi mouthpiece Arab News:
"…the failure of negotiations compels [the Saudi-led coalition] to enforce this military solution that will cut off resources from the Houthis once and for all, ultimately shifting the balance of the war and ending the suffering. It is not just a military objective, but a moral imperative." 
Did you catch that? Tightening the blockade by capturing Hodeidah is a "moral imperative." And that was the English-language version, the soft sell aimed at foreigners. (Arab News is aimed at Anglo expats with money living in KSA, and routinely soft-pedals stories to push the "reformist" image of MbS and the other bin Salmans, one of whom is the boss of Arab News's parent company.)
Other media in the Sunni world had a more openly bloodthirsty, gung-ho tilt. After all, it was only a decade ago that Bandar, one of the most powerful Saud princes, warned that the Shia had provoked the Ummah's Sunni majority to the limit, and would soon meet their doom:
"Prince Bandar bin Sultan, once the powerful Saudi ambassador in Washington and head of Saudi intelligence…had a revealing and ominous conversation with the head of the British Secret Intelligence Service, MI6, Sir Richard Dearlove. Prince Bandar told him: 'The time is not far off in the Middle East, Richard, when it will be literally "God help the Shia". More than a billion Sunnis have simply had enough of them.'"
Another Saudi mouthpiece journal, Asharq Awsat, published in London but funded from Riyadh (and run by yet another bin Salman brother) gloated much more openly:
"The Saudi-led coalition and the legitimate forces will be able to tighten the siege on the coup militias and close the last important port it controls after the liberation of Hodeidah governorate and its strategic harbor."
Asharq Awsat apparently didn't get the PR memo that the conquest of Hodeidah should be spun as a way to open up humanitarian aid. No, they're saying the inconvenient truth of the operation, that its goal is to "tighten the siege…and close the last important port…" supplying the Shia provinces of the interior.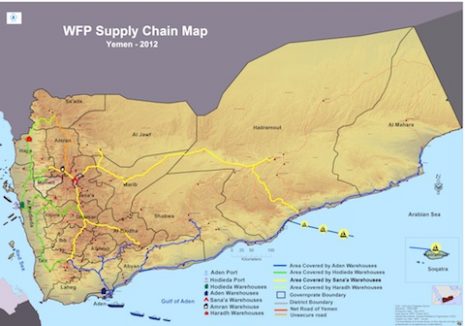 So the situation is lining up very nicely, militarily, for the UAE, Saudi, and their friends in D.C. and London. All you need to tighten the noose at this point in a campaign of extermination by famine/blockade is the silent collusion of world media.
And Lord, how happy the Anglo media have been to supply that last necessary element! Compare this silence to alleged starvation stories from Sunni regions of Syria.
If there was even a rumor that Sunni Syrians might be going hungry, every mainstream media outlet was all over the story. If their CIA-funded shills from the White Helmets made ridiculous claims of massacres and giant famines, later disproved, you could count on everyone from BBC to CNN to blast them over every TV in the Anglosphere.
But the hundreds of thousands of verified, real famine and epidemic cases in Yemen get very little coverage. There's nothing subtle about why not. The Syrian Sunni jihadis were de facto allies of the US/UK/Saudi/Israel/UAE bloc. So their suffering needed to be amplified. The Shia Yemenis can be slandered with one word: "Iran." Anything touched by Iran, for Anglo media, is inherently evil, and anything done to those so tainted needs no further justification. The "Houthi," i.e. the Shia of NW Yemen, are allegedly puppets or proxies for Iran, the Shia Mister Big of journalistic imagination, and therefore legitimate targets for even the nastiest war of extermination (such as by hunger and disease.)
Just by the bye, the Iranian connection is mostly nonsense. The Shia of NW Yemen have been fighting against Sunni imperialists since the Ottomans tried to take their mountain villages centuries ago. They had no Iranian help then, and get very little now. The Sunni forces sent against them have always been the true foreign interlopers, featuring everything from Albanians to Egyptian contingents. But that kind of influence is just a normal fact about the world, to Anglosphere reporters, whereas even the faintest hint of Iranian aid is as horrifying as those globs of Alien goo on the landing craft of Ripley's Nostromo.
The truth is that the mountain Shia of NW Yemen are eminently killable precisely because they DON'T have influential friends abroad. An inland population, very poor, isolated, facing a very rich and well-connected genocidal enemy — that's the situation here, and it's perfect for a successful extermination campaign.
As we see every day, via the non-coverage of this huge story by everyone (except the Cockburns, Bethan, and a few other brave outliers). There'll be a time when the artificial famine in Yemen takes its place with other, similar horrors, like that in Ireland in the 1840s, Ukraine in the 1930s, and Bengal in the 1940s. And when revisionist scholars get around to counting the dead in this latest atrocity, they'll note that there was a deadly silence from media outlets that should have known better—and DID know better, truth be told.
When Alfred Lord Tennyson, the adored Poet Laureate of Britain, was invited on a tour of Ireland at the very worst moment of the artificial famine there, he laid down strict conditions: he was to be provided with a coach with window shades that could be pulled down so as to shut out any view of "Irish distress" on the roads he traveled, and his hosts at every manor house were to instruct other guests to refrain from any mention whatsoever of this "distress".
It's what you see with most such famines. The loathing for the targeted minority long precedes their extermination. Once that loathing has been vented without blowback from world media, the genocidaires grow bolder, and begin to think practicalities. How and when, not "whether" to take out the troublemakers.
They don't need, or even want, too much backing from media. All they ask is silence, distraction, anything other than the genocide itself. And they have the money and moral influence to enforce it (yes, weird as it sounds, money and power do strike most people as possessing moral force in their own right). With those advantages, and a liberal dispensing of cash to publishers, think tanks, and lobbyists, a lethal silence descends on those who are dying.
This is the last, most important element of the Ireland/Biafra/Bengal/Yemen strategy: a collusive silence from the media. Sure, it'll be noted decades later. Books and articles will be devoted to explaining or justifying it (mostly "justifying" because powerful states tend to stay powerful, and don't want their grandfathers' crimes exposed).
And there'll be a whole new set of career opportunities, for the grandkids of the journalists who are blocking the Yemen horror from their consciousness right now, in publishing scholarly articles on the complex quandaries that stopped their ancestors from seeing or smelling the corpses — when really (as I discovered when I once tried to research literary reactions to the Irish Famine) it was simple swinishness, generation after generation.
This article originally appeared as Radio War Nerd Newsletter #71, for subscribers to Radio War Nerd on Patreon. Subscribe today!
Read more: famine, genocide, hodeidah, houthi, saudi arabia, uae, yemen, Gary Brecher, The War Nerd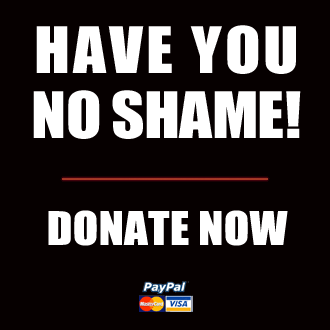 Got something to say to us? Then send us a letter.
Want us to stick around? Donate to The eXiled.
Twitter twerps can follow us at twitter.com/exiledonline