By Gary Brecher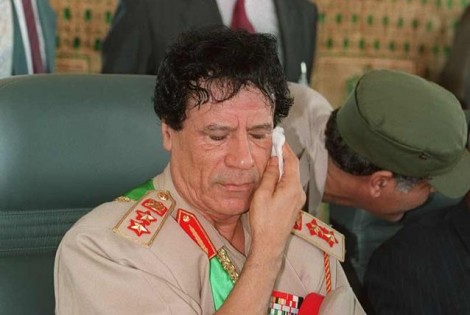 I'm back, thanks to the don't-call-it-a-depression. Thanks to this brief correction in the US economy, then. My new job lasted three months. I did all the right things, too, even smiled. Didn't matter. I was the last hired, and you know how that one finishes up. They were sorry to see me go, and could you go right now, please? We need the monitor.
I missed a lot of great stuff in the war world these last few months. I'll try to catch up, item by item, as often as I can. In between those application letters that make you feel even worse than usual, and getting the 12 or so hours of sleep that you need when being awake means remembering you're totally useless, nobody wants you, just like you always figured.
The weirdest news is the fact that Libya is still undecided. That one's going to take more research from me before I can say anything useful. I've found out some stuff, like the fact that Zawiya and the Western Front near Tripoli—that's Berber country. I've written about the Berbers before but that was Algeria, where they're something like a third of the population. They're much less in Libya, less than 10%, but that 10% is fighting hard. That's why they've been able to hold on and even retake Zawiya, just a few miles down the beach from Qaddafi's base in Tripoli.
Qaddafi didn't like Berbers. Well, he had a pretty long list.
Of course you won't hear much about the ethnic angle in Libya, Berber vs. Arab, because the US press is scared to death of anything at all with an ethnic angle to it. They know, I'd guess, the hacks on the Libya desk at CNN, but they'd die under torture before they'd admit it. Something about their kids being in private school to dodge court-ordered mixin' with lesser people, I don't know. It's not even that they're what people used to call "racist" in the bad old days (I mean as different from the way worse new days). That's just not it any more. People do what they're told. So they're racist about Arabs and Muslim at the moment, because that's almost a rule. They're not racist about blacks—just scared of them. And Mexicans—well, it depends on your income. In the Bush brackets, no, because that's local color and cheap gardening. Drop down out of private-school territory and that's the cheap labor you blame for the $10/hr you're lucky to be making. That's why Cesar Chavez himself as anti-illegal: The Chicanos were going to get the little they'd got shaved off by everyone who crossed the river without papers. No papers means slave labor, and that's profit. Just ask Jefferson Davis.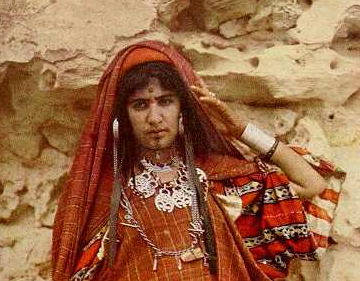 So nobody on TV will even mention "Berber" for fear they'll blurt out some Don Imus career-killer. It's hilarious, from a distance. Hilarious in a kind of you-wanna-kick-their-faces-in way. That's why you've got to go to the BBC to get this stuff, even if it means navigating through the stuff that passes for humor over there (like this headline from today's BBC site, I swear to God: "Silly Cow's Head Stuck in Ladder." Well, maybe they know what they're doing, actually, because with all this unemployed time on my hands I have to admit I clicked that story. I'll save you the trouble: A cow got her head caught in a ladder. Yeah, the headline's kind of a spoiler.
There's a really simple rule you can use to pick your news source on just about any military story: Nobody tells the truth about any story that might make their side look bad. The British have no special stake in Libya, so they're a little more honest—I mean, they stick to the NATO line, but they'll talk about the ethnic angle. Normally I'd recommend Al Jazeera, who do a great job on most stories, but they're a little, like the counselors say, "conflicted" on this one.
The one added factor in that rule is what I guess you  could call "American Exceptionalism": The American press NEVER tells the truth about anything with an ethnic dimension. They'd faint if they tried. Not to mention they're the biggest cowards of any press in the world. That's why when I heard this scandal about Murdoch tapping phones in the UK, and saw that people were wondering if it'd spread over here, I had to laugh. American reporters take a chance? Maybe get fired, or censured, or some other fate worse than death? Nah. They might be brave under fire, but Americans these days remind me of something I read about Russian soldiers, the way they were fearless against the Wehrmacht and terrified of the NKVD: "A Russian with no more than a pocketknife will take on a bear without flinching—and then pee his pants at the sight of a policeman." Except, to give them credit, the NKVD was pretty damn scary, ever since the "physicists"—the torture advocates—won against the "psychologists"—the hoity-toity old Bolsheviks who believed in moral persuasion to win over fallen commies—in the early 1930s. I'd pee my pants too if those creeps were after me—thugs that every European with a college degree went to his grave calling heroes.
But now that I've been fired—no, sorry, I wasn't fired, my job just ended, nothing personal—I can't help kind of despising people like those US press who are scared of a pink slip the way Russians in Stalin's time were scared of the NKVD.
Or am I? You know, maybe I agree with them. Maybe that's why I keep thinking about this. All. Damn. Day.
I've read there are places where it's easier to be poor, where it's bad luck but not a crime. Here it does seem worse than death. But then I've never been dead, so maybe not.
Still, this feels pretty godawful, so maybe that's what my little head is trying to tell me: "Hey stupid, they're right to play it safe, over and over and over!"
Damn. You know if I'd back the 2003 invasion I'd be rich now. I knew it, too. Just one lie and you're rich. Keep it up for a while—those fuckers have all the money behind them but they don't have anybody who can write in blood. I knew it. It wasn't that I was too high and mighty to lie. I was too pissed off. It was too stupid, and too obvious about it. It was for amateurs, idiots.
No, it was for money. Duh. You figure that out sooner or later, but it's so lame you can't believe it. It's all for money? Seriously? But that's…I mean, that's dull, it's dumb, I saw rich people growing up in an oil town—dumb loud hicks who'd lucked into the right piece of land and thought they were geniuses. It's still hard for me to believe that's what anybody would want to be. They didn't even have a good time, most of them. Cigars and golf. Once in a while there'd be a divorce scandal and their girlfriend's picture would be in the paper and she'd always be some 36-year old "waitress" with more hard miles than a surfer's 4Runner. And now everybody and his little expensive purebred dog wants to be those guys. I just don't get it.
Well, sorry to go on like this, but believe me, it's how you think when you're sitting at home. Better get used to it, because I get the feeling we're only about halfway down the cliff and a lot of you'll be mumbling the same sorry garbage to yourself for most of the day soon.
Back to happier subjects, like Libya. Qaddafi wasn't shy about the ethnic stuff, since he didn't depend on a network for his paycheck. So he told the Berbers what the deal was pretty straight-out: "When you're at home," he told a bunch of Berber elders, "you can call yourselves whatever you want—Berbers, Children of Satan, whatever. But when you step out the door, you are Libyans and nothing else." As in, "or else."
I like that "Children of Satan" bit. See, he was trying to make it clear to these vermin that it's not that he's prejudiced or anything. It's just that he wants national unity. Only some kind of PC nut could take offense at that, for God's sake. "It's just an example! I'm just taking a worst-case thing, I'm not saying YOU'RE Children of Satan! Well, I am, actually, but look, you see those Zimbabwean bodyguards of mine? I wink at them and you're hamburger. So shut up. Argument over, I win."
He hated the Berbers, did all the usual things you do when you want to pretend some annoying tribe doesn't exist: forbid the language, rename their towns—he even renamed the Nafusa mountains, Berber country and said there was no such thing as a Berber, it was all a colonialist myth. If you follow this kind of war, that's absolutely SOP, all of it. Qaddafi was crazy in some ways but every time it came down to his own security, he was pretty cold-bloodedly sane.
Still, all this anti-Berber crap was pretty rich coming from Qaddafi, though, because his whole tent-full of kin back in Sirta was  Berber, collabo Berber who turned Arab because they saw who had the guns and money. Those guys are always the worst, the ethnics who've turned. Every time they see somebody talking Berber and surviving it annoys them, because the only way the family stories can make it OK to switch identities like that is to say "we had no choice." A lot of families in that situation come up with ridiculous world's-smallest-violin stories to explain away the big coat-turning. Like I was reading this bio of a Bosnian Muslim woman who grew up hearing that the reason her Slavic/Christian great-grandpa turned Muzzie was somebody'd raped his sister and when he killed the guy, he was up for hanging until he saw the light of Allah right there under the gallows. Come to think of that, I can believe that one. What seems weird is that they were proud of it. Not what I'd call heroic, but then I'm a born sucker. I thought heroic meant going to the noose cursing your hangman and sticking with a lost cause.
I guess the way this Bosnian family saw it, the rape-revenge story is more important, so it totally justifies the pants-pissing conversion part. And in the long run, those stories tell the nasty truth: you drop the ethnic or religion because it's a curse, it'll keep you grubbing in the dirt if you're lucky or just plain get you killed.
So somewhere back there in whatever passes for history in Libya since the Romans left, the Original Qaddafi, the OQ, decided to be an Arab. And the funny thing is, it rubbed off on little Muammar, because from the moment he took power more than forty years ago, he's been changing his identity. And like the little drama queen he was, he made the whole country get into costume along with him—whenever he checked out the walk-in closet in his giant tent and pouted that he didn't have a thing to wear, ethnically. It was like having Lady Gaga as dictator-for-life.
First he was a pan-Arab socialist. Everybody was one back then, just like everybody in CA was wearing bellbottoms, even if they've burned all the pictures to prove it. Qaddafi was the ultimate nationalism slut. He wanted to merge with anybody who'd have him after a few drinks. First it was Sudan and Chad. They were handy, after all. Guess who started the first push to "Islamize" all of Sudan? Muammar himself. When Nimeiry, the Sudanese strongman, signed a deal with the black Christians in the south, Qaddafi had a hissy fit.
He had the same kind of fit when Egypt and Syria, who were supposed to be his open-marriage partners in a united Arab state, attacked Israel in 1973 without telling him. Like Glenn Close in Fatal Attraction, he wasn't going to be ignored like that. So he said—and this may be the most ridiculous boast in all of military history, no small accomplishment right there—he said that if Sadat and Assad had only brought him, Qaddafi, in to coordinate military strategy, they could have destroyed Israel in 12 hours.
That's a fight I'd love to have seen, Qaddafi's forces charging into Sinai. The only motivational device that would have gotten those losers to cross the Israeli line was by telling them Sinai was the other way, and Libya was right across the water. Then they'd have charged, all right. And left enough corpses to make the desert bloom more than even the Kibbutzniks even imagined. Libyan Army Fertilizer: Just add water.
Sadat, who was, oh, let's say roughly two zillion times smarter than Muammar, was content to get Sinai and national pride back. It was more than anybody else had done against Israel, and he had his doubts that Libyan intervention would have really turned the tide.
So Qaddafi got even in his classic mega-bitch way: When Sadat was assassinated, he taunted the dead body, nyah-nyah-ing that Anwar had it coming, ha ha. Class act.
He hit bottom, like your classic slut-hitting-middle age when the saloon clock is turning 2 am, when he tried to go home with little Tunisia. Bourgiba, the boss there, was somehow talked into going for the deal for about two weeks, and then the booze wore off—or more likely, the piles of cash Muammar sent were safely in a Swiss bank—and then called it off, partly because every single citizen in Tunisia was going, "Are you CRAZY? Join up with LIBYA? Not for all the crude in Kuwait!"
One thing you have to say for Qaddafi, he wasn't stingy with foreigners. With his own people, absolutely-but then that's how sluts are: they hate their friends and suck up to people who don't want anything to do with them. The classic case of Qaddafi buying friends is the boss of Gabon, way down by the Congo. That guy's name, not that I'm trying to be a poet here, is Bongo. And now, it's "Omar" Bongo, "Omar" being a proper Muslim name.
That involved dropping his real first name, "Albert-Bernard." Yup, Bongo was born a French-raised Christian. He converted, out of nothing but the light of pure gospel or Quranic truth, on a visit to Libya in 1973, and that's how Albert-Bernard turned into Omar, a horizontal move if you ask me. But a profitable one. Nobody's quite sure how many Bongo-bucks were shunted into the little man's accounts, but since Bongo's considered to have a fortune something like a billion or so, you can bet he didn't consent to get his expensive Paris suits scuffed up five times a day for anything less than seven figures. Not that Bongo turned into some fanatical Wahhabi or anything. By all accounts, he considered the name change his official endorsement, his part of the bargain to keep those Nike royalties coming, and didn't hang around for the dull stuff with praying and reciting Arabic, not to mention giving up the French wine.
Even so, that was about as well as Qaddafi ever did. He was a guy who could lose when you least expect it. Like Chad. Chad…well, rhymes with "sad." You try being a landlocked semi-desert country with Sudan and Libya for neighbors.
After turning his back on being an Arab after he got snubbed by the big boys, Qaddafi decided he was an African, not an Arab. Cue the change of costume. So long, jallaba and Jambo, dashiki. Step one was merging with Chad, and for once he figured he was the tough guy in this date-rape. He was wrong. Lost to Chad. Rhymes with "pathetic."
The war on Chad started in 1983, with Libya rolling in on the most expensive hardware oil money could buy. It ended four years later with the Libyan Army totally routed by Chad irregulars who had exactly two weapons: Soviet heavy machine guns and the Toyota pickups they were welded onto. That was when the "Technical" entered the military-history hall of fame.
And that brings us to the big mystery in Libya: Why is Qaddafi still walking around with his head attached to his shoulders, instead of on a stick where it belongs, with all the other corndogs? It reminds me of that movie Barfly, where Mickey Rourke is this wino who fights the bartender every night out back—free entertainment for the other drunks. This one night, Rourke keeps to his usual strategy: rope-a-dope with his face, taking about a hundred unanswered hooks to the head—only he doesn't fall. The bartender is seriously annoyed, getting all out of breath, and says to Rourke, "What's holdin' you up, sucker? You usually go down by now." That's my question for Muammar.
Yeah, there are reasons: He's got Grads to spare, and if there's one thing the Soviets could build, it's MLRS, from the Katyusha on. Even the Wehrmacht had a healthy respect, not to say total fear, for those simple unguided rockets. And on flat desert, whoever launches a Grad salvo just has to make a reasonable guess about where you are; the shrapnel will round it off to the nearest KIA.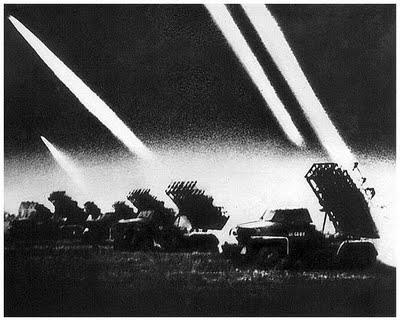 And yeah, this isn't the SAS he's up against—or even the Chad irregulars, who were tough Sahel skels with nothing to lose. It's not easy going from a Benghazi jewelry dealer or student-on-scholarship to crawling around the desert listening for incoming testimonials to Russian engineering.
But even so, you'd think, after all this time, and with the French all  hyped up (which, by the way, is why all the Freeper types are against this war, first one they ever met they didn't like) and NATO doing its little humane bombing campaign, whatever that's supposed to mean—you'd think this sucker would've dropped by now.
First question is who are the guys still fighting for him? No clear answer to that, just that it's a mix of Sahel and even Central African mercs and "loyalists." Got to be a better answer than that.  I'll try to figure it out by next column.
Lord knows I've got the time.
Would you like to know more? Gary Brecher is the author of the War Nerd. Send your comments to gary dot brecher at gmail dot com. Read Gary Brecher's first ever War Nerd column by clicking here. The rest of his stuff is here.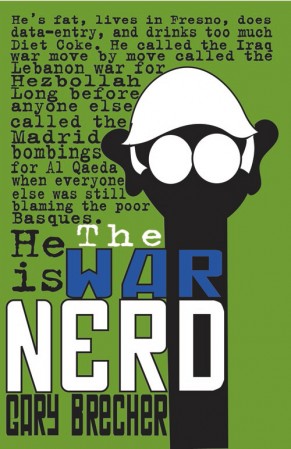 Click the cover, buy the book!
Read more: Africa, berber, Libya, Qaddafi, the war nerd, war, Gary Brecher, The War Nerd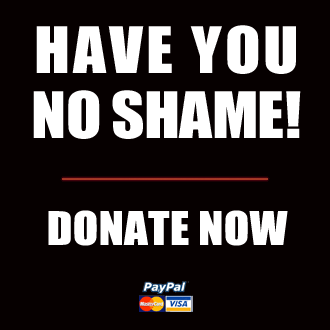 Got something to say to us? Then send us a letter.
Want us to stick around? Donate to The eXiled.
Twitter twerps can follow us at twitter.com/exiledonline