By Eileen Jones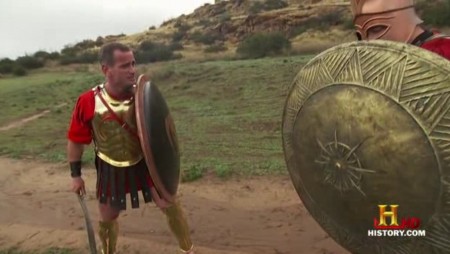 There's a new TV show called Warriors running on the History Channel that's a current favorite of mine. I hesitate to mention it, because no doubt it's pretty basic stuff. I hate to think what Gary Brecher would say about it—the merest ABCs of warfare!—but it can be riveting for those of us who never got a lot of schooling in war, for all sorts of reasons. These are some sample reasons:
1) You check the box marked "female."
2) You, like Dick Cheney, had "other priorities."
3) You bought the crazy notion that even thinking about violence is bad.

Fortunately, these impediments to warfare-knowledge can all be overcome, and Warriors is a good place to start. The show investigates a different warrior culture each week, Vikings, Spartans, Samurai, all the usual suspects. Host Terry Schappert, a former Green Beret, is sent around the world to examine key battle sites, interview the experts, test out the weaponry, and recreate scenes of combat. The weaponry/combat parts are the best. Schappert is supposedly a Special Ops guys now and knows several martial arts and all sorts of badassery like that, but it doesn't help him much with some of the old-style weapons. Trying to shoot an arrow using a samurai bow, for example, he sucks at it so hugely he winds up apologizing, through a translator, to the master at the art who's showing him how.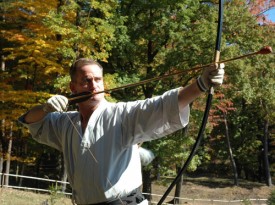 (To be fair, it's a crazy bow, with the grip not in the middle of the bow curve but lower down, so there's two-thirds of the bow above the arrow placement and one-third below. That's so you're not whacking the bottom of the bow on the horse you're riding while shooting at your enemies, if you're a samurai. They do a demo with a guy in full samurai gear galloping down a rutted dirt path firing arrows at small wooden targets and hitting them all, just in case you're inclined to say it can't be done.)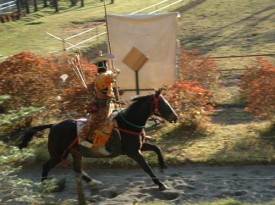 It's a consistent highlight of the show, Schappert getting his ass kicked by some quiet little combat expert who actually knows what he's doing with a jo staff or whatever it might be. These quiet little combat experts always, always radiate greatness of soul. Why can't we start a new religion based on the behavior of quiet little combat experts patiently teaching schmoes how to handle weapons? Because if that isn't god-like, I don't know what is.
Schappert's willingness to get his ass kicked for the good of the show is his best quality. He comes across as big, loud, and dorky, nobody's idea of a warrior. Well, not mine, anyway. He talks too much, he's embarrassingly sentimental, he's got that exclamatory Howdy Doody American taint that makes people from other cultures seem calm and dignified by comparison. But I have to admit, he cranks up the proceedings. His lemme-try eagerness around weapons and his gee-whiz reverence for bravery punch across what's riveting about big historical battles better than more sophisticated approaches.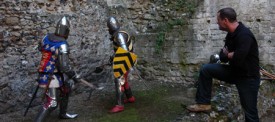 Take the Battle of Agincourt, for example. I must've seen three different versions of Shakespeare's Henry V and never got what the big deal was, even with all that splendid we-few-we-happy-few-we-band-of-brothers stuff. Something about Laurence Olivier's snooty delivery, maybe, but somehow the salient details never came across. Like how Henry V bet everything on archers vs. cavalry—how the English were hopelessly outnumbered and figuring on dying, and Henry had his crown welded onto his helmet and stood in the center of the line with his men, making himself the obvious target—how the English won by breaking the rules of chivalry, using maneuvers like getting a French knight on his back so several English guys, definitely not knights, could swarm him and stab at his unarmored points, like dispatching a helpless turtle.
I know, old stuff, no fresh meat here for the War Nerds among us, but for newbies, it's pretty exciting.
This week they're doing the Zulu warriors annihilating the Brits at the Battle of Isandlwana. And who can resist such a heartwarming spectacle?

Read more: History Channel, Samurai, Spartans, Terry Schappert, the war nerd, Vikings, Warriors, Zulus, Eileen Jones, Entertainment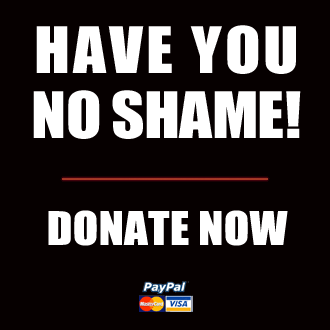 Got something to say to us? Then send us a letter.
Want us to stick around? Donate to The eXiled.
Twitter twerps can follow us at twitter.com/exiledonline