By Yasha Levine
"Lawful gun owners have nothing to fear. I said that throughout the campaign. I haven't indicated anything different during the transition. I think people can take me at my word," the president-elect said yesterday at a press conference, hoping to nip the gun boom in the bud. And that's too bad.
As any freedom-loving American knows, guns are what America is all about. They are the foundation of just rule, the last and final of the checks and balances built into our decrepit system, and the only one that puts direct power in the hands of the people. An armed populace makes government nervous. And ever since it was written into the Bill of Rights, those in power tried to stamp it out like a raging syphilis epidemic. Gun control was always a euphemism for crowd control.
You won't hear it brought up in respectable gun control circles, but the aim of restricting weapons sales has never been safety, reducing gun crime or some other lefty bullshit like that. No, it has always been about preventing armed rebellion against an unpopular government. Land-owning Southern hicks were the first to agitate for gun restrictions against blacks to prevent the white man's greatest nightmare: pissed-off slaves with guns rampaging through the countryside and murdering every slave-owning redneck in sight. They were open about it, too. After Tuner's rebellion, Virginia passed a law that didn't allow free slaves to own even a speck of gun powder. Tennessee changed its constitution to read: "That the free white men of this State have a right to keep and to bear arms for their common defense." The practice went on for the next 200 years.
In modern times, there's no better example of what armed blacks can do to The Man than the Black Panthers. As soon as these badasses started openly packing heat, open-carry restrictions started popping up all over the country. Nothing could be scarier to white folks than a crew of big, eloquent black dudes decked out in revolutionary garb, spitting revolutionary messages while walking around with shotguns. All of this in broad daylight! What's worse, hippie white chicks were totally digging on them. The nightmare had become reality, like Freddy Kruger jumping out of the dream world and chasing Nancy around, laughing as he ripped through her panties. As governor of California, Reagan went to work and passed the state's first restrictions on open-carry. But because of the recent civil rights movement, the laws couldn't just target blacks, like they did back in the good ol' days. It was 1967, after all, and they had to be cloaked in generalized language. And so today's bullshit gun control laws were born.
America is teetering on total collapse. Just about every big American corporation is feeling it: first the banks, then the auto industry and, today, the Tribune company is filing for bankruptcy. The TV networks are going to be asking for a bailout soon. But how about you? No one will bail you out when the repo man comes a knockin'. But if your bank knew that every household on every block is heavily armed and royally pissed off, they'd have second thoughts about sending a guy in a cheap suit to repossess that pretty home of yours. Or at least he'd have the decency to ask nicely and the courtesy to give you an extension.
Fuck the ballot. Vote with your gun.
*****
Yasha Levine is an editor at the eXiled.
Email him at levine@exiledonline.com.
Read more: .357, america, gun, gun culture, guns, recession, Yasha Levine, Fatwah, Investigative Report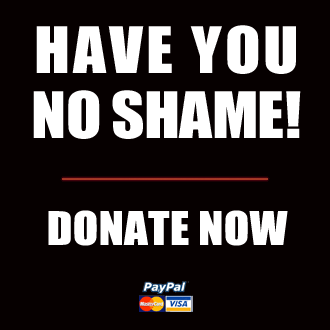 Got something to say to us? Then send us a letter.
Want us to stick around? Donate to The eXiled.
Twitter twerps can follow us at twitter.com/exiledonline