By Team eXiled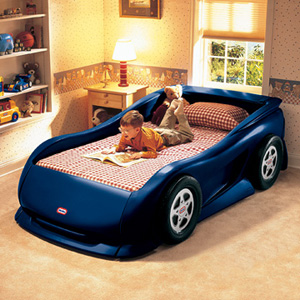 Last month, the New York Times magazine published a fluffer-friendly profile of James O'Keefe, the rightwing activist who specializes in bashing the poor and the vulnerable with a series of "pranks" against organizations like Medicaid and ACORN. One of the most stunning revelations in the Times' fluff-piece that everyone seems to have overlooked: the 27-year-old O'Keefe still lives at home with his mommy and daddy, in their leafy upper-middle-class New Jersey suburb of Westwood. That's right: the hero of right-wing preachers of "self-reliance" bashes the Nanny State from the safety of the best nannies a 27-year-old, five years out of college, can ever dream of.
It's one thing if, like most of us, you're temporarily so damn broke you have no choice but to move back home for a while. We've all experienced that shame. But O'Keefe isn't poor—after all, his sponsors include billionaire Peter Thiel and multimillionaire Hollywood elitist Andrew Breitbart. That's right, James O'Keefe can afford to get an apartment if he wanted to, even if the terms of his probation stipulate that he requires a judge's permission to leave the state of New Jersey. O'Keefe, it seems, has never left his parent's home by choice. This is nothing to snicker at. It's just really, really fucking sad.
Being bleeding-heart liberals ourselves, our heart-strings have been tugged by pow widduh James O'Keefe's sad attachment to his mommy's and daddy's place. That's why, with O'Keefe's best interests at heart, we've decided to offer help to the needy. We went out and spoke to one of the country's leading therapists who specializes in parent-children relations —particularly the problem of "adult kids at home"—and asked them for some solutions. James—can we call you "Jimminy" for short?—Jimminy, we hope you read these valuable insights from one of the best professionals out there today (whose name will remain anonymous), so that one day, you might learn something called "self-reliance," and leave your poor fucking parents alone for once.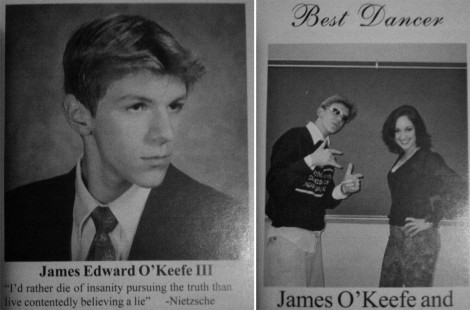 O'Keefe couldn't find the Nietzsche quote that said, "I'd rather die of insanity than live alone away from my parents' suburban New Jersey home."
Here's what we gleaned from the therapist:
What O'Keefe's parents should understand: Kids end up at home with their parents for many different reasons. Sometimes they want to get their nest built financially, so they come home to save money and secure their future. Other kids, like James, are coming home—or have never left in the first place—because they really can't make it out there on their own. For one reason or another, they haven't developed the maturity to launch successfully. If James lives at home with you and has made no move to save up for a place of his own, you've probably asked yourself, "Is he planning to stay here forever?" And the truth is, sometimes older kids like James do get comfortable back home. It takes a lot of pressure off their shoulders because Mom and Dad are there to cook and clean and pay the bills.
Some adult children are slower to mature than others. Developmentally, they're just not "there' yet—they're not ready to take care of themselves, so they end up at home. When this happens, many times parents find they have been over–functioning for their kids. That's right, Mr. and Mrs. O'Keefe: Part of the reason why James is so attached to your house like Linus to his blanket is because you are acting as enablers by pampering him.
"Get A Life": James O'Keefe imitates art
There's an important difference between helping and over–functioning. Helping James means doing something for him he can't do himself, such as driving him somewhere when he has a broken leg. Over–functioning means you're taking responsibility for things he can do for himself, like doing his laundry and cleaning up his messes after he's had friends over. Perhaps that pattern started years ago or maybe it began in James' late-20s. The bad news is that when you over–function you're allowing the negative behaviors to continue; the good news is that it's in your control to change the situation.
It's important to have a plan of action with James. The message can be, "You're not just here for good. We're going to help you, but the goal is for you to get on your feet." Having a goal in mind is important because it will ensure that your child's stay back home doesn't drag on forever.
What happens when there isn't a plan? Frustration and resentment build when you hear James says things like, "I'm looking for a job, but I can't find anything"—but you've seen him sleeping late every day and staying out partying at night. This resentment only adds to the stress of living together.
Ever hear yourself repeatedly make excuses like, "James is really a good kid, he's just a little lost right now;' or "He's going through a hard time—if I don't help him who will?" The truth is, when your kid can't launch, you are enabling him.
I know that many parents out there have kids who never launch. Perhaps they've been living with their parents ever since high school and now as adults they are controlling the house. Let me be clear: if your child is controlling your house, then you are allowing yourself to be controlled. And if your kids have never left, it's because you have allowed them to stay.
Typically, the more the parents feel controlled by their children, the more they will try to control them. But the more they do that, the more their child stays, digs in his heels and fights to get his own way. Now they have a huge power struggle on their hands, which is a dynamic you never want to get into if you can help it.
When you're feeling controlled by James, you have a few choices. You can get "reactive to your child's reactivity," and watch things escalate, or you can try to be objective and thoughtful about how you want to handle the situation. Saying things like, "You've been here for three years! When are you going to get a job?" is reactive and will result in a battle of will and control. Instead, speak in more direct terms: "What's your plan for getting a job? Please think about it and let's talk after dinner tomorrow night."
While James is living in the house with you, you may feel infringed upon while he feels like he's being treated like a kid. Everyone has different preferences, needs and values and there can be lots of annoyances when you are living together as adults. But don't get caught up in who is right and who is wrong. Work to get along and don't keep assigning blame. Instead, take responsibility for your behavior and how you manage your own anger and irritation.
It's normal to lose it from time to time and have a fight. But your children, no matter how old, can be very sensitive to your anger. So don't interact impulsively when you're frustrated. Instead, be kind, firm and remember your own parenting principles. One thing you can do is be direct: Insist on dealing directly and straightly. The way to deal with anger is to use clear "statements of self." Make yourself clear and put it out there. You're not blaming, but you're telling your child where you're coming from.
What's the golden rule of living with an adult child in the home? Clarify your expectations. This requires honest communication. Represent yourself honestly and openly as a parent. Do you expect your child to do housework, contribute to groceries and bills, and pay rent while he stays with you? How long are you willing to let him live in your home? Will he have access to your car? And what do you need to see him do in terms of job hunting, if he's unemployed? Really think through what you want and what you're willing to put up with, and then talk it through. If your child is to have the gift of living back home, so to speak, he also has a responsibility in the areas of courtesy, housework and possibly finances. Those are things that need to be discussed openly and honestly with your child.
The message has to be, "To live in this house, you need to show us that you are working towards independence. We need to see that—and you need to help yourself make that happen."
In turn, it's important to listen to your child openly and respectfully. You have the final word as the parent but you should try to be open to your adult kid's input. Again, your role as the parent of older kids is to be a consultant, not a manager of their lives. Listen to your child's expectations as well. Most likely, he will feel a bit guilty or inadequate in some way. He may also feel like he's still being treated like a child. There are all sorts of things that come up for your kids that make living with their parents uncomfortable for them.
Even Chris Elliot moved out of his parents' house…but can Jimminy?
Welp, Jimminy-Jim-Jim, we hope this sobers you up and helps you and your parents talk it through before things get really bad. It's time you learned about a little thing called "self-reliance," Jimminy. It's time, in other words, that you learned to grow up and live without your mommy and daddy spoon-feeding you and washing your clothes. Sure, it's scary. But it's what becoming a man is all about. We think you can do it—we believe you, Jimminy—but you've got to take that first step to independence on your own.
Welp, good luck! We'll be sending you an invoice in the mail. And a copy to your parents, just in case.
Read more: breitbart, james o'keefe, peter thiel, Team eXiled, Koch Whores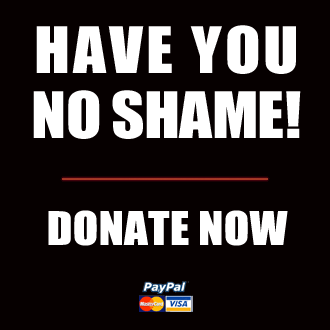 Got something to say to us? Then send us a letter.
Want us to stick around? Donate to The eXiled.
Twitter twerps can follow us at twitter.com/exiledonline