By Yasha Levine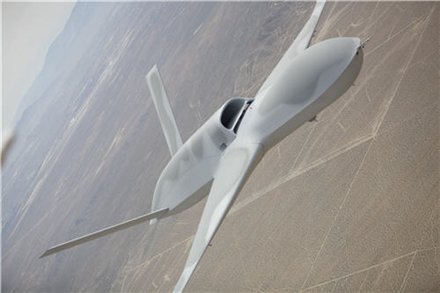 A Predator C Drone Soaring Over Victor Valley, CA
Last week, I found out that they got Predator drones flying just around the corner from my McMansion. A reader tipped me off to the fact that General Atomics, the company that makes these sissy planes, operates a test flight facility near a dry lake bed situated on the edge of a hellhole called Adelanto. I know, can living out in Victorville get any fucking cooler?
I finally made it out there last Friday in hopes of seeing some Predator flybys, but got there a little too late. It was 4:30 p.m. and the desert wind was starting to blow hard, slowly kicking up a sandstorm. The ATViers were already packing their gear up into their RVs and heading out. These were no conditions to ride in. A wave of sand would engulf the lake bed every five minutes or so, blasting your eyes, blocking out the sun, filling your every orifice with microscopic grains of sand and bringing visibility down to a foot or so. It looked like a scene straight outta those Iraqi sandstorm videos circulating on YouTube.
Despite the hellish conditions, two guys had set up a picnic table crammed with heavy-duty laptops and stubby antennas that looked like Nerf arrows painted black. The roaring, flesh-stripping wind made it impossible to communicate with any certainty, but, apparently, they were from some hi-tech surveillance outfit from San Diego testing their equipment in the field, intercepting the Predator's video signal when it flew by.  They told me I had missed the drone by about 20 minutes.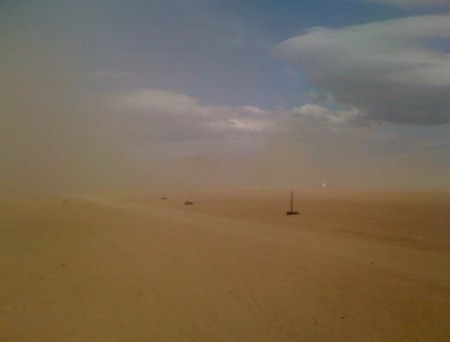 On the way back home, I stopped by a local dive. It was just me and three locals, and they were all on real friendly terms. When I walked in they were talking about some washed out former local beauty queen that had a nasty meth habit and a real ball-busting way about her. "Would you let her do you? You know she would with her big black strap-on," a guy in mechanic overalls, who was sitting with his wife, said to a wiry patron nursing a beer on the other side of the bar. "You know I would," he answered, smacking his own ass over and over. After some taunts from the bartender, the woman sitting with her husband flashed her big white bovine tits. These were deep Adelanto locals. They had been coming to this bar for over twenty years. And they were waxing nostalgic. "This is a beer-only bar now, but I remember when the owner used to sit in that corner and pass the bottle of whiskey to the customers." Ah yes, those were the times…
These people spent their whole lives out here, so they knew the comings and goings of the military like no one else. A group of 50 Italians came through the bar a few weeks ago for Predator training. Some of them were pilots, others operated drones out in Iraq. The story about the fighter jet that fireballed down in the desert was the biggest highlight in recent memory. "An F-22 crashed out here about a month ago," one of them told me. "The pilot ejected, but he did it too late. He was buried right into the sand. That's 200 million dollars destroyed—just like that."
"Now they're testing the Predator C. You know, they're developing one with jet engines. It has to accelerate up to 300 mph before taking off," the wiry guy added. "I live just on the other side of the road. I only seen it fly over once, but the thing is loud as all hell. Fast, too."
The Predator C is still top secret. Pictures and basic specs were leaked only a few weeks ago, and it's pretty obvious that General Atomics is trying to create a cheap fighter jet replacement. It's got an internal bomb bay that can pack 3,000 pounds of weapons and uses a stealth design borrowed from the F-35 Lightning II, or so they say. You can be sure the C is not going to be used for  reconnaissance missions. The thing is just too damn fast. So fast, in fact, that Adelanto's flight space is too small for them. "The space the FAA gave them to do their tests isn't enough. I think they got it expanded."
It might not be good for spying on Paki outhouses, but it'll sure blow them up good. Real good. We're too pussy to fight them like men, but hot damn, we make our weapons look real perty.
Read more: adelanto, drone, predator c, uav, victorville, Yasha Levine, Dispatch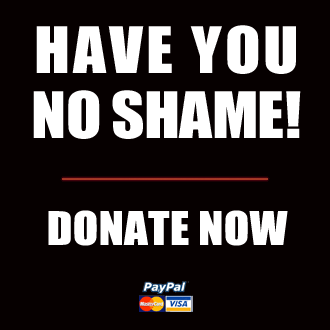 Got something to say to us? Then send us a letter.
Want us to stick around? Donate to The eXiled.
Twitter twerps can follow us at twitter.com/exiledonline