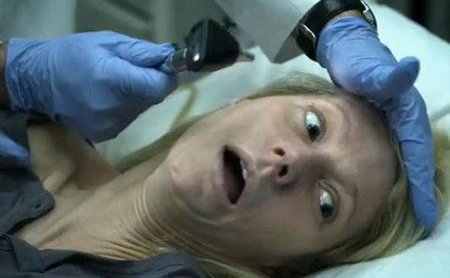 Well, shoulda gone to see Warrior.
It was a toss-up between Contagion and Warrior this weekend. Warrior's about the mixed martial-arts fighter with father issues—they say it has grown men sobbing into their popcorn. So, y'know, it might be good. But if not, at least good for a laugh, on accounta I'm not a man, so therefore I scorn your weak tears!
Nah, just kidding. Go ahead, cry your heads off.
But Contagion, on the other hand, was made by the team of screenwriter Scott Z. Burns and director Steven Soderbergh, the guys who did The Informant! And I admired The Informant!, so that decided it.
Mistake. Contagion is one of the many swing-and-a-miss Soderbergh films. Respectful reviews, though—he gets a lot of those. Reviewers suspect that he's smart, and that makes them nervous. He wears those big glasses and all.