By Eileen Jones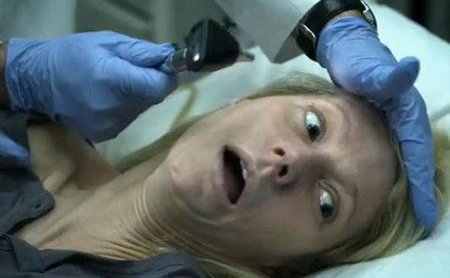 Well, shoulda gone to see Warrior.
It was a toss-up between Contagion and Warrior this weekend. Warrior's about the mixed martial-arts fighter with father issues—they say it has grown men sobbing into their popcorn. So, y'know, it might be good. But if not, at least good for a laugh, on accounta I'm not a man, so therefore I scorn your weak tears!
Nah, just kidding. Go ahead, cry your heads off.
But Contagion, on the other hand, was made by the team of screenwriter Scott Z. Burns and director Steven Soderbergh, the guys who did The Informant! And I admired The Informant!, so that decided it.
Mistake. Contagion is one of the many swing-and-a-miss Soderbergh films. Respectful reviews, though—he gets a lot of those. Reviewers suspect that he's smart, and that makes them nervous. He wears those big glasses and all.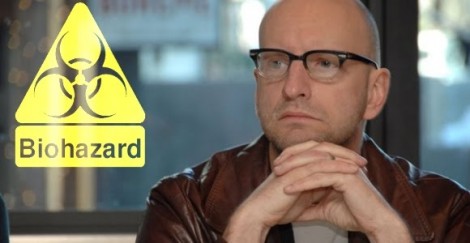 Contagion's premise is that a terrible new virus ravages the world's population. Shouldn't this make us all yawn collectively, since we've been hearing about this imminent possibility, and reading books about it, and seeing films about it, to the point that we almost wish we'd get the damn epidemic and have it over with, just so we wouldn't have to get pompously warned about it all the time? No, I guess not. The movie's doing well so far. Maybe it's a 9/11 Remembrance Weekend thing—everyone wants to get into disaster mode, nostalgic for that we're-all-gonna-die feeling.
Burns and Soderbergh opted to make Contagion one of those the multi-strand, multi-cultural narratives that've also been done a lot lately. (Soderbergh already tried it out himself with Traffic.) These generally wow reviewers, who just can't get over how film can overcome space and time and be in Hong Kong one second and Chicago the next. Yeah, it's 1910 forever for some critics, with the constant thrill of discovery of the basics of cinema.
Anyway, Contagion opens on a black screen, and over it we hear an ostentatious flu-like cough. It sounded like the Dickensian orphan on The Simpsons who always breaks out coughing like a tuberculosis ward in the middle of uttering some sentimental piety. I felt unhappy instantly with this corny cinematic poke in the ribs, or whatever the hell it was. Then the shot opens up on Gwyneth Paltrow, the cougher, so I figured she'd die early on, and I felt happier. She takes a cell phone call and talks to her boyfriend and pretty soon it's revealed she's an unfaithful wife, cheating on that nice Matt Damon—you always know he's playing someone nice and heartlandish when he looks kind of chubby—so according to the logic of commercial cinema, she deserves to die horribly. Both Typhoid Mary AND a hussy, I mean.
The other plot strands kick in showing the spread of the contagion and the various characters racing to combat it or manage the public reaction to it, played by famous actors like Kate Winslet and Marion Cotillard and Jude Law and Laurence Fishburne and Jennifer Ehle and Elliot Gould and all like that. Lots of instant-travel to far-flung international locales to look at infected people staggering around sweating and touching things that'll quickly infect somebody else.
Some are saying that watching this film will make you afraid to touch doorknobs and elevator buttons and other people's grimy mitts the way Jaws made people afraid to swim in the ocean, but don't buy it. That's just idiots reading the film's promo line, "Don't talk to anyone, don't touch anyone…" The film's not visceral enough to have any such impact.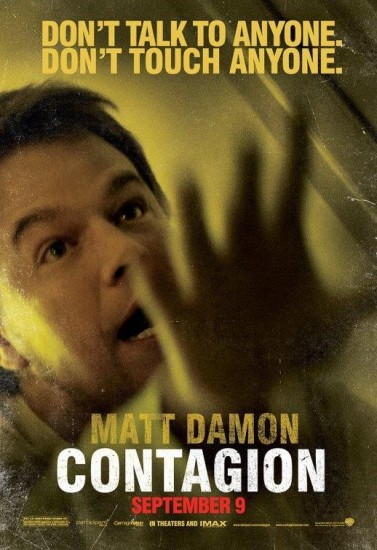 Okay, the autopsy on Gwyneth Paltrow was delightful, I admit that. When that big flap of blond-haired scalp came flopping down into the camera showing its bloody underside, I sighed for the career Soderbergh might have had if only he'd gone for the gut more consistently.
But unfortunately this movie represents Steven Soderbergh in his snooty "cool" mode, when he shows us things that are, perhaps, worthy of consideration, points to ponder, if you will. A serious Soderberghian pall is cast over the whole world, which looks depleted even before the disease is widespread, all somber faces and drab institutional settings. Soderbergh operates his own camera, and his cinematography achieves a permanent queasy-cam effect, everything leeched of wholesome color. Except for the flashback footage of Gwyneth Paltrow at the Hong Kong casino where she gets infected, which has a hectic red flush, anticipating the raging fever she'll die from.
Soderbergh conveys the sense that it's been Game Over for the human race for some time now, but at least it'll be formally interesting to watch the spread of the virus, and then in the end, to track back and see where the virus originated. He treats this as the big reveal of the film, the virus' origins, deserving of the main narrative arc, as if we were solving a mystery, a Whodunnit, and can't wait to find out whether it was the Duchess in the library with the sawed-off shotgun. But it's not really a reveal, because we already know We Dunnit, we foul humans. The whole movie is dedicated to regarding how rotten people are, how ugly and sick our so-called civilization, so that even the rare noble human gesture serves only as a tiny point of contrast to vileness on a vast scale.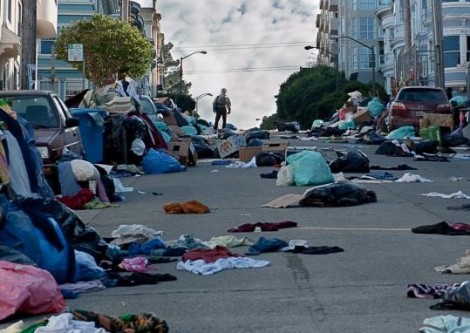 Well, all righty then; we concur. Except that in this case, the eye regarding all this rottenness is the Soderberghian camera-eye, and it's one of those jaded, self-satisfied, indifferent eyes that is in itself repulsive and part of the problem. It makes you appreciate yet again George Romero's wild, pop-eyed fury and hilarity and despair when regarding our apocalyptic end.
It's too bad about Soderbergh, now that we hear he's retiring. It got a lot of press recently, when Matt Damon blabbed that Soderbergh was intending leave filmmaking for art—real Art, that is, as in painting. It was such an obnoxious report that you couldn't help wanting to say, "Don't let the door hit you on your way out, you little sod." No doubt aware of how much of a putz it made him seem, Soderbergh softened it up by saying he'd only be taking a "sabbatical" in order to "recalibrate" and "discover something new." That made it worse.
Nobody in the press seems to remember that this isn't the first time he's made noises about leaving the industry. He actually bolted Hollywood once, back around 1995-'96, to create uncompromised art films. Schizopolis was the name of the film he made—one of those mildly clever grad-student-type experiments you steel yourself to sit through once, and then forget immediately, because our God is occasionally a merciful God.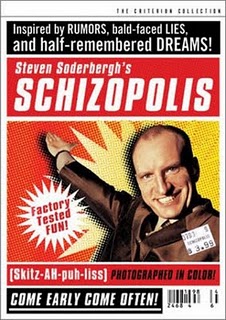 Soderbergh wanted a little informal collective of filmmakers who would join with him in making equally uncompromised films. He recruited some filmmakers I was working with way back when, urging them to submit a script that he'd help them finance.
They knocked themselves out writing something clotted up and twee and reflexive and sickening. But he rejected the script, saying disparagingly, "It's still such a moooovie."
And it was a movie, still, in spite of their best efforts to create something unwatchable. Because then,  some of us really wanted to make mooooovies—we couldn't help it, that was the whole point.
Soderbergh's noble experiment didn't last long, and pretty soon he was back in Hollywood, where they love his guts, anyway. A great schmoozer, Soderbergh. Either he knows where the bodies are buried, or he speaks fluent Studio Executive-ese, or both. Plus movie stars always want to work with him, and that's like money in the bank. Even when he chalks up a number of flops in a row, Soderbergh always has big offers. After his breakout festival smash, the super-annoying sex, lies and videotape, he's tended to oscillate among the fat commercial hits that keep him on the A-list (Erin Brockovich, Traffic, the Ocean's 11 films), the vaguely "interesting" films that are a low-wattage duty to watch, (King of the Hill, The Underneath), and a surprising lot of fuck-you-I'll-do-what-I-want experiments (Schizopolis, Full Frontal, Bubble, Che, The Girlfriend Experience, the HBO series K Street).
We're all for this kind of brave risk-taking, in theory. If only the results turned out to be, uh, what's the word…better.
Still, Soderbergh did come up with those visceral chunks of The Limey and Out of Sight and The Informant! that showed he had the right stuff in him and could've punched way above his weight if he'd wanted to. He just didn't want to.
And for this, we curse him!
Read more: disease, George Romero, Gwyneth Paltrow, Jude Law, Kate Winslet, Matt Damon, schizopolis, Steven Soderbergh, Warrior, Eileen Jones, movies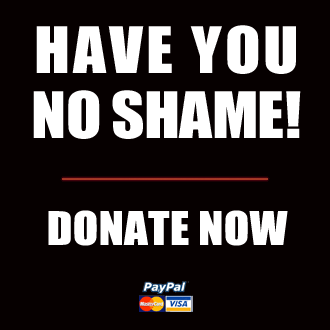 Got something to say to us? Then send us a letter.
Want us to stick around? Donate to The eXiled.
Twitter twerps can follow us at twitter.com/exiledonline