By Eileen Jones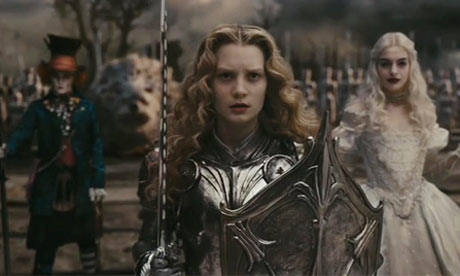 Burton's Alice in Wonderland is messed up in some ways—we'll get to that in a second—but it's seriously beautiful at intervals that command attention. There's a war theme in it that's pursued with surprising gravity. Example: the Mad Hatter (Johnny Depp) is heading an insurgency against the savagely cruel Red Queen (Helena Bonham Carter), and urges Alice (Mia Wasikowska) to play her part by slaying the Jabberwocky (Christopher Lee).
Alice says, primly, "I don't slay," and the Hatter says, with angry severity, "You don't slay?"
Not only is that a nice play on the early 20th century response, "You don't say?" (signifying incredulity), it's a great encapsulation of a righteous moral stance that we don't encounter much lately. That is: in such a world as this, blighted and murderous, filled with monsters laying waste to everything good, you consider yourself above taking violent action against monsters? Shame!

If you know the books Alice's Adventures in Wonderland and Through the Looking Glass, you'll have already guessed that this is a pretty loose adaptation, pulling in Lewis Carroll's poem, "Jabberwocky", some Joan of Arc imagery, random Disney iconography, odd bits of Pirates of the Caribbean, Harry Potter, Lord of the Rings, The Wizard of Oz, Xena: Warrior Princess, and the occasional kitchen sink. In Burton's version, Alice is a misfit 19-year-old escaping an arranged marriage, who returns to the half-remembered Wonderland of her childhood dreams only to find it's really called Underland, a scorched realm where she's expected to take up arms in order to restore the White Queen to the throne.
For film critics who are lost in confusion over the lack of "wonder" in Wonderland—meaning not enough scenes of Alice roaming around among giant flowers with a stupid slack-jawed expression on her face, staring at the upper corner of the screen like somebody in a Spielberg movie—please go back and watch the movie again. (Seriously, Owen Gleiberman, try to see the whole thing next time.) It's all explained in there.
The frame story of the film is pretty bad—best to ignore it as much as possible. It's standard girl-power boilerplate projected back onto the Victorian Era, courtesy of screenwriter Linda Woolverton, who's already cursed us with Disney crap like Beauty and the Beast and The Lion King. In her vision, Alice is a frowny teen who refuses to wear a corset or marry a total git, and opts for a career instead. Problem is, her chosen career is colonial-era exploitation—at the end she's going to go expand trade routes to China and parts East, standing tall at the prow of an English ship, and we know how that kind of thing turned out.
Fortunately, the Underland dream seems to break loose from Woolverton's frame, featuring a powerful opposing vision, a surreal refraction of Celtic rebellion against English tyranny. Depp's Mad Hatter is a red-haired, green-eyed figure of gibbering anguish who lapses into a harsh Scottish accent whenever the fight is on against the Red Queen, and then back into an uncertain fey lisp when the fight is deferred.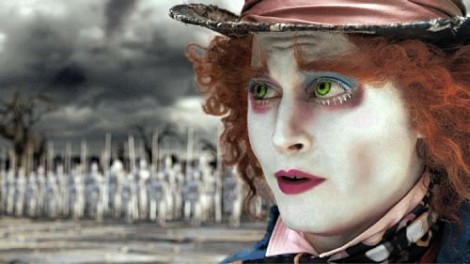 He's conspiring with animals against the Red Queen—the White Rabbit (Michael Sheen), the Dormouse (Barbara Windsor), the March Hare (Paul Whitehouse), and a sad, dignified bloodhound named Bayard (Timothy Spall) are his main co-conspirators—which makes sense because the huge-headed she-tyrant is spectacularly sadistic to the assorted pigs, frogs, and monkeys that are on call as both servants and furniture, as monkey-tables and pig-ottomans. ("I love a warm pig belly for my aching feet.") This is an excellent riff on British history, especially the sub-human status accorded to the Irish, associating them with apes and pigs that made for nice easy slaughtering.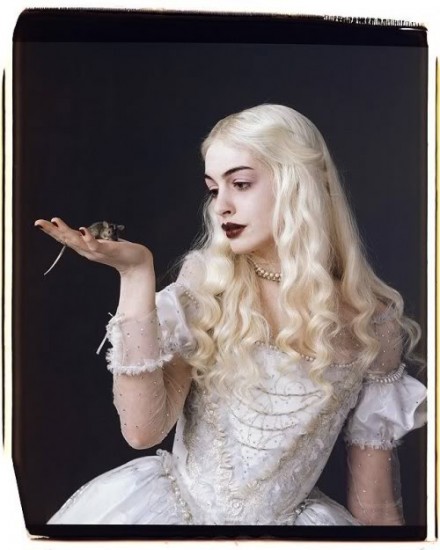 Of course Alice will take up arms eventually, in a third act that's getting a lot of flack from some critics who claim it's pointless, tacked on, intended to sell computer games, and so on. (I'm looking at you, Roger Ebert. Yikes!) Again, I recommend watching the movie to clear up this confusion. It's all about recovering Alice's heroine-status through battle. The build-up to war is the whole plot. From the beginning, various Underland creatures keep accusing her of being "the wrong Alice;" meaning she's not the Alice who will fight for them, the Alice who had such militant promise in her early girlhood.
This is an intelligent way of reinterpreting the Alice character by a director who admits he's just not that into her:
"I've always hated Alice on screen," he says. "She's a very annoying, odd little girl. I wanted to make her into a character I could identify with: quiet, internal, not comfortable in her own skin…"
So he Burtonized her. He does that to everyone.
The movie is darkly opulent, of course—it's Burton—and likely to be particularly memorable and haunting for children. There's a great scene when Alice is crossing the moat to the Red Queen's castle on a walkway of petrified heads of former enemies floating in the water, which bob up and down as Alice steps on their stony faces. Alice herself is quite beautiful and solemn, a rare, good thing in an ingénue. And she's fashion-forward to an amazing degree. All fashionistas must get to the theater immediately to see the blood-red-and-plaid dress she wears while nerving herself up to fight. The armor is also pretty stunning.
Anne Hathaway is lovely as the White Queen, and achieves a Glinda-the-Good-Witch combination of authority and zaniness that's truly admirable. She even maintains an off-kilter ethereal manner when she's adding the final ingredient to a magic potion by spitting into it. And completing the trio of formidable females is Helena Bonham Carter as the bulbous-headed Red Queen. She's not quite as scary and hilarious as Miranda Richardson's Queen Elizabeth in the Blackadder TV series ("Who's queen?"), but then, nobody is. The role's still a great fit for Bonham Carter, whose particular gift is playing casual, earthy fiendishness.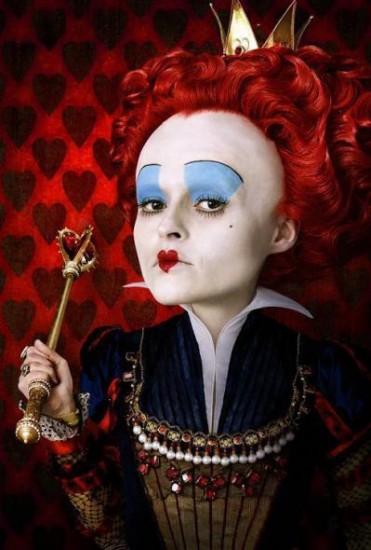 The only thing I regretted about this free interpretation of Carroll's Alice books is that once again the Cheshire Cat doesn't get his just due. The erotic charge in the Cheshire Cat's encounters with Alice are displaced, in Burton's films, onto the built-up Mad Hatter part played by Depp. The Hatter winds up being the romantic, courtly Scarecrow to Alice's Dorothy. And the enigmatic soothsayer wisdom of the Cheshire Cat has been handed off to the hookah-smoking caterpillar, here named Absolem (Alan Rickman). This only leaves the Cat (Stephen Fry) with his menacing smile and evaporating abilities and general eccentricity. Oh well—someday someone will do the Cat right on film.
No point getting hung up on fidelity to Lewis Carroll when watching adaptations of the Alice books. It's like being purist about Sherlock Holmes—no use at all, just asking to have a stroke at an early age. (Which reminds me, for those who are still worried about Lewis Carroll as pedophile, you should really just avoid Victorian literature altogether. Mooning over the underage was practically a literary requirement back then. I'm not saying it was a good thing, just ubiquitous.)
The movie's in 3-D, and luxuriantly eye-popping to watch in that format, but plainly not designed to take any particular advantage of it. Nevertheless, people seem avidly ready for this movie. I saw it in an audience that was surprisingly hungry for it, more like an action film crowd than the people who generally show up to see fussy production-design spectacles like Burton's Sleepy Hollow and Charlie and the Chocolate Factory. There was a woman near me who had saved four seats around her just to guarantee her own personal space in a crowded theater, and she had that half-crazed air of someone who intends to watch the hell out of a film and might cut anybody who got in her way. I feared for the safety of the six teenagers she was cursing under her breath.
I understood. I felt the same way myself. It's been a rotten couple of months for films. And now the Oscars are upon us, with their guarantee not to give awards to the audacious films that deserve them (A Serious Man, Inglourious Basterds). That prospect does tend to make you want to see another filmmaker tear up the screen. Burton goes for it. Though it's in his Vincente Minnelli-ish way that favors elaborate color schemes and beautiful frocks, we must offer up our respect. It matters what you wear to go to war.
Read more: Alice in Wonderland, British history, Helena Bonham Carter, Johnny Depp, Lewis Carroll, Tim Burton, war, Eileen Jones, movies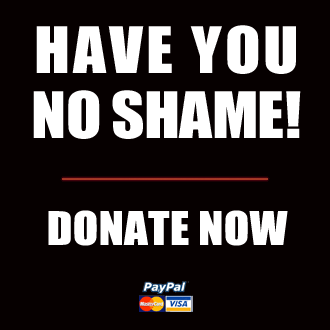 Got something to say to us? Then send us a letter.
Want us to stick around? Donate to The eXiled.
Twitter twerps can follow us at twitter.com/exiledonline