By Eileen Jones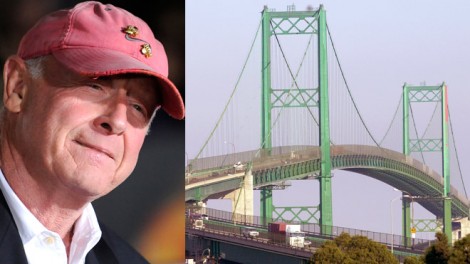 Dear General Public,

I've had to speak to you before about your gruesome reverence for dead celebrities. Every famous person who dies is instantly idolized out of all recognition. The same ugly venal toad of a has-been star or notoriously despicable no-talent hack that you were mocking or simply ignoring on Tuesday becomes a beloved secular saint on Wednesday, the second his or her diseased heart stops beating.

This maudlin nonsense really must cease! Your hypocrisy is rank and stinks to heaven! Try to have a modicum of decent self-restraint!

Yours in contempt,

Eileen J.
The problem with Tony Scott is, his films aren't good. They really aren't. And I say this as a person who loves genre films with an all-encompassing love. Tony Scott movies aren't even good "popcorn movies," so-called, any more than Brett Ratner's or Michael Bay's movies are. But if Michael Bay died tomorrow—and the thought is a delightful one—the same people who now scorn every stupid, worthless film image he ever captured will all swear they loved him like a brother and were personally enriched by his cinematic oeuvre.
Here are some highlights of Tony Scott directorial career: The Hunger, Top Gun, Beverly Hills Cop II, Days of Thunder, The Last Boy Scout, True Romance, Crimson Tide, Enemy of the State, Man on Fire, Domino, Déjà vu, The Taking of Pelham 123, Unstoppable.
Out of that appalling list of crap films, what can you salvage? Some memorable sequences from The Hunger and True Romance. That's it!
But what about the rest of his legacy? The heinous film that made Scott an A-list Hollywood director, Top Gun, helped define that truly, mindlessly despicable era of 1980s American culture. For the rest of his life, Tony Scott proudly wore the red baseball cap he'd donned while shooting Top Gun, till it turned pink and ratty with age atop his bald head.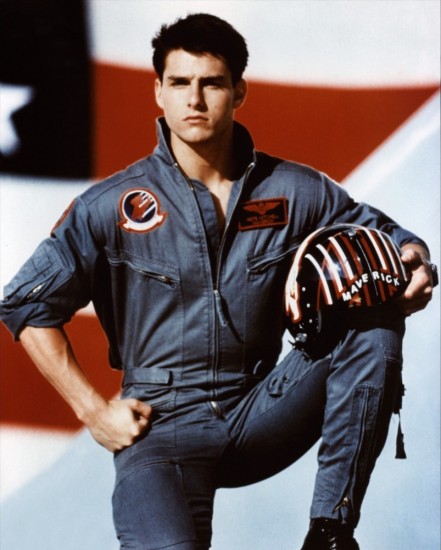 And to top it all off, consider that for the last ten years Denzel Washington has sacrificed his own immense talent starring in Tony Scott movies, thus making them almost bearable. Now THAT is a genuine loss to American cinema.
But to hear people tell it now, Tony Scott's death leaves a giant crater-sized hole in our national cinema. Ron Howard tweeted, "No more Tony Scott films. Tragic day." Roger Ebert called him "an inspired craftsman."
And Scott Mendelson, writing for The Huffington Post, argues that while Scott's early macho-stupid action films like Top Gun were regrettable, in the second half of his career he reformed and became an admirable savior of the smart genre film for adults:
In an era dominated by mega-budget fantasy spectacles, Tony Scott was often the last refuge for the old-school 'movie.'

I've written quite a bit about the endangered species that is the star-driven high-octane genre vehicle.  In the mid 2000s right up to the beginning of this new decade, it seemed like draconian restrictions on the R-rating as well as the allure of the $500 – $800 million all-ages global blockbuster had doomed the adult thriller to extinction.  While Jerry Bruckheimer fell into family-centric fare (such as Pirates of the Caribbean, National Treasure, and The Sorcerer's Apprentice) and Michael Bay became consumed by the Transformers franchise, Tony Scott never gave up the good fight.  Tony Scott became one of my favorite directors for the same reason Denzel Washington became one of my favorite actors.  Both, often working together, used their capitol to make big-scale, adult-skewing mainstream genre fare that didn't require fantasy worlds or copious fantastical effects to entertain.  In an era when "R" became the scarlet letter, much of Scott's work (Beverly Hills Cop II, Crimson Tide, Enemy of the State, Spy Game, The Taking of Pelham 1 2 3) was R-rated not because they were grotesquely violent or gore-drenched, but merely because they didn't feel the need to edit around their genuinely adult content or apologize for their adult sensibilities.

And the truly hard-R pictures in his filmography (The Last Boy Scout, True Romance, The Fan, Man On Fire) often pushed the envelope in terms of violence that nonetheless never used violence as an excuse to cop out on character development, compelling narratives, or groundbreaking visual styling.
It's dizzying, reading this argument. You feel the room spin around you, it's so disorienting to consider embarrassing travesties like The Last Boy Scout and Beverly Hills Cop II and The Taking of Pelham 123 as examples of serious, risky, "genuinely adult" filmmaking. All I can assume is, Mendelson's counting on nobody actually remembering Tony Scott movies such as The Last Boy Scout. Admittedly, they're hugely forgettable movies.
Nevertheless, I remember! Certain terrible Tony Scott films seen at the time of their theatrical release seared themselves directly into my muscle-memory, so I still wince violently just at the mention of a Scott title like The Last Boy Scout!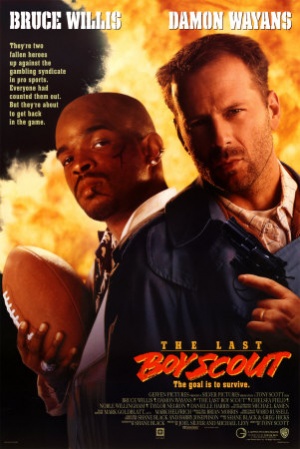 Tony Scott's expensive, distracting, phony, overblown TV-ad directing tics are now his "groundbreaking visual style"! Getting R-ratings for action films now constitutes "fighting the good fight"! Is there anything we WON'T praise if it was done by a newly dead celebrity?
Oh, hell, there's no use fighting it. I will now capitulate to public pressure and find something to praise about Tony Scott.
Lessee….
Well, I will give him this: he died interestingly. Very few famous people kill themselves deliberately and unequivocally, in such a way that it can't be argued they took an accidental overdose of their drug of choice or something like that. (Lots of seemingly accidental overdoses: Heath Ledger, Elvis Presley, Jimi Hendrix, Janis Joplin, Judy Garland, Marilyn Monroe…)
But I can't think of a single one who ever did it by jumping off a bridge into deep water. Spalding Gray jumped off the Staten Island Ferry to his death, and Hart Crane also jumped off a ship, and Capucine jumped out a tall building window, and Virginia Woolf drowned herself. Those are the closest to the Tony Scott Method that I can come up with.
No, more typically it's guns (Hunter S. Thompson, Kurt Cobain, Freddie Prinze, Ernest Hemingway, Gig Young, George Reeves—unless he was actually murdered), or pills (George Sanders, Lupe Velez) or pills plus wrist-slitting (Diane Arbus, Max Linder), or hanging (Alexander McQueen, David Carradine).
Jumping off a bridge is pretty bold. And he didn't hesitate, either, according to witness reports—just up and over.
So, points for a remarkable celebrity death, Tony Scott!
Read more: celebrity deaths, Denzel Washington, Roger Ebert, Ron Howard, suicide, Tony Scott, Top Gun, Eileen Jones, Fatwah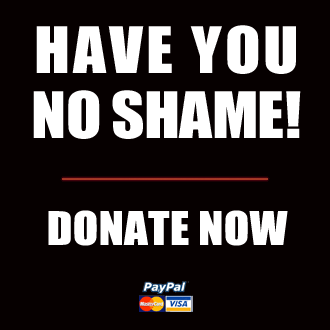 Got something to say to us? Then send us a letter.
Want us to stick around? Donate to The eXiled.
Twitter twerps can follow us at twitter.com/exiledonline