By Gary Brecher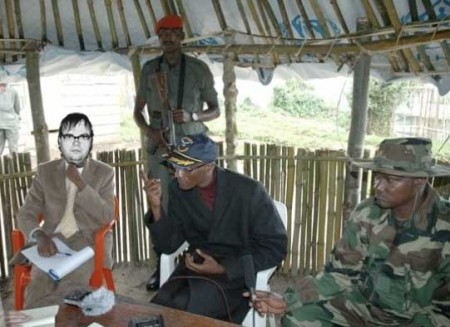 I just found the perfect job for myself: media consultant for General Laurent Nkunda. Now there's a job with perks. And General, you need me. I know you need me because I just saw an interview with you in the Huffington Post.  And even though you answered all the questions totally right, General, you just showed how you don't understand the insane, childish way these people think.
A "cynical" reader might wonder why any western journo bucked the BBC boycoott on interviewing Tutsi or giving their side of the story. Maybe they're honest? For once? Or brave? No such luck. Just get that idea right out of your head. It's just an old tribal loyalty, Euro colonizer for native allies, coming out again.
The clue for a serious war nerd is the interviewer's name, "Georgianne Nienaber." Remember, being a serious war buff means clawing and scratching for every clue. What we have here is a French first name, Georgianne, with a Dutch-sounding last name, Nienaber. Which tells us this is a Belgian. The Belgians and the Tutsi, Nkunda's people, go way back. So that's why she's sympathetic: not because she's braver or smarter than the usual rat pack of journalist but because her tribe and his used to be allies.
The problem with the interview is that Nkunda is way too smart and too sane to work effectively with the Western press, even when they're trying to be sympathetic. That's the problem for the Tutsi in general: they're behaving rationally, trying to create a working nation like the European countries did, only now the psycho descendants of those Europeans are fucking Africa up one more time. Last time around, they did it with bayonets and gallows; this time around they're doing it with pity and niceness. It's hard to tell which is worse.
See, Nkunda thinks that he's supposed to answer the actual questions that this Belgian lady asks him. Mistake! If you don't mind, General, allow me to offer some tips on dealing with these nutcases. Let's take the first Q&A in the interview as an example:
Question.  Would you say that you have been portrayed in a negative way in Western media?

Nkunda. They cut my voice and they speak on my behalf. Journalists tell what they think will be sensational.
Now General, permit me to offer you, free gratis and for nothing, my advice on what you did wrong and how you should have answered this question.
I mean, technically you did a fine job. You answered the question, even got specific about how the Western media portrays you negatively, with that bit about how "they cut my voice and they speak on my behalf." Now that's a very good answer; in fact it's an old BBC trick, that faked-up voice thing, they used to do the same thing with IRA people, they always do it to people they don't like. But the average idiot won't know that. In fact, they don't even want to know. They don't want answers, they want boo-hoo-ery. That's all that counts here. So please, next time don't waste any time actually answering the question. That's not how it works. Go directly to the boo-hooing. Just yell, "Victim! We're the victims! We had to watch two-thirds of the Rwandan Tutsi hacked to death while the West did nothing! You bastards! And then when when our little guerrilla force stomped the way bigger Rwandan Army and liberated our people, all of a sudden the UN came in to take care of the same poor Rwandan 'refugees" whose clothes were still soaked with the blood of Tutsi children they'd hacked to death!"
Because (a) that's simple enough for even a Western journalist to get, and (b) it's the absolute, disgusting truth.
Please, General Nkunda, don't make the mistake of talking honestly to these people again, like they were grownups. They're not. Africans are grownups; these people are just big spoiled babies. Cry at them, scare them, make them whimper. That's all they understand.
Gary Brecher is the author of the War Nerd. Send your comments to brecher@exiledonline.com.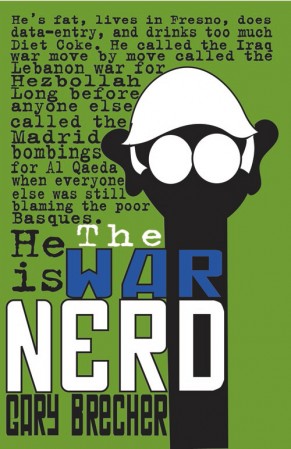 Click the cover, buy the book! Makes a perfect post-Christmas present!
Read more: Congo, interview, media, nkunda, Gary Brecher, The War Nerd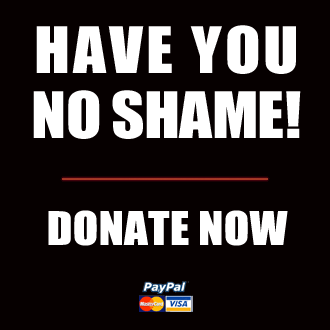 Got something to say to us? Then send us a letter.
Want us to stick around? Donate to The eXiled.
Twitter twerps can follow us at twitter.com/exiledonline