By Gary Brecher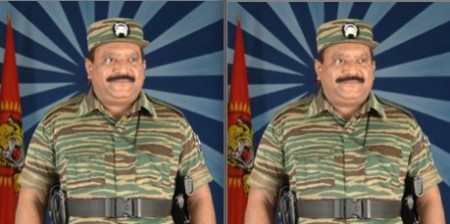 Velupillai Prabhakaran: LTTE's Guerrilla Generalissimo
One thing you have to give the doomed Tamil rebels in Sri Lanka credit for: their supporters sitting in comfortable first-world cities have no shame when it comes to begging for help. Militarily the Sri Lankan Tamils are o-vuh, but when it comes to demanding favors from people who have every reason to hate their guts, these guys are world-class. For some hilarious examples of propaganda from a doomed army, check out the LTTE's glossy but totally insane website, Tamilnet.
Today's headline on their site is this little classic: "99% of Norway Tamils Aspire for Tamil Eelam." "Eelam," y'unnerstan', is their fancy name for the independent Tamil state they want to create in Sri Lanka, the "E" in "LTTE." Anyway, what this headline means is that they rounded up the Tamils living in Norway and herded their frozen asses into a Sons of Knute meeting hall in Oslo and lo'n'behold, 99% of those poor flotsam (should that be "flotsam" or "flotsams"? Not sure) turned out to be in favor of dear old Eelam. The fact that they were ten thousand miles away from Sri Lanka, where the government artillery was shredding the last backyard-sized scrap of land in "Eelam," didn't faze those Norwegian diehards one bit.
These guys have no shame at all. They'd probably be willing to go on Flava Flav's "Workfare for Overage Street Ho's" show, they're so shameless. They even, believe it or not, called for the US to save them with "gunboat diplomacy." I kid you not.
After decades of playing the bold revolutionaries, they're actually screeching for American destroyers to rescue them. Ah, it's a fun world as long as you remember we're all garbage at heart.
Now that the Tamils' great Sri Lankan kingdom has been whittled down to about ten acres of blasted scrub, they're so desperate they're even tying up traffic in Toronto by way of attracting attention to their sad little plight that they totally brought on themselves. The Canadians are giving it their typical mealymouthed cowardly PC response, "We understand your frustration," while these losers tie up the biggest freeway in Toronto.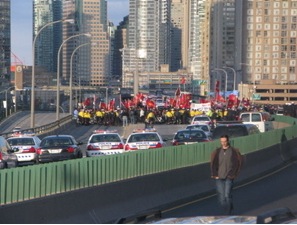 But my favorite little desperate gesture from the Tamils is the way they've reached out to Sonia Gandhi, the big Indian politician, to ask for help.
Which is funny because Sonia happens to be the widow of Rajiv Gandhi, who was killed by a suicide bomber in 1991. And who sent the bomber? Nobody but the LTTE, the Sri Lankan Tamils' great liberation army. Yup, they didn't like Rajiv's policy on Sri Lanka so they sent him the LTTE version of a strip-o-gram: a zombie girl who shimmied right up to Rajiv at a rally and pulled her own string. It stripped her all right; it stripped the flesh off her and Rajiv and anybody else within the blast radius. Scorched-earth erotic dancing. The ultimate Bollywood closing number.
And now that the LTTE is cornered like a weasel with its foot in a trap, they actually have the gall to ask for her help. This is why I could never be in politics: you have to have the ability to forgive people. I've never forgiven anyone in my life. I don't even get the concept. If something was bad, something offended you, then it stays that way. It doesn't turn nice because a little time has passed. I never did get that idea. But Sonia just sat up on a dais in Chennai and listened to a bunch of old LTTE supporters read poems about the glorious Tamil martyrs—you know, like the girl who erased Sonia's hubby—and politely remind them that India can't interfere in the internal affairs of a sovereign nation, bla bla bla. I guess that would've been sweet, in a quiet way, but me, I'd want to offer the Sri Lankan army the full support of every fighter plane the Indian AF can send down there. "Oh, I'll help your friends in the LTTE, all right: I'll help them all be reincarnated as tapeworms after we send the Indian Air Force down there to wipe out your last-ditch bunkers! Oh yeah, my little Tamil buddies, we're gonna put on a little air show for ya, we'll call it the Rajiv Gandhi memorial air munitions display because after all my hubby was a pilot back when he was alive before you turned him into blackened meat, remember little buddies? Yeah, and anyway the Indian arms industry needs a showcase, let the world media see what our new air-to-ground munitions can do to a bunch of losers who tried to set up a 19th-century rebel empire and found out it's not so easy any more."
That's what I'd do. But Sonia's a patient sneaky lady, a good politician, and she remembers that her party owes a lot of its power to the fact that it carried all the Tamil districts in the south. So she just smiles while the Sri Lankan army grinds the LTTE to death.
There'll be many a dry eye when those bastards are gone. All over the world, governments are quietly chortling, even while they tsk-tsk in public. The Tamils got way above themselves, and nearly everybody is happy to see them fall.
The real question is, what happened to turn a really impressive, powerful guerrilla army like the LTTE into this pathetic dead-ender comedy skit, hanging on to its little "sovereign state" in somebody's backyard banana grove while the army arty shreds the leaves?
I've written about the LTTE before, used to admire the bastards for their sheer ruthlessness and the way they bridged the gap between conventional and guerrilla war-making methods (read this and this), but it's beginning to look to me like that strategy of the LTTE's where they try to cross over from guerrilla force to a "sovereign state," with its own uniformed armed forces and government and liberated territory, backfired real bad on them. They'd have been better off skulking in the scrub hoping to cause enough trouble to be bought off. Now they're going to be just plain wiped out. That's the trouble with doin' it old-school: the old-school end game for a defeated conventional army is total annihilation.
The LTTE was doing so well as a guerrilla army that it did what winners usually do: find some way to push its luck and turn victory into defeat. It's weird how you see that pattern everywhere you look, from corporations that are good at doing one thing they make tons of money and then put it in some totally unrelated business they know zero about, to armies that figure winning a battle is a sign you should go pick on some bigger, badder enemy (See Wehrmacht 1941).
The LTTE started way back in the 1970s, when guerrilla armies were a growth industry. They won over the Tamils in Sri Lanka by being more hard-ass than any of the older Tamil militias, and they proved it by just plain wiping out their wimpy rivals, like the TELO.
You have to remember how different the world looked when people like the LTTE's Dear Leader Prabhakaran made the career choice to become a guerrilla generalissimo. And you have to remember that in the kind of hellhole he grew up in, it really was a career choice. There weren't many others, and guerrilla had a rockstar appeal compared to the other options, like starving schoolteacher or smalltime farmer. This was before the IT industry turned the Tamil part of India (basically the SE quadrant of the Subcontinent) into Silicon Valley East. Back in them days, the quickest way to have dinner with the big folks was to control a bunch of malaria-ridden skeletons waving AKs.
So Prabhakaran did what any good entrepreneur would do, grew his business the old-fashioned way: ambushing convoys and assassinating government officials. The LTTE fought a slow stalemate against the army for 25 years after that, with fake "ceasefires" from time to time followed by assassinations to announce that it was back to business as usual, but the one steady factor was Prabhakaran, who got crazier and more conceited as the years went by. He wanted it all, and step one was killing anybody who was a career rival. Which he did, starting in 1986 when he used the old-as-the-hills technique of calling all the braintrust together for a big conference and then mowing them all down. I can't believe anybody falls for that one, when it's been Plan #1 for about three thousand years. But who knows, there are still suckers buying Chrysler, so you can't underestimate stupidity.
The greedy goons running the LTTE were getting more and more pissed off and jealous because in the meantime, their Tamil friends over in Chennai were lording it over them with their Microsoft options and i-phones and kids majoring in comp sci at MIT. Worse yet, the richer those mainland Tamils got, the less they were interested in sending money to the LTTE boys hunkered down in the coastal scrub. Back in the 1970s it was that or pluck chickens, but when Microsoft is offering to send you to their corporate campus in Seattle, all expenses paid, the Pol Pot version of The Apprentice doesn't seem like such a great option any more. The whole shape of the world (outside Africa anyway) was turning against guerrilla armies, and the LTTE had to figure out which way to turn.
At one level they were in a pretty good position; they held most of NE Sri Lanka, off and on, and their opposition, the Sri Lankan armed forces, was nothing to be afraid of. By 2000, the LTTE took Elephant Pass, a key route to their heartland in Northern Sri Lanka. They had other assets: a lot of money and sympathy from the 80 million Tamils around the world, and they had the BBC on their side too, because the Tamils' were always the Brits' pet tribe on the island, specially imported back in Victoria's day to give the native Sinhalese fits.
But Prabhakaran was no Pol Pot. He was more like a businessman, and he kept his eyes on what he considered the prize, namely making every Tamil on the island his personal slave. There's always a slave side to a guerrilla movement, because the people are their main asset, and you want to have good control over your asset. But Prabhakaran took it way too far, even for a Dear Leader type. Of course it didn't help that he was hands down the ugliest revolutionary leader in history, a fat little toad tamped into a camo uniform.
Here I figured I was too ugly to be the Che of Fresno but maybe not. If this lumpy raccoon-eyed amphibian Prabhakaran can do it, then Generalissimo Brecher here we come.
Prabhakaran decided to settle for a ceasefire and set up his precious "state" in the north of Sri Lanka, and he went whole hog. Nobody loves bureaucracy more than an Indian, and the LTTE was suddenly turned into rubber-stamping, desk-grabbing, bribe-taking office pigs. Just imagine what the DMV office would be like in Hell and you've got the idea. Every cadre wanted payback for the years hunkered down in the bush from every poor sucker who needed a document stamped. They actually started a "living tax"—as in a tax on the fact that you were breathing. And being a guerrilla army, they made it real clear that if you didn't pay your breathing tax, they had no problem about interrupting your oxygen supply.
When you think about the LTTE's famous air force and navy from this angle, they don't look so cool any more. I admit, I wrote how cool they were, but since I've been looking deeper I see they were part of the whole "legitimate state" bullshit business plan that sank the whole movement. They were just more showing off, more trying to be like the big boys. In hindsight it'd have been better for the LTTE to stick to what makes guerrilla armies strong: the AK, RPG and staying tight with the villagers.
This is what Mao would have called "mismanaging your prime asset." Not that Mao would've used that capitalist-roader talk but what he taught his PLA cadres amounted to the same lesson: you better treat the people decent (Mao said, "Don't take anything from the peasants, not even a sweet potato"), because it's the people, not the land you claim, that keeps you strong. Here's the key Mao quote that Prabhakaran and his little careerists should've memorized: "Lose land to keep people, land can be retaken; lose people to keep land, land and people both lost."
That one sentence explains everything that happened to the LTTE. They terrorized the people, their only real asset. When the war resumed in 2002, the Tamils voted with their feet. They ran from the LTTE slavedrivers, even risked surrendering to Sinhalese soldiers instead of sticking with their "liberators." The LTTE was so shocked at the way their peasant slaves were deserting them they made it policy to fire on Tamil civilians who were trying to flee LTTE-controlled zones.
A classic lesson in how to lose by not listening to Mao, by valuing land and fancy uniforms over sharing rice with the peasants. And now Prabhakaran has about a week or so left in his miserable life to go over Mao's lessons in his head while he skulks in a bunker somewhere in his precious "Tamil Eelam." Then the soldiers will kick the door in and the bastard will have a couple of seconds to decide whether to be a hypocrite right to the end, surrender and hope the UN gets him clemency, or die like he made thousands of trusting Tamil kids die, by swallowing the cyanide pills every LTTE soldier carried around his neck. If they even make cyanide necklaces in his collar size.
Gary Brecher is the author of the War Nerd. Send your comments to brecher@exiledonline.com.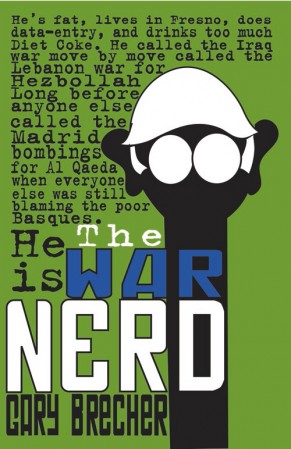 Click the cover, buy the book!
Read more: ltte, sri lanka, Tamil Tigers, the war nerd, Velupillai Prabhakaran, Gary Brecher, The War Nerd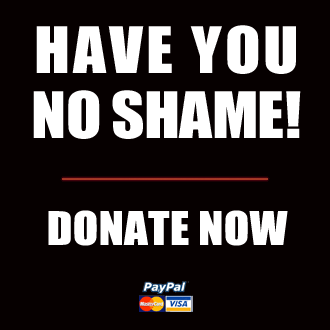 Got something to say to us? Then send us a letter.
Want us to stick around? Donate to The eXiled.
Twitter twerps can follow us at twitter.com/exiledonline