By Mark Ames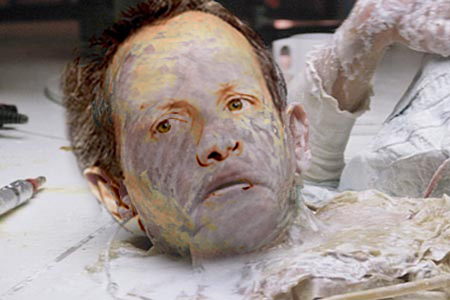 Now I know what they mean when the media uses that word "outrage." I saw it with my own eyes, during yesterday's Congressional hearings with Tim Geithner. Turns out "outrage" refers to a ritual whereby Congressmen in Washington put on a kind of talent show on the TV to see who can play the role of Americans best. Then it's all judged by the pundits, those connoisseurs of "Main Street's outrage," sort of like American Idol except that this is American Outrage. It's really a lot of fun for everyone involved, and it's useful too because this way, representatives can connect with us by actually pretending to act like they're us–"outraged Americans"–which we're told we are, and in fact, we are.  (The winning prize is more campaign money from the billionaires who are always on the lookout for talented politician-actors.)
Yesterday's talent show, where they practiced on Tim Geithner–Yowza! Them's some good actors they got there in Congress. Seriously, it was hard to tell if they were even acting or not, you know? I thought, "That looks like us, all outraged 'n stuff!" What fireworks! I'm talkin' Ladyfingers-level outrage. Two packs of Ladyfingers even.
Like that Republican from Florida, Rep. John Mica: lawdy lawd, was he steamed up reeeal good when he grilled Geithner! He really socked it to 'im, right in the ol' pusser! Michelle Malkin agrees with me on that point. She wrote that Rep. Mica "spanked Turbo Tax Tim" in the hearings. Repeat: he "spanked Turbo Tim":  Hey, you said it lady, not me.
But here's the problem: if Rep. John Mica is acting the role of "outraged American," and I'm an outraged American, that means he's playing me. If I am anything like what Rep. Mica played yesterday, someone kill me. Have you seen that pervert? I gotta tell ya folks, I get a really bad vibe from Rep. Mica. I keep looking for his electronic ankle bracelet. I mean just look at him, listen to him talk, watch his body language–you just know he's the kind of Congressman who spends his lunch break masturbating to "Amber Alerts" down in the underground parking garage.
Did I mention that Rep. Mica voted for the TARP bailouts? No? Because Michelle forgot to mention it, so I will–Rep. Mica, the "outraged" thespian above, voted for TARP. And the Fannie/Freddie bailouts. And the car bailouts. And pretty much whatever Bush and Paulson told him to vote for. So yeah, Michelle's right–Rep. Mica spanked Turbo Tim, but in a playful kind of way.
And what about Geithner? I imagine his inner world is a barren, grim place, a lot like a federal building, with marble floors and columns and stairwells, and lots of echoing 'n gravitas. Tim takes long thoughtful walks through his own mind's corridor, where he meets his inner voice, who says, "Tiiiiim, don't take the criticism to heart, Tiiiiiim. They're just ignorant and resentful, my son, for they understand not how the system truly works. You do, yes, you, Tiiiiiim. Bob Rubin has confidence in you, and Bob's approval is worth 305 million of these ignorant fools' complaints."
And Tim goes, "I know, O inner voice of strength, I keep this in mind as I weather the verbal blows. But I just really don't like it when these ignoramuses talk to me this way. Can't these rabble-roursers criticize my policies without talking to me like I'm Juanita, my own housekeeper? I really want to tell that Congressman Stephen Lynch what I think about him, what a jerk.  But, then I recall how Bob counseled me against responding to the mob's cries. Instead, he told me, I must channel the force of centrism and consensus-forging. I will know what is centrist when the need arises.
"Bob said that to me, and he also said, 'Tiiiiim, do not allow anger to overcome you when those who are ignorant indulge their vulgar envy, for thy land is a democracy and thus it means your hard work must be interrupted from time to time, to face "the people" such that their own ignorance-fueled emotions might be assuaged. Just lay off them, O Tiiiiim.' That's what Bob Rubin said. I am doing my best to remember those words, O inner voice."
"Tiiiiiim, remember to keep up centrist appearances. Perform your 'humble public servant' role as you rehearsed it this past week with the Burson Marstellar coach. When you speak as their servant, yadda-yadda-yadda; when you tell each of the commoners' representatives that you appreciate his opinion, which he's entitled to–that is the path of the true leader. You don't know how much it means to the poor ignorant fools who populate these great United States, seeing you scolded–it placates them, because then you briefly become like them. As you know, the weak and mediocre endure scoldings in their workplaces every day of their lives. Scoldings from their favorite television news personalities. Scoldings from telemarketers and bill collectors. True, they need these scoldings, because without those scoldings, there would be no personal responsibility in this country (excepting our private circles). Pity those who scold you, for they have never walked these marble floors of your inner life. Instead, these poor wretches think only with their emotions, and not their brains. Not like you, Tiiiim.
"So, to sum up, because I really have to go to another meeting now: just repeat the statements your counsel told you to repeat. And remember, the ignorant weak masses will always envy you, and always try to pull you down to their level. But in truth their complaints are nothing, the sounds of buzzing flies looking for a place to land. They will soon be gone. You won't even remember their first names."
Read more:, Mark Ames, Banking Porn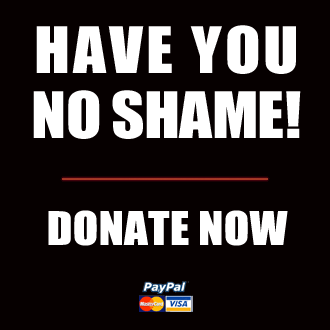 Got something to say to us? Then send us a letter.
Want us to stick around? Donate to The eXiled.
Twitter twerps can follow us at twitter.com/exiledonline