By Mark Ames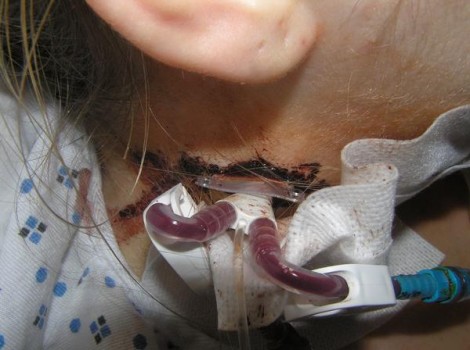 This article first appeared in Alternet.
Wall Street Vampires: Lately, a lot of Americans, myself included, have used the blood-sucking freaks as a metaphor to describe the Wall Street billionaires who rule us, and who are ruining us.  Like so many awful stories of the past few years, it turns out that these Wall Street vampire-billionaires really exist, literally. Like all vampires, they live in remote castles, and feed themselves by luring poor, desperate humans into their dens, hooking them into blood-pumping machines, and sucking out their plasma for mind-boggling profits.
Cerberus Capital, one of Wall Street's most notoriously ruthless leveraged-buyout firms (or "private equity firms" in PC-speak), recently made a $1.8 billion killing on their human plasma investment, a company called Talecris, which they bought for a mere $82.5 million just four years earlier.  Meaning Cerberus made 23 times their investment on human plasma. They did it by the most savage, heartless means possible: by paying peanuts to their impoverished human plasma donors, who increasingly come from Mexican border towns to blood-pumping stations set up on the American side, jacking up the price of plasma by restricting supply (a lawsuit filed by the Federal Trade Commission accused Cerberus Plasma Holdings of "operat[ing] as an oligopoly"), and then selling the refined products to the most desperately ill, patients suffering from hemophilia, severe burns, multiple sclerosis, and autoimmune deficiencies. The products cost so much—one, IVIG (intravenous immunoglobulin) cost twice the price of gold as of last summer — that American health insurance companies have been dropping or denying their policy holders in increasing numbers, endangering untold numbers.
Tomas Asher, chairman of a company that trades in plasma, described the business this way:
"It's like selling hog bellies or wheat or beef. It gets sold all over."
Profiting from ruined American lives is nothing new to Cerberus — which takes its name from the legendary three-headed attack dog of Greek legend who guards the gates of Hell, making sure no condemned soul ever escapes. How appropriate too.
Cerberus is the same shady fund that bought Chrysler and GMAC in 2007 and drove them into the ground, blamed everything on unions (even after firing 30,000 Chrysler employees), and dumped the companies onto American taxpayers—but only after lining up tens of billions in taxpayer-funded bailout funds. Cerberus is led by some of the most aggressive "free market" Republicans of our time. The chairman of Cerberus is former Treasury Secretary John Snow—who oversaw the destruction of America's economy while serving under Bush from 2003 to 2006, bragging during his tenure, "We are the envy of the world."
Snow bragged again in 2007 after Cerberus acquired Chrysler: "Over 25 years ago, when Chrysler faced bankruptcy, it turned to the United States government for assistance. Today, Chrysler again faces new financial challenges. But it is private investment stepping in to inject much needed support." A year later, Snow was running around Washington begging and screaming for government handouts like some balding Bob Geldof.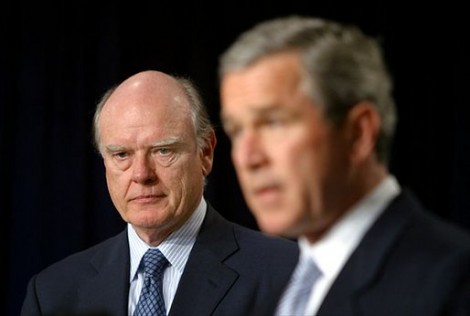 Treasury Secty Jack Snow thinking, "God, I envy us."
Joining Snow as international chairman for Cerberus is former Republican Vice President Dan Quayle, the pampered imbecile who couldn't spell "potato" correctly. Two more perfect vampires couldn't have been invented than Quayle and Snow for the America of the Bush Era — peanut-brained, sleazy jerks.
The top vampire in Cerberus is the fund's founder, billionaire Stephen Feinberg, a major Republican Party campaign donor with a hardcore fetish for Harleys and big guns, and despite being a rich Upper East Side Princeton grad, he drives a Ford pickup (not a GM or Chrysler, mind you) and tells everyone he's "blue collar." Supposedly Feinberg was very uncomfortable with taking all those socialism-esque billions from American taxpayers. The New York Times described him as "a longtime free-market enthusiast and a Republican who never envisioned himself needing the government for help." What he did envision was callously taking control of Chrysler, stripping it down and making a killing off of it, as Feinberg himself coldly noted in an early 2008 memo to his investors:
"We do not need to be heroes to earn a good return on the investment in Chrysler," he wrote. "We do not need to transition the car industry or even to return Chrysler to a much stronger relative position in the U.S. car market in order to be successful."
After Feinberg siphoned away billions of taxpayer dollars to pay off his bad investments, he told reporters, "From the day we bought it, we worked hard to improve it." Patriotism, not profit, he bleated: "I love this country. I feel it's been great to me. I had a great chance."
To understand how Cerberus has profited from human blood and misery, here's some background: the United States is one just a handful of nations around the world where companies can legally pay humans for their blood and then sell it for a profit. Human plasma is a particularly valuable component of human blood — it's harder to extract, and can be used to manufacture all sorts of expensive therapeutic products. The market for human plasma products has swelled from just $2 billion in 1988 to over $12 billion per year, and according to a recent Morgan Stanley report, it's a fast-growing business.
Despite all the billions that Wall Street's vampires earn from plasma, the hapless humans whose veins they milk make barely a pittance–$30 dollars or so for spending an hour hooked up to a pumping machine that sucks the blood, sifts out the valuable plasma through a cold filtering process, and reverse-pumps the debased, icy blood back into the plasma donor's veins.
It's such a miserable way to make cash that Cerberus and its fellow oligopolists have resorted to setting up plasma-sucking franchises along the US-Mexico border, which have mushroomed like Starbucks' once did in the '90s. In the latter part of 2009 alone, Cerberus-owned Talecris opened four new plasma-milking factories. They and their oligopolist colleagues plaster the Mexican side of the border with advertisements promising easy cash, and they even have special plasma-farm buses waiting on the American side of the border to haul their human cargo to those milking dens not within walking distance of the Rio Grande.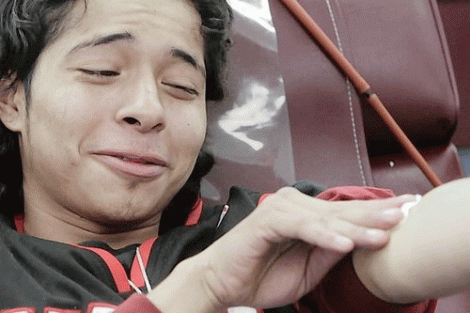 Last summer, a reporter for The National newspaper followed an unemployed 46-year-old Mexican manager from his border town to the pumping station in Brownsville, Texas, which has the highest poverty rate of any city in America:
"After entering the United States, Castillo didn't have to walk far to sell his plasma. A few hundred feet up International Boulevard from the border, the IBR Plasma building sits on Washington Street, across from a Duty Free shop. The plasma centre still looks very much like the bulk second-hand clothing store it used to be, though long white vertical blinds now hide what goes on behind its windows. Inside, the waiting room is divided into two sections marked by sheets of paper taped to the wall: one for "new donors" and another for "return donors". This was Castillo's first visit, which meant he could make $30 – about 400 Mexican pesos. Signs in Spanish and English offered an additional $10 to those who recruited other donors.

"Castillo lay in the big soft chair, he said, while they inserted the needle and his blood started pumping out. It was cycled into a machine that spun the red cells from the liquid, as if squeezing whey from curds. The whey, the watery plasma, was stored in a big plastic bag, while the red blood cells were periodically reinjected into his arm. While he laid there, he later told me, he wondered about what his plasma was really worth – and where it would end up. Castillo is an educated man with a degree in business administration; before coming to Brownsville he had done some research and found, among other things, that in Mexico donating plasma for money is illegal – as is the case in much of the rest of the world."
You might think that America would be ashamed of being the world's top vampire nation. But actually, to the faux-market freaks like Cerberus Capital's honchos, it just means locking in profits and locking out competition. Thomas Hecht, who heads a plasma products distribution company in Montreal, quipped:
"The U. S. is the OPEC of the plasma business. You know what that stands for: the Organization of Plasma Exporting Countries."
But Cerberus is more than just about sucking people's blood and government handouts. Stephen Feinberg also loves killing deer. In fact he loves shooting deer so much that, like the old Gillette commercial, he bought America's guns 'n' ammo industry. Two years ago, Cerberus bought Remington, America's oldest firearms manufacturer, and since then they've snapped companies making everything from bullets to silencers, which they're combining into a new firearms monolith called "Freedom Group." Cuz you know, those free-marketeers at Cerberus, they're all about freedom.
Luckily for Cerberus, weapons sales are "flying off the store shelves," thanks to all the paranoia about Obama socialism, fed by all the bailout money that rightwing billionaires like Cerberus have looted. Sales have also been boosted by the wars in Iraq and Afghanistan — in other words, more government handouts for the billionaires, now that they own the guns 'n' ammo business. It's all going so well that Cerberus is planning a huge IPO this year for Freedom Group, which should net them another massive payout.
So Cerberus profits on both ends: From the bailouts, and from the backlash against bailouts; from the wars against Muslim terrorists, and from the paranoia back home about an alleged socialist-Muslim-terrorist president.
Either way, the vampires have us where they want us.
This article first appeared in Alternet.
Mark Ames is the author of Going Postal: Rage, Murder and Rebellion from Reagan's Workplaces to Clinton's Columbine.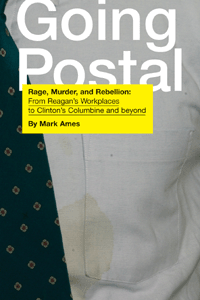 Click the cover & buy the book!
Read more: Cerberus, Dan Quayle, free-market, Jack Snow, John Snow, Republican, rightwing, Mark Ames, Class War For Idiots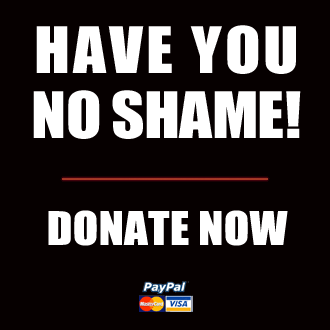 Got something to say to us? Then send us a letter.
Want us to stick around? Donate to The eXiled.
Twitter twerps can follow us at twitter.com/exiledonline