By Mark Ames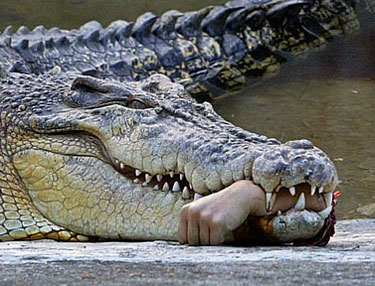 (This article was first published last week on Playboy.com)
America is now in a state of bloodlust, following the shocking realization that there are bad people at the top of our economic food chain. We knew there were some bad apples out there, but AIG's $450 million bonus swindle simply defies everything we assumed about the American character, particularly the character of our best and brightest, our All-Star Success Stories.
It was one thing to bail out their banks and insurance companies—at least our tax dollars weren't being wired directly to specific people with names and faces, but rather to "institutions," which makes it a little more palatable. But now, with the AIG scandal, there are real people stuffing their pockets with money looted from us. It suggests that they have no conscience. That they learned nothing. That, in fact, they didn't give a fuck about our bailout on any emotional grounds, except as it presented a new feeding opportunity. Despite how it works in the movies, we haven't been brought closer together—we, the common folk taxpayers, and they, the super-wealthy villains we bailed out. And this is what's so enraging and humiliating: We were denied that cinematic transformation of character that Americans have been brainwashed to expect from our billionaire CEOs with their hardened hearts-of-gold—think Oscar Schindler's climactic anti-greed speech, or Mister Magoo throwing coins out the window in the cartoon version of A Christmas Carol.
The shock we're feeling today is like the shock and rage a wife feels after her husband is arrested on 152 counts of child molestation spanning three decades. How could we not know, when it's been going on every day, every year, right in front of us?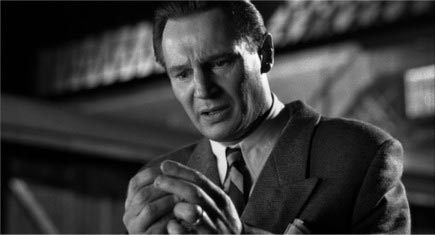 "This watch! (sniff!)…" Why can't America's plutocrats be a little more Schindler, and a little less Fiennes?
If we'd cared to look around us at any time since the Reagan Revolution, we'd realize that the CEOs, billionaires and finance stars are behaving no differently today than they have been for nearly three decades. When we look back, what will pain us most is the way we admired the billionaires even as they brought about our ruin, turning them into TV celebrities and magazine-cover heroes, worshipping them like rock stars right up to the end.
A perfect example of the kind of person who benefited from the Reagan Revolution is Al "Chainsaw" Dunlap, a corporate superstar during the peak Clinton years, when Reaganomics accelerated under the guiding hands of Alan Greenspan, Larry Summers, and Robert Rubin. It was during Clinton's centrist pro-business presidency that innovations like the like mass-layoff (rebranded as "downsizing") became a regular feature of economicbooms, rather than of economic busts, as they had been in the past. Layoffs expanded right with the economy for the simple reason that each mass firing freed up millions or billions of dollars that had gone to workers, but now could be divided up between executives and major shareholders. The problem was finding people cold-blooded enough to do the job—which is to say, there was no problem whatsoever. As Dunlap himself boasted in a 1998 interview with Fortune magazine, "Mickey Mouse could do the cost cutting."
By that time, he was already a celebrity with a nine-figure net worth. It all started back in 1994, when Al Dunlap was named CEO of Scott Paper. His first move was to fire nearly one-third of the workforce, or 11,200 workers. This cheered investors, who piled in, driving Scott Paper's stock up by 225 percent. By reclaiming the sum total of whatever 11,200 workers earned and redistributing it to the shareholders and executives, Dunlap earned himself a $100 million payout for 19 months of "Mickey Mouse" chainsaw duty.
Mutual fund billionaire Michael Price was so impressed that in 1996 he brought Dunlap in to "restructure" one of his portfolio investments, the ailing Sunbeam Enterprises. The mere announcement that Dunlap would take his chainsaw onto Sunbeam's factory floor and massacre all those payroll-sucking employees caused Sunbeam's stock to rise 60 percent as portfolio investors rushed to get a chunk of the promised loot. And Chainsaw Al didn't disappoint: as soon as he had an office, he fired 6,000 Sunbeam employees, or half the work force. Investors roared in approval, driving the stock straight up for four months.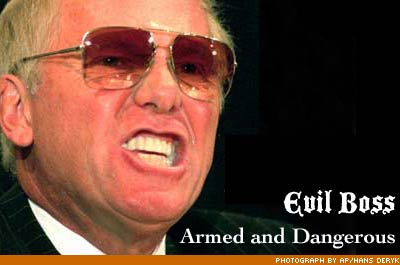 But in a now-familiar plot-twist that has repeated itself over the past 30 years, it turned out that Dunlap wasn't the great Rand-inspired corporate innovator that he and the media made him out to be. Instead, his "success" looks to have from the oldest trick in town: cooking the books. When the shit hit the fan, he was fired, and sued. According to an SEC lawsuit filed against Dunlap, he led a team that:
"employed a laundry list of fraudulent techniques to falsely give the picture of a successful turnaround, falsely raising results, in an attempt to sell the company at an inflated price."
Sunbeam filed for bankruptcy and shareholders lost $4.4 billion in value. Even though Dunlap was fired from the company he destroyed, he still walked away with at least $16 million. The SEC looked at all this destruction, and decided to punish him with a $500,000 fine. When you consider that he'd already netted at least $116 million in the span of a few years, a half-million dollar "punishment" for all that destruction wasn't even so much as a slap on the wrist. Moreover, the settlement allowed Dunlap to avoid having to admit wrongdoing.
This same arc has been repeated all over the American economy—what we once thought were isolated cases turned out to be a pattern, and the pattern repeated so much up down corporate America that it finally became clear: These things are the rule. No wonder the SEC never came down hard on anyone: it would have meant shutting down the entire economy and starting from scratch.     
In the past, when downsizings and payouts happened, they were seen as a necessary evil in the overall march to a free-market utopia. Now we understand that what really happened wasn't as complicated or theoretical as it was made out to be. It was a straight-forward transfer of wealth out of the pockets of, say, 11,200 employees at Scott Paper into the pockets of Wall Street bankers and their CEO henchmen. No matter how many words like "efficiency" and "restructuring" you gloss it with, it's still taking money that formerly went into one group's pocket, and giving to another, much smaller group.
What's so strange, looking back, isn't just the blatant, shameless plundering of thousands of American families for a few individual's excessive profit, but the way we all adored them while they were in mid-plunder. Just look again at Al Dunlap: he didn't even try to pretend he was likeable or even human, but still we were licking his boots. As Chainsaw Al himself boasted to the New York Daily News back in 1996, when asked about how he could pocket so much money while destroying so many employees' lives,
  "Did I earn it? Damn right I did!… I'm a superstar in my field, much like Michael Jordan in basketball and Bruce Springsteen . . . "
Looking back, the Daily News' question to Dunlap is absurd. It's like asking a crocodile how he could possibly eat a baby wildebeest when its mother is right there on the riverbank watching. "I earned it! Damn right!" is exactly what the croc would answer.
And Dunlap was right, too: we made him a superstar. He didn't just get away with it, he was a hero for doing what none of us had the guts (or conscience) to do. As the Daily News itself noted, "When he fires thousands of workers, he boasts about it." You might expect someone who caused as much destruction as Al Dunlap would want to keep a low profile, if not out of a guilty conscience then at least out of a fear that a destroyed worker might hunt him down and get some payback. In the old days that's what they did. What held those workers back from going to a Dunlap book signing and exacting some revenge? Why didn't a single person ever attack him?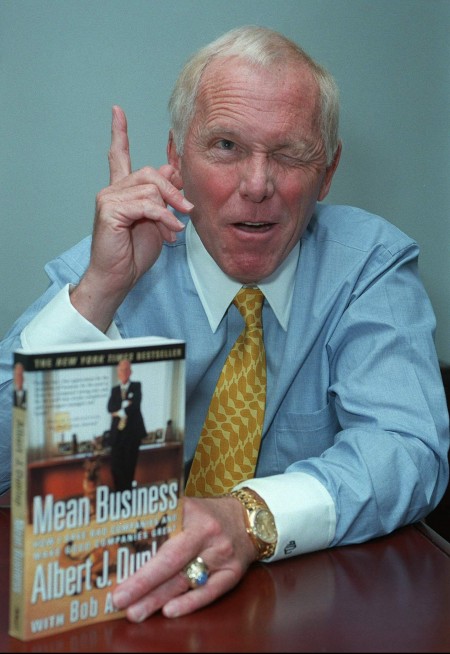 Dunlap at one of his book signings, not even pretending to worry that one of his adoring fans might be out to get him.
It just wasn't considered. Not until two weeks ago, when AIG's Financial Products division received so many death threats and hate emails that they hired armed security guards to protect them from potential revenge attacks.
And yet, there's a silver lining: The government is finally being forced to act on the taxpayer's behalf, and make a serious attempt to recover the millions in bonus money from the AIG looters.
This is a class war, in case you didn't know. On one side are the reptiles like Dunlap, AIG, and so on; on the other side, the humans, us. We're at a huge disadvantage because, like in Starship Troopers, we're saddled with a conscience and with fear, and the reptile-plutocrats aren't. They're not afraid of shame or fines; but they want to live, as all life forms do. That's why death threats are bringing real results: Death threats work when you're dealing with reptiles like AIG's financial products division. To see what I mean, let's go back again to the example of Al "Chainsaw" Dunlap:
In 1967, unions were much stronger, income disparities were much narrower, and Americans didn't culture-hump their bosses. Back then, Al Dunlap tried to apply his "chainsaw" to a company called Sterling Pulp & Paper. He proposed mass firings of its unionized workforce to bring down costs and boost the owners' share. But Sterling's 1967 workers weren't like Sunbeam's or Scott Paper's in the 1990s. They didn't roll over and accept the downsizing with a sullen grumble. Instead, to quote from Dunlap's own book, "There were also physical threats of violence. We received anonymous calls and letters from nuts who said they were going to blow up my car or shoot me in the parking lot." It worked: Dunlap caved in to the "nuts," the workers weren't downsized, and Dunlap eventually was forced to retreat. (A biographical note: according to the book Testosterone, Inc., Dunlap's first wife divorced him on grounds of "extreme cruelty" after he allegedly took a knife to her and said, "I've always wondered what human flesh tastes like.")
But America was a different country back then. We weren't in awe of the CEO class, and they were kept in check. In 1978, American CEOs made more than 30 times the average salary of their company's employees; by the early 2000s, CEOs made more than 500 times the average salary of their employees. Workers weren't losing just a portion of the wealth, but also their pensions, health care, vacation time and job security.
Over the past few months, with the repetition of scandals and villains—whose names are different but whose machinations are all roughly the same—we're starting to understand that people like Al Dunlap weren't the aberrations we hoped they were. We see a similar modus operandi at work with Lehman's Dick Fuld, with Merrill Lynch's John Thain, with the Countrywide execs (who've bounced back recently with a 
new scheme
to profit off the misery of Americans), with Washington Mutual's ex-CEO Kerry Killinger, with Bernie Madoff, and now with AIG's derivatives traders. They may not be as crude and boastful as Dunlap, but they were far more successful at plunder than he was. The really scary thing is that pretty much everywhere you see a "success story" in corporate America or Wall Street, you'll find a variation on the "Chainsaw" Dunlap story: plunder, looting, destruction—the reptiles versus the humanoids.     
A couple of weeks ago, while researching for an article on the shooting spree in southern Alabama that left 11 people dead, I came across a variation of the Dunlap Plunder in an unlikely place: Pilgrim's Pride chicken, the largest chicken processor in the world. I looked into Pilgrim's Pride because the company was high on the shooter's alleged "hit list." At the top of his grievances: he and his mother had both filed lawsuits against Pilgrim's Pride in 2006 claiming they'd been cheated out of their wages. They weren't the only ones: A class-action lawsuit filed by over 10,000 employees charged the Pilgrim's Pride with denying payment for overtime work, and the U.S. Labor department agreed. In 2007, the US Labor Department slapped a paltry $3 million fine on Pilgrim's Pride for illegally undercounting work hours.
It gets worse: Pilgrim's Pride's founder Lonnie "Bo" Pilgrim overleveraged the company in 2006, the year everyone was overleveraging, in order to acquire rivals and overtake Tyson as the world's number one chicken producer. He achieved his goal, and assured shareholders it was a wise move; but that's when the company started getting sued for shaving employees' salaries, which is another way of saying transferring money from the workers to the owners. Last year, shareholders filed suit against Pilgrim's Pride, charging securities fraud. By December, the company declared bankruptcy, thereby protecting the billionaire Pilgrim family from its creditors and aggrieved workers and shareholders.
In short: wealth transferred from the pockets of local fireman, police, teachers and utilities into the pockets of the Pilgrim family.
But supposedly there's nothing we can do. Like AIG, Pilgrim's Pride is holding a proverbial gun to the American government's head: if it goes into Chapter 7 and collapses, then as bad as things are now, it could get much worse, with its 50,000 employees facing layoffs and dozens of factories facing closure. As a result, the USDA announced that we, the taxpayers, will spend tens of millions to buy Pilgrim's Pride chicken. Meanwhile, Pilgrim's Pride responded by shutting down three plants anyway, and the bankruptcy judge has allowed former executives of Pilgrim to be rehired as "consultants" on company retainer.
Amid all of this, the man who went on his shooting rampage a couple weeks ago, Michael McLendon, appears to have been set off by a decision by Pilgrim's Pride to suspend his 53-year-old mother from her factory job due to a dispute over how she counted her work hours—the same dispute that Pilgrim has been fighting and losing the past few years. You would think they wouldn't do something as brash as suspend an employee over a work-time related dispute, not during a lawsuit, not during bankruptcy, not now with Obama in power. Right? But they did.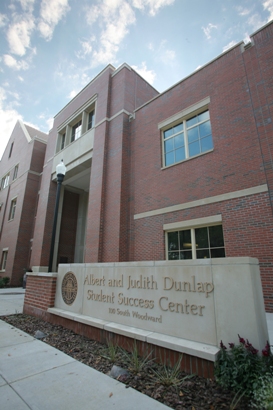 The new Florida State University "Albert Dunlap Student Success Center" was inaugurated last September, when the financial crisis hit. Dunlap put up $5 million, and the state put up the other $8.5 million or so. Dunlap was awarded an honorary degree in human dissection, before slithering back into his swamp-lair in the Everglades.
Which brings me back to the original point of this article, which is to say that we've finally learned our bitter Brady Bunch lesson: The economic elite of this country is made up of people whose exterior features look human, but whose brains are reptilian.
That's why AIG's behavior, and all the rest of them, makes so much sense—both their bottomless appetite for plunder in the face of no resistance, and the way they have released the loot from their jaws and scrambled away to the muddy river bottom at the first sign of serious threats from the humans they've been feeding on. They'll retreat for awhile, but in the end, a croc's got to eat, and his idea of eating isn't our idea of eating.
Things in this country could get very strange and very hardcore. Stay tuned.
Read more:, Mark Ames, Class War For Idiots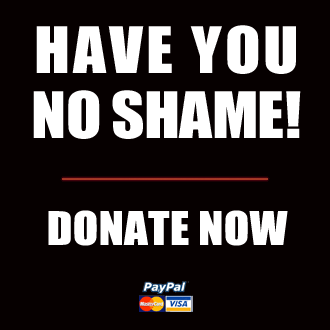 Got something to say to us? Then send us a letter.
Want us to stick around? Donate to The eXiled.
Twitter twerps can follow us at twitter.com/exiledonline