By Mark Ames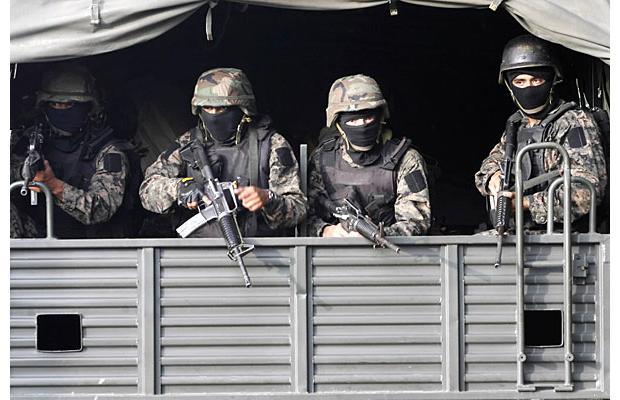 America's collapse into a Third World banana republic is accelerating: Alabama's most populous county, Jefferson County, is so broke it's closing down courthouses and laying off so many cops that it's now planning to call in the National Guard to maintain order:
BIRMINGHAM, Ala. – The sheriff in Alabama's most populous county may call for the National Guard to help maintain order, a spokesman said Tuesday, after a judge cleared the way for cuts in the sheriff's budget and hopes dimmed for a quick end to a budget crisis.
It's all too fitting that the county is going broke because it can't pay the $3.2 billion in sewer bonds that the county borrowed, on bad advice from what's now the biggest bailed-out bank in the land. They sold Americans shit, and now Jefferson County is literally eating that shit.
The reason why the county is broke is because it took the advice of the same Wall Street villains who later bankrupted America. In this case, JPMorgan Chase, which was hired by the county to act as advisor, and wound up not only giving the worst advice imaginable, pawning toxic assets onto the gullible hicks, but also charging them six times the normal bank fees–that's right, JPMorgan charged the county six times the going rate for advice that ruined the county, according to Bloomberg:
The county relied on advice from a bank, JPMorgan Chase & Co., to arrange its funding, rather than use competitive bidding.

The county paid banks $120 million in fees — six times the prevailing rate — for $5.8 billion in interest-rate swaps. That was supposed to protect the county from rising rates for their bonds. Lending rates went the wrong way, putting the county $277 million deeper into debt.

That means local officials now have to pay to banks money that otherwise might have been used to build schools, hospitals or public housing.
Why would a county do something that stupid, buying up toxic assets for 6 times the price? The answer is so obvious that the SEC and FBI even made a show of investigating, but the only thing that's come of the investigation so far is that taxpayers were forced to bail out the Wall Street thieves who tricked them, while leaving citizens to fuck off and die:
"It's ironic that the Fed can do corporate welfare for the banks, but they can't bail out a county that was victimized by these banks," says Craig Greer, a Catholic chaplain at a Birmingham hospice.

The SEC and Justice Department are probing whether the banks that financed Jefferson County conspired nationwide to fix prices for derivatives, violating the Sherman Antitrust Act, according to target letters sent to bank employees.
That was a year ago. By May of this year, the SEC was still making its empty threats, but by then it had already given Bank of America, which sold similar bullshit swaps to sucker-counties around the country, complete amnesty:
Bank of America was granted amnesty by the Justice Department for its cooperation in the national antitrust probe. In exchange for voluntarily providing information and offering continuing cooperation, the federal government agreed not to bring criminal charges against the bank.

Brian Marchiony, a JPMorgan spokesman, declined to comment. The company said in yesterday's filing that it is "engaged in discussions" with the SEC to reach a resolution before the agency files a civil complaint.

SEC spokesman John Heine declined to comment and Jefferson County Commissioner Jim Carns said he was unaware of any SEC moves against JPMorgan.
Right, so all BofA had to do was agree to snitch on everyone else–which is about as much a concession as telling a tapeworm that if it wants to continue thriving, it's going to have to continue sucking on someone's intestinal walls…or else!
Meanwhile, the gullible hicks are suffering–just like the whole country–while the Wall Street plutocrats laugh all the way to the taxpayer-subsidized bank. Sewage and water bills in the county were so high last year that some people had to choose between heat and water:
As nighttime temperatures plunged in Birmingham, Alabama, last October, Dora Bonner had a choice: either pay the gas bill so she could heat the home she shares with four grandchildren, or send the Birmingham Water Works a $250 check for her water and sewer bill.

Bonner, who is 73 and lives on Social Security, decided to keep the house from freezing.

`I couldn't afford the water, so they shut it off," she says.

Bonner's sewer bills have risen more than fourfold in the past decade. So have those of others in Jefferson County, which has 659,000 residents and includes Birmingham, the state's largest city.
So there you have it: life in the banana republic of norteamerica. The banks fleece the peasantry, and when they've been picked clean and can't pay another red peso, the federal government calls in la guardia nacional to keep order. It's a good thing–from the oligarchy's view, that is–that the suckers only response is to crash townhall meetings demanding that they not be given free health care, while spending all their unemployed time searching for holes in Obama's birth certificate rather than the holes in their own wallets.
Americans are the only idiots in the world who take an old-fashioned ass-rape without even putting up a fight.
For more on Alabama read: Alabama Shootings: Just Another Battle In America's Thirty Years' Class War and Murder Mystery Solved: The Shocking Story of How A Chicken-Slaughtering Billionaire Plundered Rural America.
Click the cover & buy the book!
Read more: Jefferson County, JPMorgan, suckers, Mark Ames, Class War For Idiots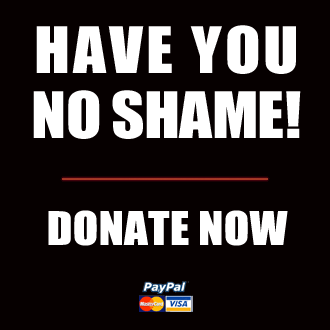 Got something to say to us? Then send us a letter.
Want us to stick around? Donate to The eXiled.
Twitter twerps can follow us at twitter.com/exiledonline