By Anonymous Technology Correspondent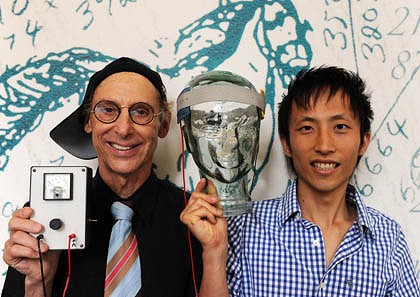 SYDNEY, AUSTRALIA–Last month, the Sydney Morning Herald reported on a new "thinking cap" developed by U-of-Sydney professor Allan Snyder. It's a weird device that supposedly boosts intelligence by shutting off part of the brain. (Or rather, people who wear the cap are more likely to pass a simple arithmetic test. No research has been done on whether it improves anything else.) And this might seem like good news, if the "thinking cap" project didn't have Rupert Murdoch's grubby fingerprints all over it.
You see, Allan Snyder isn't just any professor at the University of Sydney. Instead he holds a vague honorary position and runs the University's "Centre for the Mind," which might sound like a research department, but is really structured more like an non-profit, with a board of directors and a couple of advisory councils. These positions are occupied by a Who's Who of Murdoch's News Corp personalities. Rupert Murdoch's son, Lachlan, sat on the Centre's Executive Board until 2001. Also a Board member is columnist Phillip Adams, who started out as a sort of Oz-style James Randi and now plays a tame-atheist/devil's-advocate role for Murdoch's national broadsheet, The Australian. And, to top it off, guess which company the Centre for the Mind has as its "principal sponsor"? News Limited! That's right – the News Corp subsidiary in charge of Rupe's original Australian holdings (mostly tabloids from the 60s, among other snail media).
Back to the "thinking cap." Snyder's explanation for how it works is that it "suppress[es] mental templates gained through life experiences to help users see problems and situations as they really appear." His ultimate goal, he claims, is "to stimulate the brain in a particular way to give you, just momentarily, an unfiltered view of the world."
A Centre for the Mind research paper puts it another way: Snyder aims to create "savant-like numerosity skills… in normal people" using "magnetic pulses."
In other words, his "thinking cap" is really an autism helmet, designed to make the wearer a bit more fair and balanced than usual. You can tell why neocons might want to invest in this. Every libertard from Vernon Smith to Adrian Lamo is claiming to have an autism spectrum condition these days. Seems there's nothing more chic at the moment than rocking about and smearing shit on a couple of walls. Excuses all sorts of asshole behavior, just like depression did back in the 90s.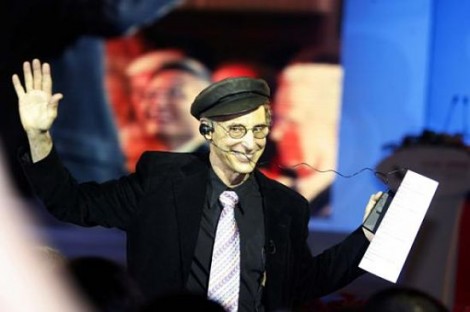 It gets creepier — Snyder is also the co-founder of a business called Emotiv Systems that produces equipment for reading surface thoughts and emotions, ostensibly for video games. I don't know what kind of idiot would want their computer to read minds, no matter how "convenient" this function is supposed to be. The same kind, probably, who'd accept Palmer Eldrich's Chew-Z (which, unfortunately, I keep pronouncing "Chew-Zed") with no questions asked. And if you think a Phillip K Dick villain with hollowed-out cheeks and metal teeth is scary, you should see what Rupert Murdoch would do if he got hold of that mind-controlling virtual-reality nastiness: "You are about to announce your retirement; understand me, Turner?"
That's if Snyder is a serious scientist and not some kind of Neuro-Linguistic Programming quack. His site is full of pictures of him posing with Tony Blair, Larry Page, Richard Branson, and even Nelson Mandela. He's put out a book titled "What Makes A Champion!" full of inspirational passages by Nobel Peace laureates and the like. The Centre for the Mind webpage has hardly any references to Snyder's scientific work, but lots of entries for motivational speeches he's made, especially ones about something Snyder calls a "champion mindset." He never gives a scientific definition for this "champion mindset," though, so I'm not sure what he means. Autism? Please, God, NO! There's nothing really creative about training the brain to do something a graphics calculator or 12-megapixel camera can already do better. Stick with amphetamines, kids – good ol' Can-D – they're your real thinking cap.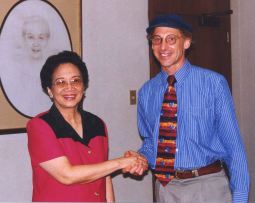 Snyder with Philippines President Corazon Aquino
I don't know, in fact, why an honest scientist would tell reporters that his autism helmet can boost "creativity" when the only thing it seems to enhance is pissant mental arithmetic. Not only is there something deeply fishy about Snyder's claims, but he seems to have written his own Wikipedia entry for "champion mindset." (And if it wasn't him, who did?) It's exactly the kind of thing a Tony Robbins huckster would do — do up a page for a self-help concept that isn't remotely original, hoping their fifteen minutes of fame as a candidate for speedy deletion will put them in the same category as Maslow and Nietzsche.
Along with this obvious hucksterism, Snyder's page carries some weird endorsements. One comes from acclaimed retard-jockey Oliver Sacks, aka "Dave Eggers, MD." Another comes from Australia's former neocon PM, John Howard, who acted more-or-less like a Murdoch employee for the 11 years he held government. Not only did he chip away at Australia's media ownership laws in Parliament, but he also appointed Murdoch pundits to the boards of government-run media organisations. This included Australia's taxpayer-funded ABC TV channel, whose board got Australian columnist Janet Albrechtsen. And, heck, who needs to scrap anti-monopoly laws when you can put Murdoch's people in charge of a "public" TV channel?
The revolving door went both ways. Howard's former speechwriter, a gay Tory by the name of Christopher Pearson, got a column at The Australian and became a sort of Down-Under version of Andrew Sullivan. For most of his career, Pearson behaved exactly like token minorities usually do in the neocon movement, attacking "political correctness" wherever he saw it. Then, in 2006, it was revealed that Alan Jones – a homophobic shock jock and close friend of John Howard – had sent love letters to teenage boys. Pearson sprang to the attack and charged the Left with gay-bashing: see, it's only homophobia when the target's a rich guy with Socratic inclinations.
Howard gives the Centre for the Mind a full endorsement on its website, claiming:
"The research being undertaken by Professor Snyder … has the potential to benefit future generations by assisting them to harness their full creative capacity."
And it seems like a pretty good deal, doesn't it? A state-endorsed means of boosting brainpower that doesn't involve yucky, habit-forming chemicals. Well, it mightn't, but at least yucky, habit-forming chemicals can't be designed to collect user data and send it all straight to Rockefeller Center.
Under the best case scenario, Snyder is just a tinfoil-hat conman, wasting the money of his increasingly decrepit tycoon master – and, to think of it, that autism helmet does look an awful lot like one of L. Ron Hubbard's "E-Meters."
Worst case scenario? Rupert Murdoch says: "I choo-choo-choose you!"
Read more: allan snyder, center for the mind, lachlan murdoch, newscorp, rupert murdoch, scientology, university of sydney, Anonymous Technology Correspondent, Health & Lifestyle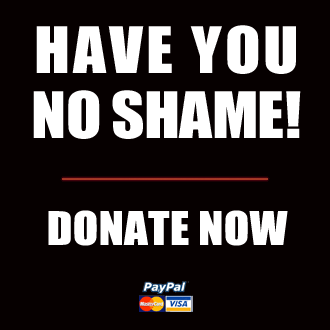 Got something to say to us? Then send us a letter.
Want us to stick around? Donate to The eXiled.
Twitter twerps can follow us at twitter.com/exiledonline