By Kostas Kallergis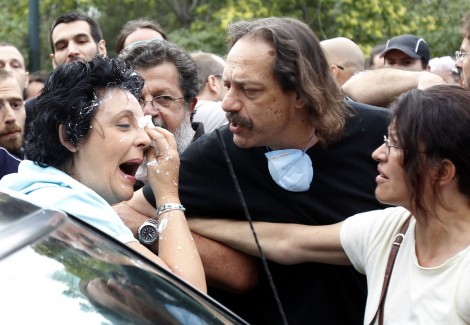 This article is cross-posted from When the Crisis Hits the Fan…
The co-ruling PASOK party had its national conference today. Its goal is to elect the new party leader who will succeed George Papandreou and will lead the Socialists in the coming elections. The candidates are Christos Papoutsis and Evangelos Venizelos. At some point, an old man, member of PASOK himself, approached Venizelos, complained about the cuts in his pension and then threw him a yogurt before being carried out by bodyguards outside the hall.
This is the latest in a series of food throwing that has reemerged during the past two years of the crisis as a means of political protest.
Greek yogurt
Originally, "yogurt throwing" was a means of protest against authority by Greek youngsters in the late 1950s. They were called "Teddy Boys", a name borrowed from the homonymous British subculture. You see, food throwing was traditionally a form of protest (preferable rotten eggs or tomatoes) but it was only in 1950s when the plastic cup substituted yogurt's classic ceramic pot, a marketing move that made yogurt a non-lethal weapon. The trend of yogurt-throwing was fiercely fought by the authorities with the legendary "Law 4000/1958″ according to which offenders were arrested, had their heads shaved and paraded through the streets of Athens.
The law also inspired a movie (Law 4000). Here's a great excerpt that needs no subtitles.
The law was withdrawn in 1983, by Andreas Papandreou. In 1997, a builder who was member of the Communist Party of Greece (KKE) threw a yogurt on the then Minister of Employment, Miltiadis Papaioannou (now Minister of Justice) and his then Deputy Minister Christos Protopappas (now PASOK's Parliamentary Group Representative) . The court decided that yogurt throwing was not an offense that had to be tried automatically but only if a lawsuit is filed by the victim.
During the past two years of the Greek crisis, attacks by angry citizens against politicians have become a frequent phenomenon. At the beginning there were verbal attacks, in restaurants and in the streets. Politicians began to walk less freely in the street without bodyguards, especially after Kostis Hatzigakis, a New Democracy MP, was brutally attacked by protesters in December of 2010.
The verbal attacks are still the norm wherever politicians appear in public (e.g. see what happened in the 28th October military parades – btw these days the government had a meeting to assess the security situation in view of the 25th of March Independence Day parades) Soon food throwing reappeared. The most popular "weapons" have been yogurt, eggs and, at times, tomatoes.
According to an article of Eleftherotypia newspaper, written by Georgia Linardou, in 2011 two members of the government and one MP have been attacked with yogurts. Last March, the vice president of the government Theodoros Pangalos was attacked while having dinner at a town just outside Athens. Some months later, Minister of Interior Haris Kastanidis was attacked in a similar fashion while watching "Midnight in Paris" at a cinema in Thessaloniki. Liana Kanelli, an MP with the Communist Party of Greece, has also been attacked with yogurt in June 2011, while she was trying to get through a block of protesters in order to reach the Parliament for the vote on the Mid-Term Program.
As for attacks with eggs, the list is longer, probably thanks to the different characteristics of this sort of food when used as a missile (their position on the day of the attack):
Manolis Othonas, Deputy Minister for Citizen Protection
Ilias Mosialos, Minister of State
Kostas Skandalidis, Deputy Minister of Agriculture
Andreas Loverdos, Minister of Health
Anna Diamantopoulou, Minister of Education
Giorgos Petalotis, Government Spokesman
Also:
Asterios Rontoulis, MP with LAOS
Dora Bakoyanis, Democratic Alliance party leader
Spiros Taliadouros, MP with New Democracy
In 2010 Alekos Alavanos was also attacked, with yogurts, during SYRIZA's campaign for that year's local elections.
Many politicians have criticized this form of protest. KKE's leader, Aleka Papariga, has said that yogurt-throwers are people who have voted for PASOK or New Democracy and that the act itself is not some particular act of resistance but rather a bourgeois reaction that defuses the social discontent. Deputy Minister of Regional Development, Sokratis Xinidis, preferred some self-criticism when he said "The time has come for all of us to pay the price. I am ready to be thrown a yogurt…"
There's a great article about the presence of food in Greek politics. It's called "Bread, Milk, and the Greek Parliamentary Record" and is written by Leo Vournelis, here. Another interesting aspect can be read in "Eating in Times of Financial Crisis" also hosted on the website of the Society for the Anthropology of Food and Nutrition.
Finally, let me remind the readers of a historical recurrence. This is the second time that Evangelos Venizelos is trying to win the leadership of PASOK. The first time was back in 2007, in a mutiny-styled manoeuvre when he appeared as a candidate practically on the same night his party, then led by George Papandreou, lost the elections. In the following days few cared about the newly elected government – the top story was what was happening inside PASOK. In those polarized (for PASOK supporters) times, another party member threw a coffee on Venizelos while he was entering the party offices.
What I still remember from that video is Venizelos' reaction. See at 1:33 for a better a view of it. Scary isn't it?
UPDATE: Another interesting read is "The Dangers of Yoghurtification as a Political Movement in Greece".
Kostas Kallergis is freelance journalist from Athens who runs the blog When the Crisis Hits the Fan…
Read more: austerity, greece, protests, yogurt, Kostas Kallergis, Dispatch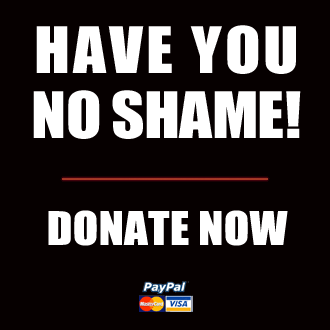 Got something to say to us? Then send us a letter.
Want us to stick around? Donate to The eXiled.
Twitter twerps can follow us at twitter.com/exiledonline