By Eileen Jones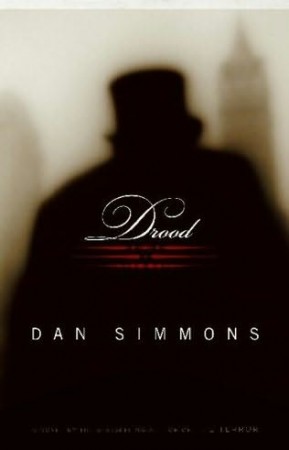 Dan Simmons, a guy best known for his respected sci-fi stuff like the four-book "Hyperion Cantos", has now produced a horror novel so big and heavy it could knock your head off, if flung. It's called Drood, and it weighs in at 771 pages.
This is a good thing, of course, if you like reading and want to withdraw from the world for three or four days. And who doesn't?
Simmons' set-up is lurid and fantastic. We're looking at the last crazy, roiling years of writer Charles Dickens' life. That's when the world-famous enshriner of hearth-and-home in a parade of bestselling books from Oliver Twist to Our Mutual Friend risked his reputation by booting out his long-suffering wife and publicly blaming her for their separation while he took up with a teenaged mistress discreetly housed in France.
Then Dickens, the mistress, and the mistress' dear old mom were traveling in a train that got smashed to splinters in the Staplehurst railway calamity—train derailed going over a chasm, most of the cars fell in, kablooey, gruesome death all over the place. The Dickens car was miraculously spared and it all made the news in a big way, which wasn't ideal for a world-famous author with a secret mistress. All that's pretty much true, so far.
What Simmons makes up is Dickens' encounter amid the railway carnage with a ghoulish figure named Drood, who subsequently obsesses Dickens. He tracks Drood through all the favorite, forbidden Victorian fleshpots, the reeking "dens of iniquity" where Mr. Hyde and Dorian Grey and Jack the Ripper generally hang out. What does Dickens want with Drood? That's the mystery, and whaddaya know, The Mystery of Edwin Drood is the actual title of Dickens' last, unfinished novel, which features lots of opium dens and suggestions of limitless depravity.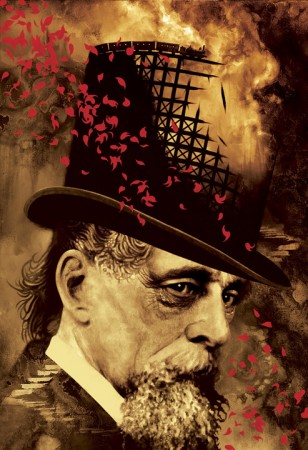 Okay, you might say, so far, so formula. It's that Seven Percent Solution kind of story, Sigmund Freud meets Sherlock Holmes, historical figures meet fictional characters, research data mixes with novelistic cleverness and lots of sheer name-dropping wankery. Good fun in its way—ecstasy for former English majors—but what's the kicker this time around?
The kicker's the narrator, Wilkie Collins who, in what we laughingly call "real life," was a laudanum-addicted, free-love advocating, second-rate 19th-century novelist who counted Charles Dickens as his mentor and best friend. Simmons has him writing an expose of the Drood affair that Collins considers so shocking it's to be kept sealed for a hundred and twenty-some years after his own death. In short, till now.
Best of all, this Wilkie Collins secretly hates Charles Dickens. It's hard to imagine a more potentially entertaining narrator-voice than that of an envious writer and drug addict doing a hatchet job on a fellow writer and "friend" who's fifty times more successful than he is. The possibilities for back-stabbing, self-image-polishing, "unreliable narrator" lying, and viperish asides are infinite. Perpetually addled with doses of opiates big enough to kill an ox, Collins claims he'll provide an answer to the following:
Did the famous and loveable and honourable Charles Dickens plot to murder an innocent person and dissolve away his flesh in a pit of caustic lime and secretly inter what was left of him, mere bones and a skull, in the crypt of an ancient cathedral that was an important part of Dickens's own childhood?
It's sort of a leading question.
Simmons goes at this promising set-up avidly, and sometimes gets on a pretty good roll. The first chapter's probably the best. Reporting to his "Dear Reader" of the future, Collins offers up a nicely maddening version of the Dickens family scandal in relation to the Staplehurst crash. It densely intertwines the official crash reports, the subsequent gossip of acquaintances, Dickens' own epistolary accounts to other friends, and Dickens' far more shocking description to Collins told in strictest confidence, all encompassed in Collins' faith-breaking account. Collins also uses the crash to get in plenty of shots at Dickens. For example, he provides an amusingly spiteful corrective to Dickens' description of his own heroism at the scene of the accident, by interviewing eye-witnesses who mock Dickens staggering out of the first-class carriage, shouting at railway guards, "Do you know me, man? Do you know who I am?"
Tough to keep this density going, of course. Especially while having to maintain an approximation of the dialect of the Victorian English gent throughout, every time the main characters speak to each other. Simmons has Dickens calling Collins "my dear Wilkie" almost incessantly, just to keep reminding us we're still in olden times when people said things like that. Plenty of clumsy dialogue to get through, and I quote: "…I am receiving the distinct impression that Mr. Edgar Allen Poe would be enjoying this outing more than you are at this moment, my dear Wilkie."
That gets pretty rough after a while.
And as the action takes over, the novel thins out and gets repetitive in describing the hunt for Drood through catacombs and chasing around with private detectives and encountering mysterious drug-dealing Chinamen. (I know, Dude, Chinaman is not the preferred nomenclature.) We find out way more than anybody probably wants to know about the inner workings of the Dickens clan. Proud of his research, Simmons tells us that one of the ten Dickens kids, Mary, was always called "Mamie," and he keeps telling us that every single time she comes up. It's a bit of a slog to get through the vast middle of the book and start racking up some answers to Collins' loaded questions. The questions start piling up, too: is Drood a master criminal, a mass-murderer, a vampiric undead creature, Dickens' guru in the mesmeric arts, or all of the above? Is Dickens going insane? Is Collins? Is Simmons?
Still, this sagging in the middle is typical of a lot of popular fiction and there's probably nothing to be done about it. Call it the Stephen King template. Imaginative, memorable set-ups, certain key scenes done very well, usually early on, but too often incredible amounts of padding and repetition, long dull descriptions of action, and the final "reveal" a total dud. (It and The Stand, I'm looking at you.) Do these guys still get paid by the word, or what? It's no coincidence that Stephen King was an early champion of Dan Simmons.
Still and all, there's that riveting set-up, and lively flourishes throughout. For example, on Collins' list of resentments he includes the fact that, though both he and Dickens live the high life, Dickens stays lean and trim and takes punishingly fast ten-mile walks every day, while Collins falls apart, ever fatter and sicker. Collins expresses huffy resentment that Dickens won't admit to suffering from gout, claiming a "frost-bitten foot" instead:
…[A]s a long-time sufferer of gout, which has required me to take laudanum for many years, I know gout when I hear its symptoms, and Dickens' frost-bite was almost certainly gout.
In a later chapter it's casually revealed that Wilkie Collins' doctor has a different diagnosis of Collins' ailment: not gout, either, but rampant venereal disease. I don't know if that's historically accurate or not, but either way—nicely handled, Simmons!
Read more: Charles Dickens, Dan Simmons, Drood, horror, opium, Wilkie Collins, Eileen Jones, Books, Entertainment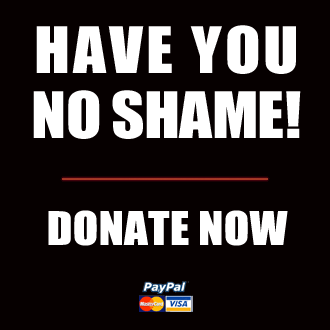 Got something to say to us? Then send us a letter.
Want us to stick around? Donate to The eXiled.
Twitter twerps can follow us at twitter.com/exiledonline