By Mark Ames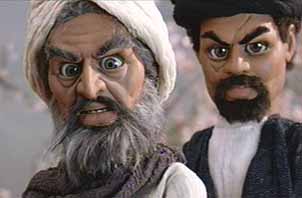 I don't want to go too deep down the Fort Hood Rabbit Hole Of Weirdness, so I'm just going to get off my chest some of the incredibly weird shit that's being thrown around in the media to confuse us or throw us off. It's looking pretty clearly like there's a cover-up in progress, and not a very professional cover-up either. But the sad thing is that all the confusion and bullshit thrown our way will probably succeed in its goal of steering the public away from whatever it is the military doesn't want us to find out about the shooting massacre.
Anyway, here's my list of The Top Twelve Disinformation Tales to keep an eye on:
1. A ridiculous story planted in London's Daily Telegraph makes Hasan out to be an old pal of the 9/11 terrorists. The Telegraph also reported that a mysterious Arab-looking visitor came to Hasan's apartment 2 days before the shooting, like something out of a bad TV show:
"It was very unusual because he had never had anyone round before. He had long black hair and a moustache and a dark complexion."
Remember, this is the same Daily Telegraph that last month ran a fake story claiming that Iran's leader Ahmadinejad was born a Jew—a story that was quickly debunked as a disinformation plant. The Telegraph has a history of false plants–like the 2003 article claiming they had discovered "proof" that Saddam Hussein trained up the 9/11 terrorists in Baghdad.
Nevertheless, it's working: now everyone from CBS to the Associated Press are reporting the Telegraph story, and the FBI is acting on the same tip, according to CBS.
2. NPR ran a story sourcing an unnamed Walter Reed psychiatrist (again, unnamed!) who claimed to be a colleague of Hasan's painting a shocking portrait of a Muslim terrorist: supposedly Hasan went ballistic on his fellow students during a lecture that was supposed to be about medical issues. Instead, according to NPR:
The psychiatrist says that [Hasan] was very proud and upfront about being Muslim. And psychiatrist hastened to say, and nobody minded that. But he seemed almost belligerent about being Muslim, and he gave a lecture one day that really freaked a lot of doctors out.

…dozens of medical staff come into an auditorium, and somebody stands at the podium at the front and gives a lecture about some academic issue, you know, what drugs to prescribe for what condition. But instead of that, he – Hasan apparently gave a long lecture on the Koran and talked about how if you don't believe, you are condemned to hell. Your head is cut off. You're set on fire. Burning oil is burned down your throat.
Then the NPR report said that Hasan's Walter Reed colleagues were told not to talk to anyone anymore, especially the FBI:
ZWERDLING: I want to add something else about Hasan at Walter Reed. The psychiatrist I talked to today said that he was the kind of guy who the staff actually stood around in the hallway, saying: Do you think he's a terrorist, or is he just weird? And now, apparently, Walter Reed is in a lockdown mode where they've been instructed – all the staff has been instructed: Do not talk to anybody about this investigation, except military people. Do not talk to the FBI, because they're afraid, potentially, what if people decide investigating this that people missed potential warning signs about the guy? You know, this is speculation still, but�

INSKEEP: How can they not talk to the FBI?

ZWERDLING: Well, our colleague Dina Temple-Raston has heard that from the FBI, and this military officer is telling me the same thing from Walter Reed.

INSKEEP: OK. Gentlemen, thanks very much. NPR's Daniel Zwerdling and Tom Gjelten. Thanks to you both.
No-no-no, thank you, NPR, for not pursuing that giant screaming WHAT THE FUCK red-flag there. Then again, let's not forget how the military got busted back in 2000 for planting PSYOPS agents trained in propaganda on NPR's news staff:
The first intern at NPR rotated among newsmagazines from September to November 1998. The other two worked for Talk of the Nation, one from January to February 1999, the other from March to May 1999. NPR and Withington would not identify the interns or allow them to be interviewed for this article.

All of the interns were non-commissioned U.S. Army officers from the 4th Psychological Operations Group based at Ft. Bragg, N.C. PSYOP overtly disseminates information supporting U.S. goals and policy to other countries. For example, the unit has placed signs in Colombian airports discouraging drug smuggling. "In civilian terms, it's like working in an ad agency or a public relations firm," Withington says.

The Army began to arrange the internships through NPR's human resources office in February 1998, according to Withington.

NPR spokeswoman Jess Sarmiento says the human resources department, including Vice President for Human Resources Kathleen Jackson, knew the interns worked for PSYOP when it hired them, but thought news staffers had okayed the plan. Dvorkin says he wasn't aware the interns were from PSYOP until a few weeks ago. It's possible that the interns' immediate supervisors knew, but Sarmiento says the PSYOP tie was news to a higher-up, whom she would not name, who learned of it only near the end of the third intern's stint. And Dvorkin says he wasn't aware the interns were from PSYOP until a few weeks ago.
3. The FBI claims that they were monitoring Hasan ever since they supposedly caught him praising suicide bombers 6 months ago. Yet they did nothing. Sen. Kay Bailey Hutchinson explained why, using the same excuse Condi Rice used after 9/11:
"I don't think that anyone would have ever expected a psychiatrist trained to help others' mental health would be the one who would go off himself, unless there's more to it, and that's what they're looking for."
Indeed.
But the story changes…because today, the FBI is saying that actually they had it wrong about his blogging for suicide bombers, and in fact they have no evidence Hasan communicated with jihadist sites, except that he may have visited them online:
(CBS) A preliminary review of the computer of Maj. Nidal Malik Hasan, the accused shooter in Thursday's rampage at Fort Hood in which 13 people were killed, has revealed no evidence of any connection to terror groups or conspirators, according to law enforcement officials.
4. In spite of all of this in-your-face evidence that Hasan was the craziest jihadist this side of the Jordan River, and in spite of all of the gazillions of officers and colonels and colleagues going on the air saying that Hasan's radical Islamic extremism troubled them, nonetheless, according to the New York Times, "officials were not prepared to say whether the attack was the act of a lone and troubled man or connected to terrorist groups, foreign or domestic." Hutchinson added yesterday in the same article,
Ms. Hutchison said in remarks at the base that while Major Hasan was the only one who had opened fire, it was still unclear whether he had planned the attack alone. "That is a question still to be asked," Ms. Hutchison said.
5. While they're hush on that, they sure were gabbing like cokefiends during and after the shootings about supposedly 3 shooters in military garb firing M16s. Or that the Hasan was killed, and later survived and was in stable condition, then later it turned out he was in a coma, and so on. The stories were always specific yet unsourced–suggesting something more than mere confusion of the moment. Take for example this detail-packed story planted on a CNN correspondent:
A senior officer who was playing golf Thursday near Fort Hood, Texas, told CNN he witnessed the arrest of one of the two surviving suspects of the shooting at the Army installation.

Shortly after the shooting, the officer said, military police told him to clear the course and he saw other MPs surround the building that held the golf carts, he said.

The senior officer said he ducked into a nearby house for cover as 30 to 40 cars carrying MPs approached.

He said he saw a soldier in battle-dress uniform, his hands in the air. The MPs ordered him to lie on the ground and open his uniform, presumably to ensure he was not carrying explosives, the senior officer said.

He said an MP told him that authorities considered the man to be a suspect in the shootings after having overheard the man say he was with the shooter.
6. The media was quick to report that no one died in friendly fire. End of story. And we know it's true because the same local police who might have killed soldiers conducted ballistics tests on the scene, and amazingly enough, they cleared themselves. Also, what happened to earlier reports that at least some police on Fort Hood's base were civilian contractors? Like this report in USA Today:
Update at 7:08 p.m. ET: CNN reports that Hasan was 39, licensed in Virginia and had worked at Walter Reed Army Medical Center before practicing at Darnall Army Medical Center at Fort Hood.

Besides Hasan, the dead include 10 soldiers and a civilian police officer working on the base as a contractor.
7. The strange story that Hasan was part of a Washington task force to offer advice to incoming-President Obama. I don't care what anyone says, it does look weird. Righties twisted it to prove that Hasan was a close advisor to the Islamofascist Barack Obama; but liberals squealed that just because Hasan was on a task force, doesn't mean diddley. Um, yes it does–if you don't think it's odd, you shouldn't be in this business. Jesus Christ, how can anyone not think it's weird, especially when they're painting a portrait of Hasan as at the peak of his fanatical Islamofascism, screaming in lectures about beheading infidels? The real question is, what the fuck was he doing there???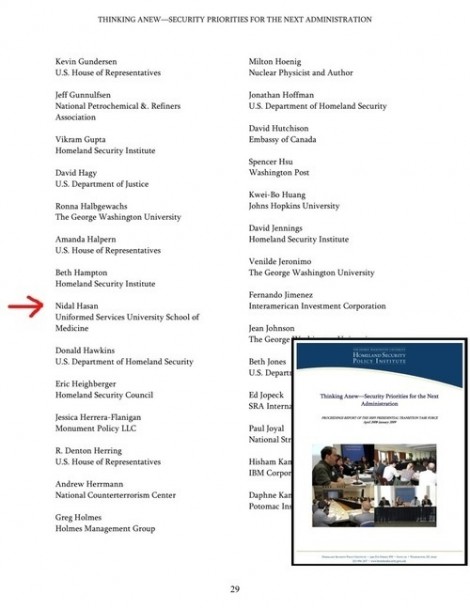 8. Supposedly Hasan would walk around public in full Muslim garb, like when he visited the convenience store the morning of the shooting, which was conveniently caught on camera… but he'd wear his military garb in mosque. Also, note how the media quickly got used to using a black-and-white photo of Hasan, even though there are plenty of color photos including color versions of the same b/w photo. The b/w photo instantly recalls the 9/11 suspects' photos. Here, take a look:
Exhibit A: What sort of terrorist is this, I ask you!? He looks downright nice, I tell ya! Next!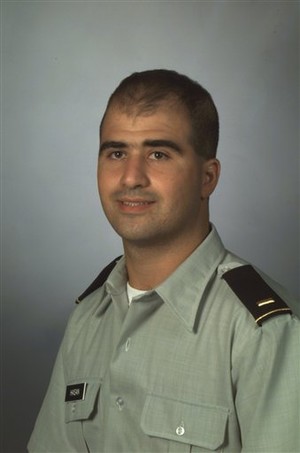 Exhibit B: H'm, we can definitely do something with this…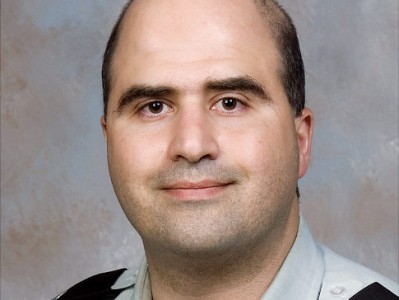 Exhibit C: Just take the photo above, click the "black-and-white" button, add a bit of blurriness to make it nice 'n terroristy, then place it next to colorized Americans, and voila! Folks, I think we got ourselves a terrorist, wouldn't you agree?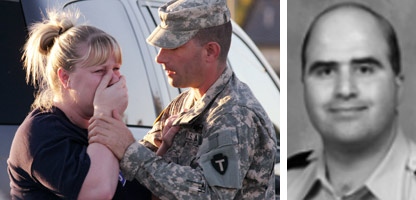 Exhibit D: Oh yeah, no doubt about it, folks, this guy puts the "error" in "terrorist":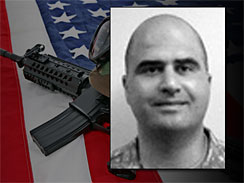 Exhibit E: Okay, now that we've got that established, we can run a few blurry CCTV color shots of Hasan dressed up in his Halloween Islamofascist costume: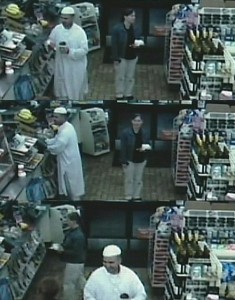 Voila! That wasn't so hard, was it?
9. Why is no one following up on reports that Hasan was serving in the military all the way back in 1989, when he attended Barstow community college in the California desert–meaning he was in the military for at least 20 years. Here's one local report from the Victorville Daily Press:
College records also show that Hasan, who would have been 19- or 20-years-old at the time, was A private first class or below while attending Barstow College. Hasan's residential address zip code also indicated that he was living on post, according to Stokes.

Fort Irwin officials have not yet been able to confirm whether Hasan was stationed at the fort at that time, according to spokesman Etric Smith. Smith said that Army records show that Hasan became an active duty soldier in 1997 and said fort officials could not account for the discrepancy at the time.
They also reported he was a straight-A "model student" which conflicts with the portrait of the slacker terrorist who took scholarship money from the gullible US government.
10. Hasan was a psychiatrist. It could mean not just that he was studying treatment and therapy, as they say; but also, as we learned about military psychologists, Hasan could have been in a program involving interrogation and torture. Just sayin'. Think how the military and intelligence might best want to use an asset like Hasan: an Arab and a Muslim with training in psychiatry, and a trail of Muslim-fanatic credentials that for some strange reason never got him in trouble. I could think of a lot of ways a guy like this could be useful in a theater of war, or in trying to capture terrorists.
11. If Hasan was in Al Qaeda and his goal was all along to attack Americans, why did he fight so hard to get out of going to Iraq and make such a loud stink about his sympathies with suicide bombers? Why would hire lawyer and even offer to pay to get out of the service? As we know with the 9/11 terrorists, the whole point of being a sleeper terrorist is to pretend you're more American than the red-blooded Americans: go to casinos and strip bars, drink all the liquor you can in everyone's sight, etc. Obviously Army knew he was unhappy, and they knew that he was a crazy Muslim. Were they really too dumb to put two and two together, or did they know and use him or dangle him in some way?
12. If you wanted to conduct a fake investigation, who better to head it up than neocon tool Joe Lieberman? Lieberman already showed his impartiality and determination to get to the truth by declaring on television that Hasan is a "home-grown terrorist."
Keep in mind that there could be all sorts of reasons why they'd want to cover it up. For example, if this was a "going postal" workplace shooting, which I still lean towards, that's as good a reason as any for government officials to throw together a half-assed cover-up…because they're covering their own asses. A perfect example of a police coverup of a shooting massacre is what happened after Columbine. The coverup was so crude families of victims eventually filed lawsuits, as this 2002 article explains:
(AP) The families of five slain Columbine students asked that a federal grand jury investigate their claims that authorities have covered up evidence that one student was killed by police.

"Lies have been told, beyond any doubt," family attorney Barry Arrington said after he submitted his request to the U.S. Attorney's Office on Tuesday. "The only issue is, why are they lying?"

The families claim an officer accidentally shot 15-year-old Daniel Rohrbough as he fled the school during the April 20, 1999, massacre.

Rohrbough's father, Brian, claims Denver police Sgt. Dan O'Shea told a school administrator he feared he might have shot a student, and that a sheriff's deputy saw the shooting.
Like I said, a lot of reasons to cover up, and a lot of lies and disinformation.
Read Mark Ames first article on the Fort Hood massacre in Alternet.
Read Mark Ames article on the Orlando shooting published Saturday in the Daily Beast.
Mark Ames is the author of Going Postal: Rage, Murder and Rebellion from Reagan's Workplaces to Clinton's Columbine.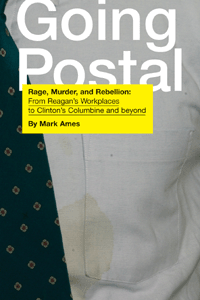 Click the cover & buy the book!
Read more: daily telegraph, fort hood, hasan, NPR, psyops, victorville, Mark Ames, Investigative Report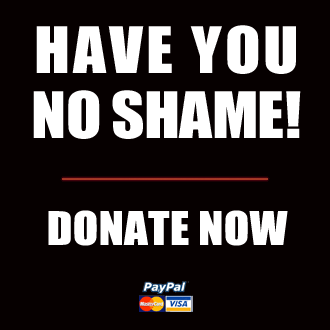 Got something to say to us? Then send us a letter.
Want us to stick around? Donate to The eXiled.
Twitter twerps can follow us at twitter.com/exiledonline