By Mark Ames
So, how did sobriety work for Kudlow? The New York Times checked in on their drugs-are-bad poster boy 15 months later, in July, 1995, and the what they found…well, it may not surprise you or shock you, but it's pretty goddamn funny:
Fifteen months ago, Mr. Kudlow made a highly public confession of his drug problem shortly after he was forced to resign as chief economist at Bear Stearns. He also made a fresh career start as a conservative political commentator for television and magazines and said he believed that he had overcome his addiction.

…But over the weekend, Mrs. Kudlow petitioned for a divorce and an order to prevent Mr. Kudlow from tapping their Bear Stearn's retirement account to pay for a weeks-long cocaine binge. "The defendant will use such money to buy cocaine," she stated in an affidavit, "and in so doing will likely suffer a fatal overdose and will dissipate the only remaining liquid marital assets."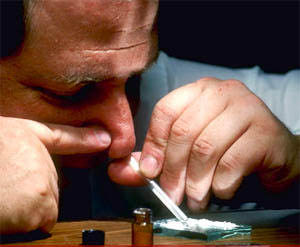 See what I mean? If you remember the whiny dickheads who couldn't handle their drugs, then you'll remember the Lawrence Kudlow archetype. There's a reason you stopped hanging out with people like him. They were unreliable, sneaky, the ones who always got you busted.
Now, look again at the clip of Kudlow ranting about his love of Colombia and his rage at Bozy In The Hood: look at the scowling, the paranoia, the sweaty jowls and the crazed nonsequitors-we've all seen it. Not on grown rightwing men, mind you–mostly on girls with names like Muffy and Missy during debutante week. But that's nothing to be ashamed of.
Because Larry–and I'm addressing you personally now–we're not here to judge you or disparage you. On the contrary, we're here to laugh at you. And to laugh, and laugh, and laugh. Because through laughter's healing power, we just might save you from what appears to be your worst, deadliest relapse ever. And that's saying a lot in your case.
Larry, if you're reading this, know this: We, the nation, the United States of America, who watch you and love you, are here to let you know that it's okay. We want to help. You're with friends now. We want to offer you an eight ball of Intervention, which you can snort through a rolled up bill of human empathy.
It's time to end the lies, Larry Kudlow. Come, give us a hug.
Listen to Ames butting in on Los Angeles radio KPFK 90.7 every Tuesday at 4p.m. on Gustavo Arellano's
"Four O'Clock Tuesdays" show.
Check out Arellano's blog
here
, it's said to be Sheriff Joe Arpaio's favorite bedtime reading!
Read more:, Mark Ames, eXiled Radio, Fatwah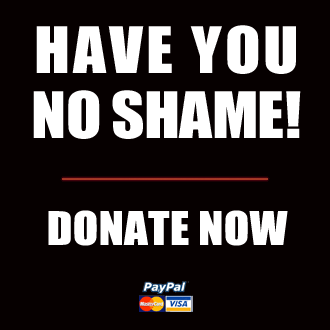 Got something to say to us? Then send us a letter.
Want us to stick around? Donate to The eXiled.
Twitter twerps can follow us at twitter.com/exiledonline