By Gary Brecher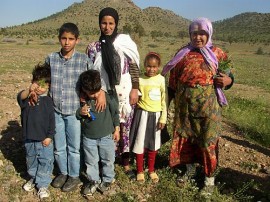 Ackshoo-ul Berbers in Ackshoo-ul Village
Well, that was a quick takedown. One of the strange things about Libya was the pacing. It needed a good editor, because it started fast, then bogged down, and then just when everybody'd given up and gone to get some caramel corn, the credits started rolling.
They're still rolling, though, and there might be one of those after-credit scenes they put in when they don't know what else to do with them. Last thing I heard, Qaddafi's still in Tripoli and his friends'n'relations, along with whatever Sahel mercs are still around, are skulking around the downtown sniping and otherwise expressing their disagreement with the new state of affairs.
But the mobile-warfare stage seems pretty well through. And it was the Berbers who did it, with a lot of help—I'm guessing—from special forces, either US, or maybe French.
Everybody was focused on the Eastern Front, the insurgents moving out from around Benghazi west along the coast toward Tripoli. But they stalled out on the flat coastal plains—very hard to advance on a surface like that against endless supplies of rocket artillery like Qaddafi's forces had. One thing that's very clear here: Logistics wasn't the problem for Qaddafi. He had Grads the way Imelda Marcos had shoes. As long as he had anyone to risk staying in the danger zone long enough to guess the launch angle and press a button, he could deter, like they say. A grad salvo on flat sand—that's deterrence. It'd deter me, and it deterred the amateurs from Benghazi. I don't mean "amateurs" in a mean way, but mostly that's what they were. War's not as easy as the movies make it look. All that red tape, all that drilling; there's reasons for it. Without it, you dissolve like the Spanish anarchist militias did every time under fire (except the expat commies), and you can't even change position without a two-hour argument about who salutes who.
That's where the Berbers in the West came in. Berbers are interesting people; I wish I knew more about them, but nobody really seems to know much. They were supposed to be bit players in Libya. They're only about 10% of the population, though even that figure zooms around like the unemployment rate. Depends on who you call a Berber. The word, they say, is like "barbarian," an old u-PC Roman word for the aborigines outside the walls. They call themselves something else, "Amazigh." They've got a lot of those Harry-Potter words, heavier on the Z's than a bottle of Halcion. They were there before the Romans and when the Empire crumpled, they came back—until the Arabs came along about 1400 years back. From then on, it was like an English/Irish thing, or the Arab/"black" thing in Sudan: Not a racial deal, more a language and attitude thing. After all, Qaddafi himself—and he hated Berbers even more than he hated…well, everybody else—even he was Berber stock, from a family way down in the desert before they came to Sirte. A Berber is somebody who speaks Berber, acts like a Berber—and isn't an Arab. Not being an Arab isn't a good move, hasn't been for about 1400 years (one of those funny coincidences you get with conquests), and Qaddafi, a secret Berber, an ashamed-of-it Berber, hated them even more than most Arab leaders in the Maghrib did.
The Berber who kept the faith and stayed Berber stick around a few parts of the NW. Towns like the ones you've been seeing in the news, Yafran, Zintan, Zawiya—all those Z's? Berber.
The bad thing about hanging around there is that it's close to Tripoli. It was a quick commute for Qaddafi's cousins and mercs to bring the artillery in range and start shelling those Berber towns when they rose up after Benghazi waved the No-More-Q flag. They had plenty of reason, like the fact that Qaddafi hated them, made it real clear he did, changed the names of their towns, banned their language, arrested anybody who acted too Berber and called them "Children of Satan" and said their language—the oldest one in the Maghrib—was a colonialist myth.
But the way I recall the script, the way it was supposed to go, the Berber were going to be—let's face it: The human-rights tragedy. They were going to resist bravely, then they were going to be massacred. Mulched into war propaganda. It happens. Nothing a good network loves more than a lost cause, especially with photogenic villagers, and best of all when they're lying dead in the street, mom howling over the kid's body.
That was the way it was supposed to go: Qaddafi's forces massacring the poor Berber in the West, providing propaganda cover, if I can put it like that, for the air cover that NATO was giving the real power, the Arab insurgents in the East.
Didn't happen that way. The Berbers ad libbed, by beating the crap out of Qaddafi's people. They suffered along the way; their towns were blasted, a few thousand were massacred on schedule—but they dug in, held on, and then, out of nowhere, broke through Qaddafi's lines and right into Tripoli.
Where of course they were welcomed by "cheering crowds." Lemme tell ya about those cheering crowds, by the way: Don't put too much stock in them. When the enemy breaks through into the center of town, cheering is just common sense. I'd probably cheer if it was the Khmer Rouge barreling into my subdivision. In fact I'd cheer even harder if it was them. If it was, say, the UN blue helmet, you could probably get away with shrugging, even spitting in the street, but when it's serious people, you better borrow their flag and cheer til you sound like Rod Stewart after overdoing the crack pipe all night.
The same cheering crowds that make network photo ops will be throwing rocks the first time the price of gas goes up. Maybe a lot of people in Tripoli were glad to see the Berber roll in, maybe not. We shall see, as the atheist said to the firing squad.
More important: How'd they do it? I repeat, Berbers are less than 10% of the population; they were pushed out of the army, never trusted; how'd they smash into the capital?
As far as I can tell, there were a few big reasons, starting with geography. They were close to Tripoli to start with. It's a long drive along the Med from Benghazi to Tripoli, and a lot longer when you're being shelled. Zawiya is a close to Tripoli, which is bad when Qaddafi sends his SP artillery over there but suddenly becomes a huge advantage when your guys dig in, hold on, use that NATO air support and start picking off his rocket batteries. Once you've done that, neutralized his advantage in heavy armor, it's infantry on infantry and I haven't seen one single sign that any of Qaddafi's units had any stomach for close-in fighting. And that includes the "elite" Khamis Brigade, under the command of Son #29 or whatever. "Elite"! I think in terms of Qaddafi's army, that means they showed up at roll call more often than not. Supposedly Qaddafi was using his Sahel mercs, the only real fighters in his forces, as MPs: They had orders to shoot anybody running from the front. That works, as long as you can keep the troops in their trenches, but bad troops can never fight once the line is breached, and they'll run through fire to get away—they'll be braver running away than they'd ever be attacking. One of the longterm weirdnesses of military history.
But that skips the big question: How exactly did they neutralize that heavy artillery? My guess is: hand-held laser designators. See, one of the scary questions involved in helping the rebels is what happens to the stuff you give them once the war's over. It's not even a matter of "Islamic militants," it's a matter of profit. Somebody gives you a Milan antitank weapon—well, maybe it never gets unpacked, sitting in a crate. Kind of a shame. Say Qaddafi's tanks never showed up on your section of the front. It's going to cross your mind that there are people out there who want that kind of merchandise. Maybe you've got an uncle of a cousin in Algiers who knows somebody in Beirut who'll hand over some serious cash for that. Shame to let it go to waste. (God, with the rent coming due here I'm drooling over the possibilities myself.)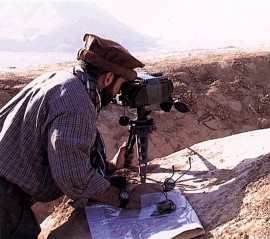 Flat-Hat using laser designator to Disagree with Taliban
So how do you give the insurgents effective weaponry without putting them into the business of selling weapons on ebay? My guess, just a guess, is: laser designators. Very effective, when used with first-world air power, but best of all, totally useless when the air cover's withdrawn. You may remember I did an article spitting on that phony USN "laser weapon" that set an Evinrude on fire after only five minutes—but I never denied that as target designators and rangefinders, lasers are lethal. So I'm betting we had an alliance between Leading Edge and stone-age village going, between the Berbs and the 'Burbs, har har, going here.
Laser designators are just versions (OK, very very expensive versions) of your Community College prof's laser pencils. Good for blinding pedestrians, highlighting powerpoint presentations…and also good for putting the little red dot of death on a Grad launcher or SP artillery. I'm guessing, just guessing, that those things were handed out like Kinko's copycards all along the Western front. Tell your Berber friends to point them at a tank, hold the dot on the tank, and wait for the magic F-16 to make it go away. I can just imagine the instructional session after they handed those suckers out, some career noncom from Arkansas twanging away in a Nafusa Mountain camp: "This designator is capable of illuminating targets up to—Hey! You! What's yer name, son? Well, Usem, what you just did is a good lesson in how NOT to use this designator! This is not a toy! Do NOT point the designator at your friend in the Toyota unless you want the Toyota to disappear! No, it is NOT funny! Translate that for me, wouldja Tacfin? And don't take it easy on'em, this is something they better figure out real quick."
And the best thing about those designators is that once the planes go back to Ramstein, these turn into laser toys, about as dangerous as a paintball gun. You'd like to get them back, because they run about $250,000 each for the top models, but look, if you want to save money just don't have a war. You can't pinch pennies in a war, it ruins the whole feel of the thing.
Although I'm not sure the instructor would have an Arkansas twang. Not this time. Just as likely, he'd have whatever kind of accent French dudes from the sticks have, because this was a Frog pond all the way.
The French aren't getting much credit—they never do in the US—but they're the ones who showed guts this time. Americans sort of assume we're the ones who have to go in and knock heads because the Euros are still going through Stalingrad PTSS. Not this time. Obama did what he usually does: Waiting around for somebody to make a move. And it was the French who made it first, pushing for NATO air support and going ahead with arms shipments to the Libyan rebels. The French take Africa dead serious, and there are a lot of voters in the scuzzy French suburbs (they put their welfare losers in giant suburban highrises over there) who hail from the Maghrib. Sarkozy had been a little too cozy with the ex-dictator of Tunisia, and he took a lot of heat for it. So when he had this chance to snuggle up to the new powers in Libya, look good for those high-birthrate Maghrib voters, and play the hero all at once, he didn't have to think too hard about it.
And the British—well, I have to give them credit: They're just up for it, anywhere, anytime. A Russian reader wrote me an email about his people's attitude which I copied down because it fits the Brits even better than the Russians: "Nam nuzhna voynooshka," which he says means "We need a little war now and then." (If that actually means, "You suck, Brecher," or something on those lines, I'm going to be pissed off. That's why I can't believe these guys who get tattoos in some language they don't know; how'd you know the tattooist wasn't in a funny mood that day and just inked "Kick me here" on your elbow?)
The Russians actually didn't want a little war this time around, not in Libya. They were tight with the Big Q (or "The Big Gh"; I've seen Qaddafi's name spelled more ways than those cutesy made-up girl names like "Siara") and it's bad news for Russia now that Q moved on to R, as in "rebels." They're already talking about cutting Russia out of the new oil deals in Libya.
The other party who didn't want any fuss in Libya was us. If you can still call the USA "us." I'm not so sure any more, not since I lost my three-month no-benefit job. I take that kind of thing personally. Just funny that way.
The US didn't want another Arab mess. It's that simple. Obama owes the job to a simple equation: Bush = Iraq. Well, that and his excellent dental hygiene, and the fact that bastard seems to get by on about 10 calories a day. You can't be too thin and too rich if you want to be president.
So the last thing he wanted was a new equation: Obama = Libya + Iraq + Afgh. We were the squeamish Euros in this one, and the French were the hawks. Even the suckers out in the flyover states tend to notice when you start a war. You can do just about anything else to them and they'll just change the channel, but a war—that gets the Skraelings' attention for a few seconds. And not in the way that our JC Penney's model of a prez wanted. (He does look like a Penney's catalogue model—admit it! Selling that suit, that's his strong point. Downhill from there.)
And he had serious people to worry about too, not just the dummies in Kansas. Like the Israelis. They didn't officially like Qaddafi; he was always one-upping the other Arab mouthpieces about chopping the Jews up into little teeny pieces, way teenier than those other wimps wanted! But look, after 40 years of all quiet on the Libyan front, the Israelis kind of noticed that his woof-to-weight ratio was even lower than the Arab-dictator average. Just pick up a rock and this mutt would dodge, then come back on his belly every time.
So Obama had to deal with people like Daniel Pipes, a classic old-line Likudnik and Muslim-baiter. For these guys, and there are a lot of them, there is only one time zone on the planet and that is Jerusalem time. And Jerusalem as the capital of Yeretz Israel, too, and don't you forget it. Libyans, Egyptians, Tunisians—none of those people are real to them until they get rid of their dictators. That might energize them, and that means nothing but trouble down the line for Judea and Samaria, which means trouble for DC too.
So Pipes was screeching that dislodging Qaddafi might free up "radical Islam" in Libya. And it might. That's what happens when people wake up; they get ideas. Deal with it. Personally, I dunno, but if Islam is so damn radical and there's 1.5 billion of'em and they control damn near all the oil—personally, seems to me we'd be in a lot more trouble than we are. Personally, seems to me I'm not suffering from Islam as much as from the fact that they sent all the jobs away—mostly to Muzzie countries like Bangladesh and Indonesia, thanks very much—then used to profits to keep us suckers scared of some dingbat imam. But that's just me, I'm not very trusting. Unemployment does that to you.
And since all those boring old liars are sounding the alarm that this'll be the end of the world…well, look, you can't go wrong betting against the people who brought you that monster hit, "The Baghdad Cakewalk." There's that saying that even a broken clock is right twice a day, but if the neocons were a Rolex, somehow they'd manage not to do it even once. I don't know how, but they would.
So I'm gonna say here: Just maybe, the whole thing ended pretty well. Not that expensive, money or lives; gotta be better for the Libyans if anybody actually cares about them; can't see any risk for the big picture—only 6 million Libyans to start with, for God's sake, and I don't see the Berber going on a global jihad any time soon. Jeez, what a thought: What if it turned out good?
Would you like to know more? Gary Brecher is the author of the War Nerd. Send your comments to gary dot brecher at gmail dot com. Read Gary Brecher's first ever War Nerd column by clicking here.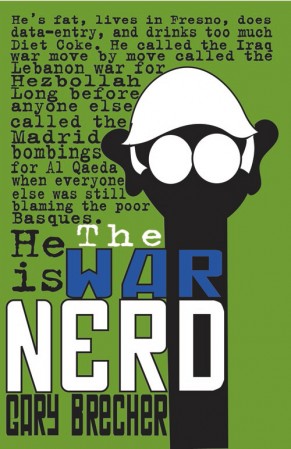 Click the cover, buy the book!
Read more: berb, burb, Libya, war, Gary Brecher, The War Nerd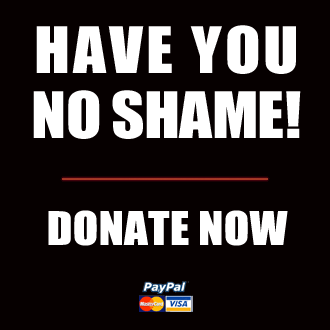 Got something to say to us? Then send us a letter.
Want us to stick around? Donate to The eXiled.
Twitter twerps can follow us at twitter.com/exiledonline