By Mark Ames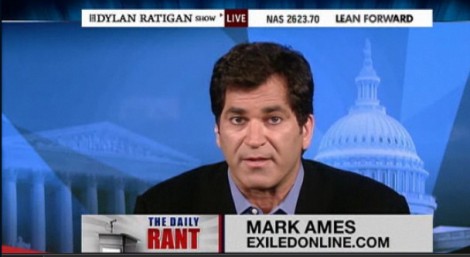 Update: By popular demand we've now included the transcript to Ames' conversion rant. See below.
Even though libertarian ideals of massive deregulation and privatization led to the 2008 collapse of the global economy (just as these same libertarian ideals led to Russia's collapse in 1998), nevertheless, America is already back to privatizing and deregulating like never before, as Dylan Ratigan has been reporting.
Figuring that resistance to Planet Libertard is futile, eXiled editor Mark Ames hoisted up the white flag and surrendered to libertarianism on MSNBC's The Dylan Ratigan Show. Now that Ames has been liberated from the shackles of collectivist thinking, he's ready to prescribe a heavy dose of anarcho-libertarian medicine to cure America of its statist liberty-crushing collectivist statism, if'n you know what we mean.
Folks, we present the new Anarcho-Libertarian Mark Ames, whose motto is: "If you can't beat 'em, privatize 'em, then fuggetaboutem!" Watch Ames convert, read the holy anarcho-tard transcript, and weep:
Here's the transcript:
I'VE BEEN FOLLOWING YOUR EXPOSES ON THE SELLING OFF OF AMERICA, THE
WAY THIS OR THAT CHUNK OF THE PUBLIC'S PROPERTY IS BEING AUCTIONED OFF
TO WALL STREET FOR A TENTH OF THE VALUE, AND THEN WALL STREET, YOU KNOW,
TURNS AROUND AND CHARGES CITIZENS 10 TIMES WHAT THEY USED TO PAY WHEN THEY OWNED IT,
ETCETRA ETCETRA.
AND THE WAY I SEE IT, THERE ARE TWO APPROACHES TO THIS PROBLEM.
THE FIRST APPROACH WOULD BE: STOP THE PRIVATIZATION NOW, ROLL BACK
EVERYTHING THAT'S BEEN PRIVATIZED OVER THE PAST DECADE, AND LAUNCH A
MASSIVE CRIMINAL INVESTIGATION INTO THE WHOLE MATTER.

THE PROBLEM WITH THAT APPROACH IS THAT IT'S WAY TOO OBVIOUS. IT'S
EXACTLY WHAT "THEY'D" EXPECT US TO DO. AND BY "THEY" I MEAN "THOSE GUYS"–AND
SERIOUSLY, WHO WANTS TO DO WHAT "THOSE GUYS" WOULD EXPECT US TO DO? THAT
WOULD BE LAME. EVERYONE–FROM PETE PETERSON'S STABLE ON THE FAR-LEFT, TO
THE KOCH BROTHERS' STABLE ON THE FREEDOM-LOVING RIGHT–EVERYONE WHO'S PART OF THE CONVERSATION AGREES THAT THERE'S NO WAY WE CAN AVOID PRIVATIZING EVERYTHING IN AMERICA. I'M TALKING ABOUT PRIVATIZING SIDEWALKS ON WALL STREET. AND PUTTING TOLL BOOTHS ON THE SIDEWALKS EVERY THREE FEET. I'M TALKING PRIVATIZING THE MOSQUITOES AND SELLING THE HUMAN BLOOD THEY DRAW TO CERBERUS, THE WHOLE WORKS! SO LET'S NOT EVEN TALK ABOUT NOT PRIVATIZING UNLESS WE'RE GOING TO PUT ON OUR TIN FOIL HATS AND BABBLE ABOUT 'LITTLE GREEN MEN" TOO, OKAY?

NOW THERE'S ANOTHER APPROACH THAT YOU MIGHT CALL THE "AMERICAN APPROACH." IT'S ABOUT THINKING OUTSIDE OF THE BOX, TAKING UNPOPULAR DECISIONS THAT MAY BE TOO RADICAL FOR ALL YOU DINOSAURS OUT THERE.

THE IDEA IS THIS: PRIVATIZE THE ENTIRE UNITED STATES OF AMERICA, TURN IT INTO A CORPORATION, MAKE EACH AND EVERY ONE OF US INTO SHAREHOLDERS RATHER THAN CITIZENS, AND THEN DO AN IPO FOR AMERICA, INC. SOUNDS CRAZY? WELP, IT IS–COMPLETELY BAT-FECES CRAZY. WHICH IS EXACTLY WHY IT JUST MIGHT WORK.

I'D LIKE TO SAY IT'S ALL MY IDEA, BUT WELL I CAN'T. IN FACT, PRIVATIZING ENTIRE COUNTRIES IS THE BRAINCHILD OF A LIBERTARIAN INVESTMENT GURU NAMED DAVID CASEY. HE'S ALREADY PITCHED HIS PRIVATIZE-YOUR-COUNTRY PLAN TO THE DICTATORS OF SURINAME, CISKEI, VANUATU-YOU-CAN'T-NAME-IT, DAVID CASEY'S TRIED PRIVATIZING IT. UNFORTUNATELY FOR THE PEOPLE OF THOSE COUNTRIES, JUST YEARNING TO BE PRIVATIZED AND LISTED ON A STOCK EXCHANGE, CASEY'S PLAN WAS NEVER REALIZED.

ANOTHER POSSIBILITY IS PRIVATIZING EVERY WORD THAT COMES OUT OF EVERY AMERICAN'S MOUTH. FOR EXAMPLE, I COULD EVERY WORD I'M SAYING TO YOU NOW, AND YOU WOULD HAVE TO PAY ME FOR THE RIGHT TO REPEAT MY WORDS AND MY IDEAS. AGAIN, WOULD LOVE TO CLAIM THAT IDEA, BUT IT ISN'T. THIS IS ALL 100 PERCENT JOSEPH GALAMBOS, THE LIBERTARIAN GURU WHO RAN THE FREE ENTERPRISE INSTITUTE. GALAMBOS MADE EVERY STUDENT SIGN A CONTRACT ACKNOWLEDGING THAT ALL THE IDEAS GALAMBOS PUT INTO THEIR HEADS WERE HIS PROPERTY, AND THEY HAD NO RIGHTS TO EXPLOIT THOSE IDEAS IN THEIR OWN HEADS, WHICH THEY'D BORROWED FROM GALAMBOS: THEY COULDN'T REPEAT THEM, OR LAUGH AT THEM, OR CALL A DOCTOR AND TELL THEM THAT A CERTAIN JOSEPH GALAMBOS NEEDED 500CC'S OF THOROZINE AND HERE'S WHY… NOPE, NOT THEIR PROPERTY, FOLKS.

SO YOU SEE, WHEN YOU REALIZE THAT THE ONLY TWO REALISTIC CHOICES HERE ARE SELLING OFF AMERICA PIECE BY PIECE…OR SELLING EACH OTHER OFF IN ONE GIANT IPO LISTING–YOU REALIZE, HEY, IT'S A GOOD THING WE HAVE FREEDOM OF CHOICE IN THIS COUNTRY. FREEDOM-THAT'S WHAT THIS IS ALL ABOUT. LIBERATING THE PUBLIC'S PROPERTY, LIBERATING THE AUCTION PRICE OF THAT PROPERTY FROM THE SHACKLES OF FAIR VALUE AND TOTALITARIAN GOVERNMENT OVERSIGHT. AND IF YOU CAN'T SEE THAT, THEN CLEARLY, YOU NEED TO STEP OUTSIDE THE BOX.
Be sure to check out The Dylan Ratigan Show and listen to Ratigan's excellent podcasts!
Mark Ames is the author of Going Postal: Rage, Murder and Rebellion from Reagan's Workplaces to Clinton's Columbine.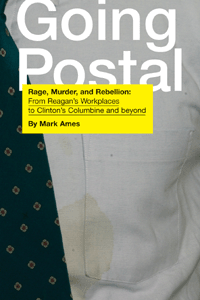 Click the cover & buy the book!
Read more: david casey, joseph galambos, libertard, libertarianism, privatization, Mark Ames, eXile TV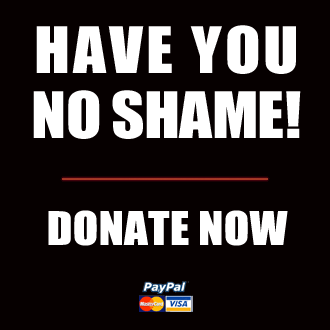 Got something to say to us? Then send us a letter.
Want us to stick around? Donate to The eXiled.
Twitter twerps can follow us at twitter.com/exiledonline