By Rick Rucker
While many of the teen victims in Friday the 13th are deliberately portrayed as pricks, most aren't. They're simply adolescents who happen to be doing what you most wanted to do when you were sixteen, a thing that's sat in your head and festered ever since, like that raisin in the sun. So let's start with the bedrock premise: teenagers, without adult supervision, doing drugs and having sex in idyllic nature.
Sounds pretty awesome, right? Even Grandpa still uses the weekend getaway with the hottest chicks from high school as a wanking fantasy. He's got the trees, the lake and everything!
I can still recall the nuclear erotic energy of visiting a campground or going on vacation when I was a teenager, the girls by the pool, the possibilities. Whether you got lucky a lot back then or not, adolescent sexuality produces some of the most intense emotional experiences of your life.
But as H.L. Mencken mentioned, Puritanism is "[t]he haunting fear that someone, somewhere, may be happy." Jason is this Puritan rage, the spite vote. He doesn't speak to teenagers nervous about immorality. Jason speaks to everyone who wants teenage immorality for themselves, right now, and is thwarted. We wanted it more than anything when we were teenagers, and we still want it today. While we don't admit it, those teenagers from the Friday the 13th movies represent a joy we may never have had, and likely never will have. Even if we were among the sexually Chosen Ones, we never had enough, and it's too late now. Our strongest adolescent emotions, passions, and lusts are gone, never fully gratified. In the Saw series, the killer wants to help victims "appreciate" their lives, a goal that's unstated but somehow also palpable in the Friday the 13th series. These teens are experiencing the only real-world heaven our minds have ever conjured for us, and they take it for granted. So they've gotta pay.
This little slasher-film hypothesis first took shape when I realized sexy movies like Y Tu Mamba Tambien or The Dreamers were intolerable to me. While foreign films depend on breasts to compete with the big budgets of Hollywood, the sex and intrigue just frustrated me. Either I was in a relationship and the sexuality reminded me of the erotic potential I was missing out on, or I wasn't in a relationship and the sex reminded me of the erotic potential I was missing out on. Throw in a killer, and somehow it's not so offensive to the fantasy parts of the brain.
While some people have wonderfully rewarding sex lives, most of us are getting older, paunchier and uglier, irreversibly. When most of us think about sex, we're eternally adolescent. Men had endless lusts, and women didn't have to worry about skin care. The kids in the Friday the 13th movies don't sin by taking drugs and having sex. They sin in not knowing how fleeting that joy is. They're ignorant of the danger lurking around them, the loss of looks, enthusiasm, and passion, the grinding dullness of the workplace, the sexual famine of marriage, the burden of children, the diminishing returns of friendship, the breakup of families. Of course, the audience isn't consciously factoring that in; there's a pit in their brain where all that pain eternally sits.
The kids are unaware of our horrible Western lives, where family, tribe, and clan are dissolved in an acid-bath and every potential relationship is too fraught with the stress of awkwardness, of not knowing your place in the hierarchy, to even be worth investing in.
No wonder we root for Jason!
Read more:, Rick Rucker, Entertainment, movies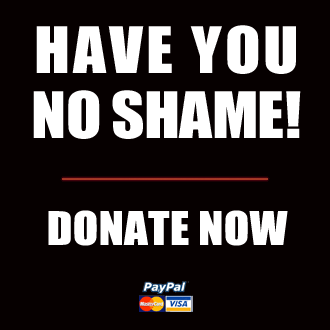 Got something to say to us? Then send us a letter.
Want us to stick around? Donate to The eXiled.
Twitter twerps can follow us at twitter.com/exiledonline