By John Dolan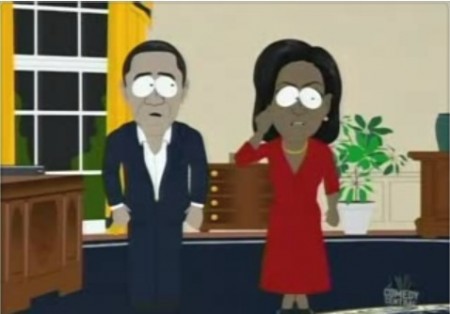 How do you cope with defeat when your whole creed is "You can't argue with success"? In the wake of Obama's victory, American conservatives have some of the best minds to come out of Regent University working on this problem. Little wires are sparking in those Yugo-primate crania, tiny tendrils of smoke are pouring from their hairy ears.
In our new feature, Obama Crawl, The eXiled will introduce you to some of America's Funniest Lame Rationalizations, featuring yesterday's apex predators squeaking like confused Scandinavian lemmings as they try to bluff, lie, flirt and betray their way to survival.
Crawler #1: South Park
We start the series with one of the weirdest and most disgusting displays of all: South Park's woefully unfunny election episode, "About Last Night" was one of the most painful attempts to crawl to Obama–one of the worst because frankly we expected better. Sure, the South Park guys are jerks, they're talented jerks (at least Trey Parker is; it's never been clear what Matt Stone brings to the mix). That sets them apart forever from scum like Seth McFarlane, the Chrysler Corp. of American animation.
But when it was clear Obama had won, the original South Park Republicans puked up a "conciliatory" episode designed to tread water until they could see whether it would be safe to start sneering again.
This sort of cowardice by people who already have more money than they'll ever need, and could shake their fists at the world with impunity, is one of the most shameful and consistent spectacles of American life. No matter how big the stars get, they still grovel to any new victor like chorus girls eagerly falling onto the casting couch.
This wasn't just a cowardly episode, it was godawful, probably the worst in South Park's twelve very uneven years. The central conceit is dull and obvious: South Park is split into two feuding factions, infatuated Obama fans and paranoid McCain supporters. The Obama fans get high on victory and make asses of themselves; the McCain fans flee to a cave. You can see that we're heading for the oldest and sleaziest of sentimental clichés: reconciliation, with the town's innocent children as the agents of peace. Notably, Eric Cartman, the greatest of the show's characters, is totally absent from this episode. You can generally judge the worth of any SP episode by its Cartman content: the more Eric, the better; the less, the worse. Instead of Eric, we get the nice kiddies, who suddenly act all innocent, puzzled by the adults' crazy reactions—when the whole beauty of South Park is the vicious precocity of the kids' endless, treacherous negotiations with each other and the dully earnest adult world.
There's little egghead needing medical help and he can't get it because the hospital's full of Obama fans with hangovers and McCainiacs who tried to kill themselves. When a South Park episode depends on the bathos of an injured toddler to propel the plot, you know you're dealing with creative collapse.
But it gets worse. Since this main plot is too simple, and too flat-out stupid, to sustain 22 minutes of animation, Parker and Stone come up with their worst subplot ever, a completely lame Ocean's Thirteen parody: Obama and McCain are just cool jewel thieves after all, using the election to steal a big diamond. There's no resonance to this plot whatsoever, by design; instead, it's pure disconnect, like an induced coma for a patient who can't face the pain. The plot goes absolutely nowhere, and the episode ends with the most sickening of all South Park homilies (and there have been some awful ones over the years), as the chastened Republicans emerge from their cave to find the sun still shining, and coquettishly mumble, "Maybe Obama can change some things."
Parker and Stone usually try to one-up the standard rightwing talking points, not so much from any decency but from sheer snobbery. Not this time. Their time-wasting jewel heist exactly parallels the reaction of the upper echelons of the right: freeze, say nothing incriminating, look for angles, try to make a deal. The suckers, the deadenders in the cave, can fuck themselves; these guys are players, and they have to follow the logic of that grim, stark premise of all American thought: winners win, and losers put on their knee pads.
Read more: america, obama presidency, politics, South Park, John Dolan, Obama Crawl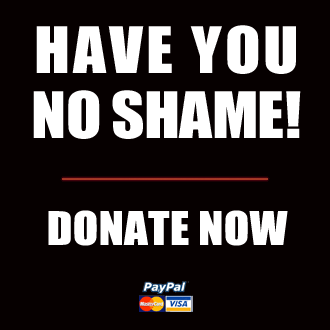 Got something to say to us? Then send us a letter.
Want us to stick around? Donate to The eXiled.
Twitter twerps can follow us at twitter.com/exiledonline