By Team eXiled
The first reviews of the "Going Postal" documentary, which aired last night on BBC2, are rolling in from the British press. The Independent praised the film's "highly-talented" director Paul Tickell, and called the documentary "exemplary in just about every way":
Where Going Postal scored heavily over similar documentaries was in Tickell's pared-down style. There was no solemn narration, no fatuous mood music, just interview after interview with, in cases where they survived, the perpetrators and the victims, the shooters and the shot, plus assorted relatives and academics. Unlike Michael Moore's Bowling for Columbine, this was no anti-gun polemic; indeed, nobody even raised the subject of gun control and Tickell admirably resisted the temptation to flash US gun-owning statistics across the screen. What he did do was cut back repeatedly to his interview with the enthusiastic proprietor of a typical mid-American weapon store, allowing us to make the connection ourselves between indiscriminate shooting sprees and the Second Amendment to the Constitution, which enshrines the right of all citizens to keep and bear arms, and which instils in an alarming number of otherwise sensible Americans the same kind of teary-eyed pride as photographs of their grandchildren.
A review on SkyTV.com, the web site for Britain's Sky TV, called the documentary "essential viewing" and singled out Mark Ames' "terrifying" and "spine-chilling" analysis of the rampage shootings:
Going Postal examines five of these horrific shootings before consulting experts in the field and relatives close to the victims and attackers in a bid to ascertain what caused them in the first place.

Foremost amongst these is journalist Mark Ames, the author of the book Going Postal, which deconstructs these attacks in the context of Reaganomics.

Essentially, Ames argues that the US' economic depression during the eighties caused many pensions and jobs to be lost, widening the gap between the well-paid and average worker, and contributing to societal fracturing and widespread, repressed discontent.

Most terrifying of all is Ames' damning and spine-chilling assertion that although mental instability and regimes of medication certainly play a part in what makes a shooter, they are more often than not medically 'sane' and practically impossible to profile.

Heartbreaking, disconcerting and yet essential viewing.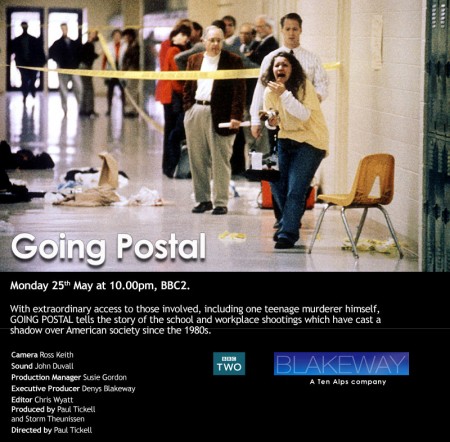 Meanwhile, The Times (UK) gave "Going Postal" a 4-star rating, though the reviewer was oddly upset that the documentary didn't explore the alleged "copycat effect" as a root cause of the killings–one of those cheap, meaningless explanations (or really evasions) that Ames already destroyed in the Guardian UK. Anyway, here's The Times' 4-star review:
Going Postal

Lionel Shriver's excellent novel We Need to Talk About Kevin propagated the bad seed view of high school massacres. Some kids were just born bad. Going Postal was a long, not entirely coherent documentary by Paul Tickell determined to look in another way at a phenomenon that started in the early Eighties when disgruntled postal workers started shooting at their colleagues and continued spraying blood into the commercial and educational worlds. It identified numerous triggers that could turn the mentally unstable into mass killers, among them the prevalence of guns, a culture where violence is celebrated, the rough justice of Reaganomics where more loyal workers lost their jobs with less compensation and static, insular communities – cosy if you fitted in to them, hellish if you failed to. What was not examined was the copy-cat effect generated by media attention. Although it was irresistibly interesting to hear Michael Carneal, the killer of three fellow students in 1997, describe what was passing through his addled mind at the time, you wondered if someone who had killed in a frantic search for status should later be rewarded by the sympathetic attentions of television. Carneal hoped this "life-defining moment" did not "define him". Huh?
Yeah, well, no one ever said that TV critics draw the best and the brightest.
Lastly, so far, is this review from Metro (UK):
The truly chilling thing was you ended up not remotely surprised by these horrifying acts of violence – and it's likely to get worse. The increasingly competitive brutality of the modern workplace runs counter to consumerist propaganda that wants us to believe life is getting better and better and we can have it all. That's not going to change anytime soon and, with alienated ex-employees a sinister spin-off from the recession, the next massacre is a headline waiting to happen.
For those of you in America wondering when you can see Going Postal, all we can tell you is that this is all being discussed now. Ames has seen the original director's cut, which he described as one of the goriest and most emotion film experiences in years–but a version like depends on who picks up the US rights to "Going Postal", which is currently being negotiated.

Read more:, Team eXiled, Gloats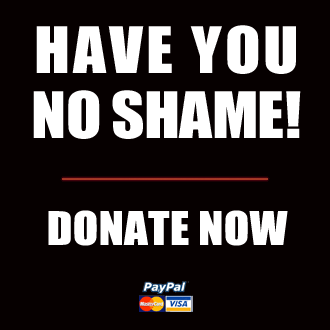 Got something to say to us? Then send us a letter.
Want us to stick around? Donate to The eXiled.
Twitter twerps can follow us at twitter.com/exiledonline