By Mark Ames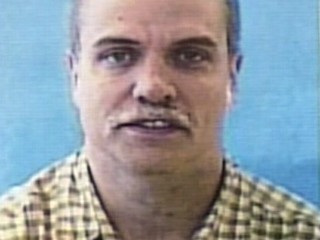 This is one of the clearest and most painful "going postal" rampage massacres I've studied, and I've looked at a lot of them. The reason is that the murderer, George Sodini, left behind a diary that makes everything as clear as can be–so clear, in fact, that the media is doing everything it can to avoid looking at what it really says. Because this massacre is really about the desperation and hate so common in America. You can't understand yesterday's health club massacre in Pennsylvania, leaving 3 women dead, 10 injured, and the male gunman with his brains blown out, without recognizing this misery and hate. Most Americans' lives have grown worse over the past three decades: today, average American male workers earn less than they did in 1979 in inflation-adjusted dollars, while the top 400 richest Americans own more than the bottom 150 million Americans, a wealth gap only found in tinpot Third World kleptocracies, and not seen here since 1928. That alone is reason enough to hate.
Even Warren Buffet admitted it in a interview with the New York Times: "There's class warfare, all right, but it's my class, the rich class, that's making war, and we're winning." For some reason, only the rich have the courage to talk about it.
All this hate has nowhere to go but right-ward. Because America's liberals are terrified of this hate. They want an America guided by rational debate between civilized participants in three-pointed hats, sipping tea while discussing the rights of man, just like our forefathers. Liberals are deathly afraid of violence and ugliness; rightwingers welcome it as a way out. So the liberals ignore the anger, ceding it all to the rightwing, the only group comfortable enough with hate to make it front-and-center stage in their act–and that's why all the hate-filled victims gravitate their way, despite Kansas' "interests," or whatever civics-class tripe liberals cling to.
George Sodini's diaries answer that most idiotic liberal question of all: "What's The Matter With Kansas?" The answer to that question, Mr. Frank, is simple: Kansas is very fucking pissed off, that's what's wrong. Kansas can't get its dick wet if its life depended on it. All Kansas has is a duffel bag full of really cool guns to keep Kansas entertained–that and a soothing hate-soundtrack provided by FoxNews, Rush, Gingrich and the rest–what's so hard to understand about Kansas's problem?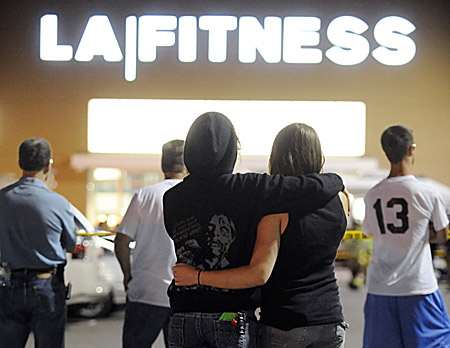 Which brings me to yesterday's jazzercize massacre in Pittsburgh. The motive is obvious: The killer, a 48-year-old George Sodini, a systems analyst in a local law firm's finance department, explained in his diary exactly why he shot and killed all those women in the gym:
No girlfriend since 1984, last Christmas with Pam was in 1983. Who knows why. I am not ugly or too weird. No sex since July 1990 either (I was 29). No shit! Over eighteen years ago. And did it maybe only 50-75 times in my life.

…I masturbate. Frequently.
That's it, that's all the reason you need. Because in this Calvinist country, if you can't get laid for 20 years, you're a monumental loser and it's all your fault. Every Hollywood movie ever made, every gushing Tom Hanks blockbuster nightmare, tells us that shy nerds inevitably get discovered by beautiful sweet wife-types. Just be patient and nice, you'll get your reward. It's the mean bully assholes who get punished, right? Wrong. That brutal discovery is what destroyed Sodini, as his diary reveals:
I have slept alone for over 20 years. Last time I slept all night with a girlfriend it was 1982. Proof I am a total malfunction. Girls and women don't even give me a second look ANYWHERE. There is something BLATANTLY wrong with me that NO goddam person will tell me what it is.

Told by at least 100 girls/women over the years I was a "nice guy". Not kidding.
But Sodini's pain isn't limited to his unfluffed genitalia. He understood that his sexual failure and anomie were part of a larger injustice and rigidity built into the current American narrative, a miserable narrative for most white males over the age of 25. The media has so far totally ignored how America's economic Hell added to Sodini's breakdown, but the media routinely ignores the role Reaganomics has played in the "going postal" rage murders since the mid-80s. Sodini knew how bad and tenuous his situation was, and he wrote about it:
April 24, 2009:
Early last month, we had our second general layoff. I survived. First one was in November. When I began 10 years ago, that used to be a nice place to work. I understand the need to reduce staff when times sour, but this is out of proportion to the economic problems at this time. The economy is shrinking by about 4-5%. They decided not to pay Christmas bonus – for staff that amounts to about 8% of yearly pay. Well, OK. Plus no yearly "merit" raise, another 3.5%. That totals to about 11% cut. Plus two layoffs of 5% staff in each case. Do the math. I know this firm is using this downturn as an excuse to take advanage of a bad situation and kill jobs UNNECESSARILY. The second layoff people who actually did work were let go. We all need to pick up the slack so the company can cut beyond what is necesary. Wasn't going to mention it, because of all this shit, it is K&L Gates, the large law firm headquartered here in Pittsburgh. Just call it K&L Gates Corporation. Most people there are OK and I would never have a shoot 'em up there. They paid me for 10 years, so far!

I predict I won't survive the next layoff. That is when there is no point to continue. RIght now, life is bearable and I can get by indefinitely. Something bad must happen. The paycheck is all I have left. The future holds nothing for me. Twenty five years of nothing fun. I never even spent one weekend with a girl in my life, even at my own place. Also unlikely to find another similar job. I guess then is when I take care of things. I don't have kids, close friends or anything. Just me here. If you have nothing, you have nothing to lose.
The media is ignoring passages like these, because reading them, Sodini goes from monster-freak to a real human being, someone all too familiar, even pitiable, despite the horrible crime he committed. What the media has focused on instead is Sodini's anti-Obama, anti-liberal racist entry, as if this was the motive rather than the symptom. In fact, as you'll see, he's not really a racist, but rather, a sarcastic parodist of racist cliches, as this entry from last November reveals:
Good luck to Obama! He will be successful. The liberal media LOVES him. Amerika has chosen The Black Man. Good! In light of this I got ideas outside of Obama's plans for the economy and such. Here it is: Every black man should get a young white girl hoe to hone up on. Kinda a reverse indentured servitude thing. Long ago, many a older white male landowner had a young Negro wench girl for his desires. Bout' time tables are turned on that shit. Besides, dem young white hoez dig da bruthrs! LOL. More so than they dig the white dudes! Every daddy know when he sends his little girl to college, she be bangin a bruthr real good. I saw it. "Not my little girl", daddy says! (Yeah right!!) Black dudes have thier choice of best white hoez. You do the math, there are enough young white so all the brothers can each have one for 3 or 6 months or so.
For middlebrows and liberals, this looks like racist ranting simply because their filter catches a few obvious stand-out words. But they're wrong. Sodini was more nuanced in his desperation than something as easily-defined as racism. As this moving diary entry shows, he understood that he was victim to something far deeper and more profound, and that he had more in common with blacks of his predicament than the rich white FoxNews hosts or the corporate backers of the Tea Party movement:
While driving I radio surfed to a talk show. The caller was a 30ish black man who was describing the despair in certain black communities. According to him, life is cheap there because you are going to die anyway when you get old. It is the quality of life that is important, he said. If you know the past 40 years were crappy, why live another 30 crappy years then die? His point was they engage in dangerous behavior which tends to shorten the lifespans, to die now and avoid the next 30 crappy years, using my example. The host got sarcastic and ended the call instead of trying understanding his point. Agreement wasn't necesary. I put music back on. But it was an interesting, and useful point for me to hear.
Not a lot of hate-fueled white American males reach this kind of rational, revolutionary understanding. And in a way, he's far more honest than the revolutionaries, too prude and self-righteous to admit what really matters in this life: sex, love, escaping loneliness:
Every evening I am alone, and then go to bed alone. Young women were brutal when I was younger, now they aren't as much, probably because they just see me just as another old man.

I see twenty something couples everywhere. I see a twenty something guy with a nice twentyish young women. I think those years slipped right by for me. Why should I continue another 20+ years alone? I will just work, come home, eat, maybe do something, then go to bed (alone) for the next day of the same thing. This is the Auschwitz Syndrome, to be in serious pain so long one thinks it is normal.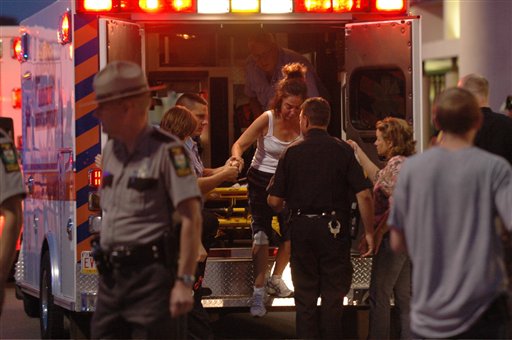 By the end of the diary, Sodini loses interest in intellectualizing his despair. He's alone; he will never fuck again.  He's out of the Darwinian competition. It's all over. Women are the source of his pain; women must die:
June 2, 2009:
Some people I was talking with believed I date a lot and get around with women. They think this because I showed an email I got from a hot woman to the department gossip, but it didn't work out. All this is funny. Actually, I haven't had sex since I was 29 years old, 19 years ago. That's true.

June 5, 2009:
I was reading several posts on different forums and it seems many teenage girls have sex frequently. One 16 year old does it usually three times a day with her boyfriend. So, err, after a month of that, this little hoe has had more sex than ME in my LIFE, and I am 48. One more reason. Thanks for nada, bitches! Bye.
Try making sense of that. It's too painful–for us, I mean. So the media is making him into the racist, anti-Obama monster that allows America to go on its smug, merry way. Right up to the next massacre, coming soon to a workplace near you.
Mark Ames is the author of Going Postal: Rage, Murder and Rebellion from Reagan's Workplaces to Clinton's Columbine.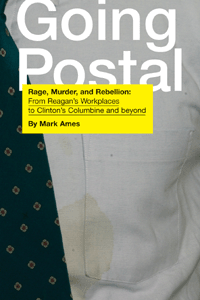 Click the cover & buy the book!
Read more: aerobicize, Class War, Going Postal, Sodini, Warren Buffet, Mark Ames, Class War For Idiots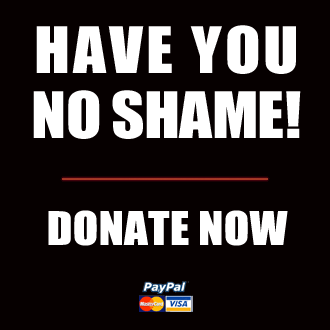 Got something to say to us? Then send us a letter.
Want us to stick around? Donate to The eXiled.
Twitter twerps can follow us at twitter.com/exiledonline