By Mark Ames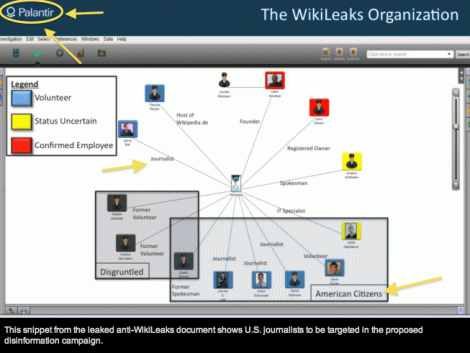 This article was first published at TheNation.com
If there's one thing that distinguishes Ron Paul from the rest of the GOP field, it's his principled stand against American empire and his ardent defense of individual liberties. [1] Paul's opposition to wars, bloated defense budgets and government espionage of US citizens has made him a hero among some young conservatives. His seemingly rock-solid principles and radicalism has even drawn some on the left; unlike even left-wing Democrats, Paul has said he wants to abolish both the CIA and the FBI to protect individual "liberty."
So it should come as a shock and disappointment to his followers that Ron Paul's single largest donor—his Sheldon Adelson, as it were—founded a controversial defense contractor, Palantir Technologies, that profits from government espionage work for the CIA, FBI and other agencies, and which last year was caught organizing an illegal spy ring targeting American political opponents of the U.S. Chamber of Commerce, including journalists, progressive activists and union leaders. (Palantir takes its name from the mystic stones used by characters in Tolkien's Lord of the Rings to spy on each other.)
According to recently filed FEC disclosure documents, Ron Paul's Super PAC has received nearly all of its money from a single source, billionaire Peter Thiel. So far, Thiel has contributed $2.6 million [2] to Ron Paul's Super PAC, Endorse Liberty [3], providing 76 percent of the Super PAC's total [2] intake.
Thiel, a self-described libertarian and opponent of democracy [4] who made his fortune as the founder of PayPal, launched Palantir in 2004 to profit from what the Wall Street Journal described [5]as "the government spy-services marketplace." The CIA's venture capital firm, In-Q-Tel, was brought in to back up Thiel as one of Palantir's first outside investors. Today, Palantir's valuation isreported [6] to be in the billions.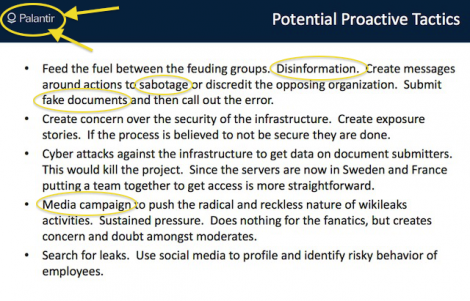 Palantir slide for proposal to attack WikiLeaks on behalf of the US Chamber of Commerce
A recent Businessweek profile [7] explained how Palantir makes its money—and why Ron Paul's followers should be bothered:
Depending where you fall on the spectrum between civil liberties absolutism and homeland security lockdown, Palantir's technology is either creepy or heroic. Judging by the company's growth, opinion in Washington and elsewhere has veered toward the latter. Palantir has built a customer list that includes the U.S. Defense Dept., CIA, FBI, Army, Marines, Air Force, the police departments of New York and Los Angeles, and a growing number of financial institutions trying to detect bank fraud. These deals have turned the company into one of the quietest success stories in Silicon Valley—it's on track to hit $250 million in sales this year—and a candidate for an initial public offering. Palantir has been used to find suspects in a case involving the murder of a U.S. Immigration and Customs Enforcement special agent, and to uncover bombing networks in Syria, Afghanistan, and Pakistan. "It's like plugging into the Matrix," says a Special Forces member stationed in Afghanistan who requested anonymity out of security concerns. "The first time I saw it, I was like, 'Holy crap. Holy crap. Holy crap.'"
Read the rest of this article at TheNation.com by clicking here.
Read more: chambergate, glenn greenwald, hb gary, lee fang, palantir, paypal, peter thiel, think progress, us chamber of commerce, Mark Ames, Class War For Idiots, Libertards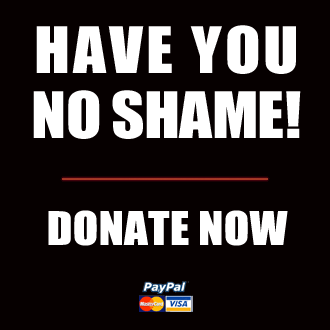 Got something to say to us? Then send us a letter.
Want us to stick around? Donate to The eXiled.
Twitter twerps can follow us at twitter.com/exiledonline