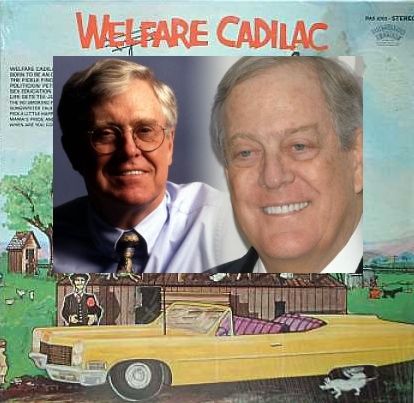 An abridged version of this article was first published
in the New York Observer

Mainstream America is finally getting to know the billionaire brothers backing the libertarian movement, thanks to a pair of dueling profiles in New York and The New Yorker. Now that we've heard about their charitable giving, David's 240-foot mega-yacht and role as patrons of the Tea Party movement, it's time to ask a more serious question: How libertarian are they?
The short answer…not very.
Charles and David Koch, the secretive billionaire brothers who own Koch Industries, the largest private oil company in America, have spent millions bankrolling free-market think tanks and pro-business politicians in order, as David Koch has put it, "to minimize the role of government, to maximize the role of private economy and to maximize personal freedoms." But a closer look at their dealings reveals that for the past 35 years the brothers have never shied away from using government subsidies to maximize their own profits, even while endeavoring to limit government spending on anything else. Simply put: the Kochs have no problem with socialism — as long as they're in on the action. (more…)