By Mark Ames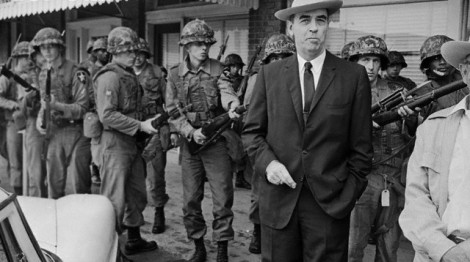 Gen. Walker in Mississippi trawling for pro-segregationist cock
While wasting time yesterday I looked up that bizarro rightwing "patriot" General Edwin A. Walker, who was fired by Kennedy for insubordination, and who was later allegedly nearly shot by Oswald in Texas, and who was tied to the notorious "JFK Wanted For Treason" flyer distributed in Dallas on the day of Kennedy's assassination. (I posted that flyer in my last entry on the JFK-Obama Repeat scenario.)
Gen. Walker was yet another in a long illustrious line of closet homosexual tea-bagger Republicans who, after the assassinations wound down and the South gave up fighting desegregation, ended his days in public toilets trying to suck off undercover cops a-la Larry Craig. But Gen. Walker's spirit lives on, as these chilling New York Times articles below show.
One thing that's particularly interesting is what a true patriot Ike was, going against the insane wing of his party to support the President, despite their ideological differences. Compare that to W's sulking-groundhog act, or Cheney's role in firing up the crazies.
Also note that the far-rightwing John Birch Society which led the radical anti-JFK movement branding him a traitor was co-founded by none other than Fred Koch of Koch Industries. Like father, like sons: today, sons Charles and David Koch are co-founders and major funders of FreedomWorks, the Tea Party movement, Americans for Prosperity, and the crazy-rightwing movement branding Obama as a traitor.
New York Times, November 19, 1961, page 1

KENNEDY ASSERTS FAR-RIGHT GROUPS PROVOKE DISUNITY

Attacks Birch Society and 'Minutemen' at a Party Dinner in Los Angeles

Spread of Fear Scored

President Says Real Threat Comes From Without, Not Within

by Tom Wicker

LOS ANGELES, Nov. 18– President Kennedy spoke out tonight against the right-wing John Birch Society and the so-called Minutemen in a speech at a Democratic Party dinner here.

The President mentioned neither group by name but left no doubt whom he meant.

[In Atlanta, Senator Barry Goldwater, Arizona Republican, attacked the "radicals in the White House." At a news conference, he called President Kennedy the "wagon master" who is "riding on the left wheel all the time."]

The President, in his talk at the Hollywood Palladium, also made his first public response to Edward M. Dealey, publisher of the Dallas Morning News. Mr. Dealey attacked the President at a White House luncheon for "riding Caroline's tricycle" instead of being "a man on horseback."

Some 'Escape Responsibility'

"There have always been those fringes of our society who have sought to escape their own responsibility by finding a simple solution, an appealing slogan or a convenient scapegoat," Mr. Kennedy said.

Now, he continued, "men who are unwilling to face up to the danger from without are convinced that the real danger comes from within."

"They look suspiciously at their neighbors and their leaders," he declared. "They call for a 'man on horseback' because they do not trust the people. They find treason in our finest churches, in our highest court, and even in the treatment of our water."

"They equate the Democratic Party with the welfare state, the welfare state with socialism, and socialism with communism. They object quite rightly to politics' intruding on the military — but they are anxious for the military to engage in politics." …

Mr. Kennedy chose a region in which the John Birch Society has some of its strongest support to make his third and sharpest attack on what he called tonight "the discordant voices of extremism."

In the first two speeches, at Chapel Hill, N. C., and Seattle, he also warned against left-wing and pacifist extremists. His remarks tonight were directed to far-right groups and individuals.

The reference to "armed bands of civilian guerillas" appeared to be directed at the Minutemen, individual groups of which are being organized and armed in some parts of the country. The organization is reputed to be particularly strong in California.

Los Angeles is regarded as almost the heartland of the Birch Society. Two Republican Representatives from its urban districts, John H. Rousselot and Edgar W. Hiestland, are avowed members. …
=============================================================================
New York Times, November 19, 1961, page 54

RIGHTISTS PICKET KENNEDY SPEECH

3,000 Parade in Los Angeles in Orderly Demonstration

LOS ANGELES, Nov. 18– Raucous picketing took place outside the Hollywood Palladium where President Kennedy spoke.

For nearly an hour, 3,000 persons paraded, carrying signs and chanting and singing their protests over a variety of issues.

The demonstration, which started rather mildly five hours before the President spoke, was suddenly stepped up by an apparent influx of rightists.

Some of the signs carried by men and women wearing red, white, and blue paper hats, read: "Unmuzzle the Military," "Clean Up the State Department," "Veto Tito," "Disarmament is Suicide," and "CommUNism is Our Enemy."

The marchers sporadically chanted "Test the Bomb," and, "No Aid to Tito." They sang, among other things, "God Bless America" and "The Battle Hymn of the Republic."

A much smaller contingent of pacifist marchers was elbowed out. Most of these carried signs urging the end of all atomic testing…
=============================================================================
New York Times, November 19, 1961, page 54

Eisenhower Travels Aloft With Kennedy

SHERMAN, Tex. Nov. 18 (AP) — President Kennedy and former President Dwight D. Eisenhower rode together to Perrin Air Force Base near here by helicopter today after attending the funeral of Sam Rayburn at near-by Bonham.

Senator Carl Hayden, Democrat of Arizona, was also on the helicopter. Mr. Kennedy and General Eisenhower stood together talking by the side of the aircraft for about two minutes. Mr. Kennedy gestured repeatedly with his left hand and appearing to be explaining something to General Eisenhower. General Eisenhower listened intently and shook his head affirmatively several times.

They shook hands. Mr. Kennedy then walked briskly to his plane and General Eisenhower got into an Air Force automobile.
=============================================================================
New York Times, November 24, 1961, page 1

Eisenhower Says Officers Should Stay Out of Politics

Assails Extremists In TV Interview

Former President Dwight D. Eisenhower last night urged officers of the armed services to shun partisan politics.

Speaking as a General of the Army, he declared it was "bad practice –very bad" for an officer, even when testifying under oath before a committee of Congress, to express opinions "on political matters or economic matters that are contrary to the President's." …

The former President was blunt in discussing the recent "rise of extremists" in the country.

"I don't think the United States needs super-patriots," he declared. "We need patriotism, honestly practiced by all of us, and we don't need these people that are more patriotic than you or anybody else."

His definition of extremists embraced those who would "go back to eliminating the income tax from our laws and the rights of people to unionize… [and those] advocating some form of dictatorship." It also included those who "make radical statements [and] attack people of good repute who are proved patriots."

At that point, Walter Cronkite of the C.B.S. news staff, who conducted the interview, asked about the "military man's role in our modern political life." He did not cite, but obviously referred to, the case of Maj. Gen. Edwin A. Walker, who stirred up a controversy that led to his "admonishment" for the political nature of the indoctrination of his troops. General Walker lated resigned from the Army.

"I believe the Army officer, Navy officer, Air officer," General Eisenhower said, "should not be talking about political matters, particularly domestically, and never in the international field, unless he is asked to do so because of some particular position he might hold." …

The general declared there was hope for disarmament and better East-West relations. As the Russian standard of living improves, the Russian people will begin to understand that there is another way of life, he said…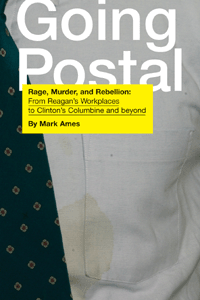 Click the cover & buy the book!
Read more: edwin walker, homosexual, jfk, knob goblin, koch, Republican, tea baggers, Tea Party, Mark Ames, Tea Party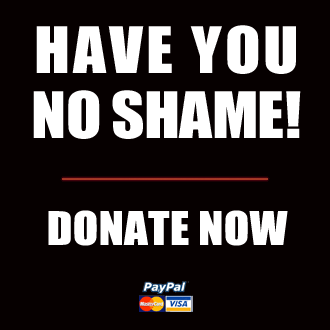 Got something to say to us? Then send us a letter.
Want us to stick around? Donate to The eXiled.
Twitter twerps can follow us at twitter.com/exiledonline