By Matt Harvey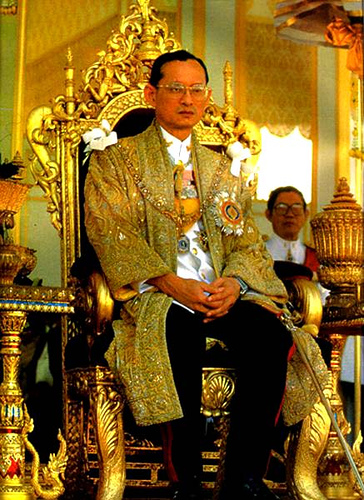 Just beyond the main business district of Sathorn, where the main Japanese banks have 50 story-gilded towers, there are acres of terraced housing projects and thatched roof shanties. The apartments lack telephones and even bathrooms. A ten-foot portrait of the king in full 19th century dress marks the neighborhood's entrance. Walking past it at 1pm a poor imitation of a lady boy—a mustached victim of hormone shots—grabs my arm. As I Shake off his clutch, he lets out a pseudo-effeminate growl: "You know you want it."
Rows of heavy steel pay-phones, operated by a company owned by the king, surround low slung, drab concrete blocks of flats. The only place to buy food besides street vendors is a 7-11, which offers family-sized 3 foot long hot-dogs to a population seemingly hooked on junk food. (There are seemingly thousands of 7-11s in Bangkok.)
The squalor couldn't help but bring Davidsonn, the threatening Swede—who works as the manager of a 4-star hotel's rooftop bar, Le Fenix—to mind. Looking out at the Chao Praya River, he smugly told me how nice it was to be in a city where one didn't have to pay high taxes. "I can build what I want," he gushed. Without taxes, it has been left to the king to personally assist his people. Davidsonn's blonde pony-tail and silk scarf being thrown around by an industrial sized whirring fan, he explained: "[Bhumibol] done a lot for the poor people, he doesn't give them money, but the tools to become, how do you say, do for themselves." Like what? "He's given them the coffee bean," the Swede adds seriously.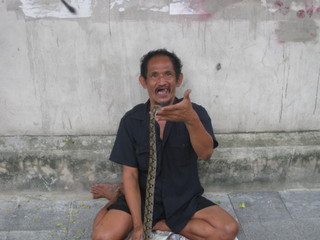 Toothless bald beggers jump out from in between parked cars where they are sleeping. Shirtless children play in the streets. There is no hope here, only motorcycles, Yaba and the Buddha–who's smiling gold covered statue, is the only thing that shines in his neighborhood. Thai Buddhism is the ultimate control for a kleptocratic ruler—teaching a dogma of absolute serenity in the face of crushing inequality from within. As you move further away from Wireless Road, where the banks are located, the flats get more and more drab until they collapse into thatched shanties, and you're hit by a shocking realization. The people in the projects are lucky by Thai standards.
Thailand's mystical regent is the son of a commoner mother who rarely set foot in Asia before he was 21. But in 1946, his brother, the king, was murdered at point-blank range and Bhumibol was shipped in from a Switzerland. He has been America's biggest stooge in SE Asia ever since, turning Krup Thep (Bangkok)—the city of Angels—into a sprawling concrete playground of slapdash slums, hotel districts and red-light districts. His function of main-procurer for the Armed forces has earned him the title of world's longest running monarch; and according to Forbe's magazine, the richest—this, despite Thailand still part of the Third World. Officially, the US and Thailand have several bi-lateral treaties. More importantly, Thailand was an important buffer in US anti-communism strategies as far back as 1954, when it joined SEATO.
When he is mentioned at all in the Western press, Bhumibol is usually portrayed as a benevolent, but detached, patriarch—a stern judge of how much westernization his maturing population can cope with. A much more cynical figure isn't far behind the soothing image, however. The Crown Purse Bureau, his economic arm, is the majority shareholder in Thailand's heavy industry across the board—the corporations include the most powerful in construction, banking and telecommunications. (Bhumibol also owns personal stakes in them—like Thai Insurance Company independent of the CPB.) The CPB hold leases for the properties of many large western hotels, including the Four Seasons.
In 2007 the CPB served evictions to entire districts of food stall vendors—many of them very long-term tenants—in the service of a scheme to create the "Champs-Élysées of Asia." This was only one maneuver on a much larger strategy, in which, according to a muckraking article in the Asia Sentinel, "most of Bangkok's best real estate is owned by Thailand's royal family through the [CPB.]" Sadder still perhaps is that most Thais live under the fiction that this Frankenstein of Darwinian capitalism is, in fact, a charity.
With such a clear-cut economic incentive, is it any wonder that there is no urban planning in Bangkok? The city is broken up into districts that were thrown up fast and all look the same—low-slung concrete terraces dotted with plazas and high rises. Because of the pollution, it's impossible to keep anything clean. When a section gets too old and its soot covered buildings start to crumble, the government clears out a slum for a shiny new development. Beneath ancient decrepit signage, touting the wonders of another era, businesses in the older districts are left to battle it out for warm-bodies. A Playboy Bunny shaped sign still trumpets to 70s soul brother GI's. "Jim Man Tailors and Silk."
Now, the process has been brought to a virtual standstill by the slowdown of tourism. Construction sites either lie dormant, guarded by rent-a-cops and Buddhist shrines or just save face with skeleton crews. The English language business daily, The Nation, recently reported that, on the beach tourist haven of Phuket: "48% of all new hotel developments…are experiencing major construction delays triggered by the global economic downturn and concerns over Thailand's political stability." (Almost certainly a conservative figure.) When a few English-speaking Bangkok residents admitted the local economy's woes, they were always quick to add that things were much worse in the South.
Thailand is officially a constitutional monarchy but Bhumibol—and the oligarchy he represents—frequently exercise naked political power to shut down democracy. Most famously, in September of 2006, after Thaksin Shinawatra, a rich populist backed by the country's poor, was forced out after launching the  country's first social welfare policies. The army— hurling charges of lese majeste against Thaksin and his cronies—staged a successful coup d'état. The king's silence was deafening.
More recently, the monarchy has utilized a vast-array of social, military and economic tactics to shut down reform including corruption hearings, the banning of opposition political parties and destabilizing the country's finances to retain control of the country. The popular political wing of the monarchists is a yellow (the royal color) shirted mob that frequently appears in force to bully the peasants back in line.
In late November, during a period when the reformers had been swept into power, Sondhi Limthongkul, head of the PAD— People's Alliance for Democracy—threatened a bank-run by his supporters if the government did not step down. "The whole financial system of Thailand will go down the drain," he told the media, much of which he owns. Sondhi was rewarded for his fidelity to the system with an assassination attempt. In April, members of the Army sprayed his chauffeured car with 100 rounds of M-16 fire, one of which grazed his skull.
Two months after the shooting, a recuperated Sondhi started talking. Comparing the army to the "Cosa Nostra," Sondhi said he had been shot because he had "revealed the secrets of a lady who appears close to King Bhumibol." Later, he gently raised the possibility—to a round-table of reporters—that the Reds (democrats) and Yellows could work together reforming the kingdom. "The only difference between red and yellow," he said "is that when there's a change we believe that change will have to incorporate the monarchy institution." In other words, the throne might survive Bhomibol, but the monarchy's power would be reduced. Sort of like in Nepal.
Perhaps the royalists had gone too far for Big Business's tastes as well. In late November the PAD had been dispatched to storm the airport, which they did, shutting it down for a week. The elites were biting into the country's jugular vein, tourism, and not letting go until the pro-democracy reformist opposition relented. Reformers again lost the government, through a combination of economic pressure and a rigged judiciary, but for the pro-business oligarchy it was a pyrrhic victory. Standard & Poor's immediately downgraded Thailand's rating and images of tourists being stranded by mobs holding up pictures of the king were beamed around the globe. All this political upheaval was not good for business.
The octogenarian king might be nearing his end, but he is determined to shore up his legacy any way he can. As an incident highlighted in late August—when a former journalist was sentenced to 18 years imprisonment for violating his majesty 's dignity by criticizing him—Bhomibol looked ready to impose another round of clampdowns. The old geezer has been having some health problems recently, and was admitted to a hospital for "fatigue."  Yet even while he's preparing himself for reincarnation, the "great ruler" is fighting to ensure that his family's plundering of Thailand outlasts him. No wonder he's so sensitive to criticism.
Read more: global recession, king, monarchy, thailand, tourism, Matt Harvey, Dispatch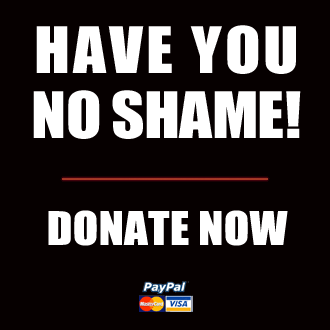 Got something to say to us? Then send us a letter.
Want us to stick around? Donate to The eXiled.
Twitter twerps can follow us at twitter.com/exiledonline