By Tim Mohr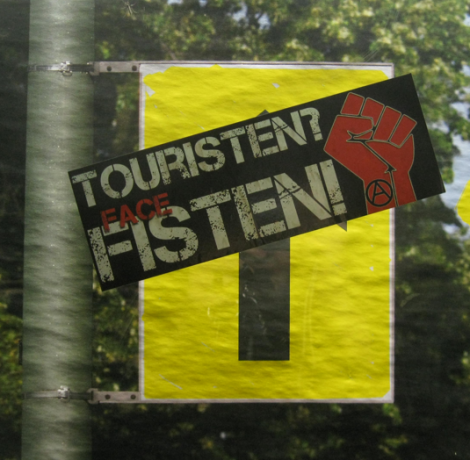 These days, tourism is worth about $15 billion and 230,000 jobs to Berlin, Germany, and with 20 million annual hotel stays the city jumped past Rome last year to become the third most visited European city, trailing only Paris and London. For a town that has struggled economically since the fall of The Wall, this might sound like welcome news. And it is for tourism industry types, but not for a lot of other Berliners, where low-cost bohemianism has practically defined Berlin, whose mayor famously described it as "poor but sexy." The tourism boom has become such a problem for locals that today, the German capital is practically covered with stickers declaring "Berlin doesn't heart U" and posters warning "Tourists face fists!" And there have even been public calls for attacks on the tourism industry's infrastructure there.
Anti-gentrification agitation has been at a fairly constant loud-level pitch since unification in Berlin; organizers of large-scale street protests against the city's 1993 bid to host the 2000 Olympics rallied East Berliners to their side after showing them statistics on how Barcelona's rents soared following its Olympic games. Pubs in the early-1990s would post "no latte" signs in their windows in protest over the chic new cafes opening in formerly working class neighborhoods. Since then, though, the best-preserved sections of East Berlin, where attractive 19th century residential buildings line block after block, have been completely transformed by an influx of new menschen and money.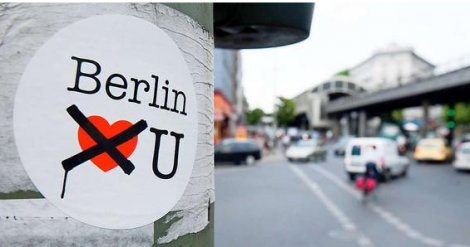 More recently, anti-gentrification sloganeering began in Prenzlauer Berg, the district of East Berlin that underwent the fastest and most dramatic changes after the fall of The Wall. In the space of a decade, Prenzlauer Berg went from a dingy haven for East German literary and art types to a luxury parking-lot for BMWs and Audis with Stuttgart license plates, as posh cafes and restaurants mushroomed around its leafy squares.
Domestic sources of gentrification were the first to draw ire; the most commonly identified culprits are Schwaben, people from a prosperous southwestern part of old West Germany near the Black Forest, mostly in the state of Baden-Wurttemberg. By the second half of the 2000s, signs started sprouting up in Prenzlauer Berg saying things like, "Schwaben, what do you want here?" or "The country needs new walls," and sarcastically thanking West German cities for all the parking spaces left behind when the district's new residents returned home for Christmas.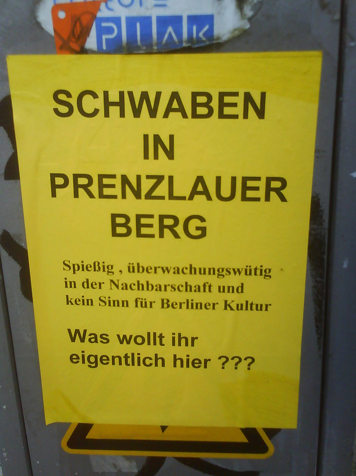 Next came action: as Prenzlauer Berg and Mitte continued to see skyrocketing rents, and the restaurant and bar scenes took off in another central Eastern borough, Friedrichshain, a  website called brennende-autos.de tracked over 600 anti-gentrification car fires set between 2007 and 2010.
Though flames billowing from the writhing metal remains of cars has been a regular feature of Berlin nightlife for years, the rate of arsons in late August of this year attracted international media attention. In the space of a few weeks, nearly 100 autos were torched. Most reports either dismissed any political motivation behind the car-torchings (an AP piece quoted a police spokesman as saying "a political intention really can't be seen," for instance) or attributed the uptick in fires to the rioting in the UK earlier in August. But of course, the fires were completely in keeping with the increasingly rancorous anti-gentrification activism that also spawned the new anti-tourism movement.
Full-blown anti-tourism—as distinct from more general anti-gentrification—exploded last year. In December, 2010, an alternative paper called Interim published a piece urging readers to attack hotels and tour buses and to steal wallets and cell phones from the tables of tourist cafes. Then in February of this year, a local chapter of the Green party organized an event called "Help, the tourists are coming!" Even the businesses benefitting most directly from the tourist boom—hotels—are apparently not immune to the sentiment. Michelberger Hof on Warschauer Strasse, steps from clubs like Watergate and Berghain—key destinations for the EasyJet set—currently displays a sign describing itself as a place for "everyone," everyone, that is, "except Schwaben, English, and Irish in groups numbering more than 5 or in Superman costumes."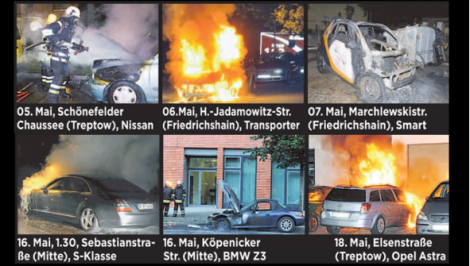 It's important to note that the anger expressed in the signs, stickers, and calls for action against tourists comes from the opposite end of the political spectrum from anti-immigrant crowd. Still, you might think twice about ordering a bottle of Rothaus Tannen Zaepfle, the suddenly ubiquitous beer "imported" from Baden-Wurttemberg.
The coming weeks could have a major influence on development and the extent to which the city continues to court tourist dollars. September 18 brings a mayoral election and, despite recently downward-trending poll numbers, Renate Kuenast, a prominent member of the Green party's parliamentary faction, still has a shot at taking city hall. Berlin, which is technically a Land, or state, has been run since 2001 by Social Democrat Klaus Wowereit, who is campaigning for a third term.
Though the these two front-running contestants are ostensibly from the same side of the political spectrum—that is, the left—the mayoral race represents a significant culture clash. After all, a Berlin chapter of Kuenast's party staged an event echoing anti-tourist rhetoric. Meanwhile Wowereit is floating the idea of another Olympic bid—the very thing that first galvanized anti-gentrification forces shortly after reunification—and is apparently happy to let the transformation of the cityscape by hotel blocs continue.
Ironically, one criticism of the Greens—particularly in eastern Berlin—is that its membership is "too bourgeois," attracting just the sort of people whose organic food shops sprout as working class residents are priced out of neighborhoods. They are, it would seem, Berlin's version of limousine liberals.
Still, the Greens already took over the state of Baden-Wurttemberg this past April. That's the election credited with forcing Chancellor Angela Merkel to reverse her position on nuclear power and support a ban she had previously overturned. So despite Kuenast's sagging poll numbers the timing seems auspicious for a Green takeover in Berlin, which, to hear it from anti-gentrification activists, is overrun with people from Baden-Wurttemberg anyway.
Tim Mohr is an award-winning translator of German novels, including most recently The Hottest Dishes of the Tartar Cuisine, by Alina Bronsky.
Would you like to know more? Read Tim Mohr's piece "How The West Hijacked The Berlin Wall Revolution."
Read more: berlin, communism, east berlin, eurofag, gentrification, olympics, the wall, Tim Mohr, Dispatch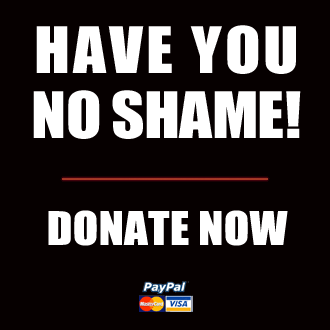 Got something to say to us? Then send us a letter.
Want us to stick around? Donate to The eXiled.
Twitter twerps can follow us at twitter.com/exiledonline