By Alexander Zaitchik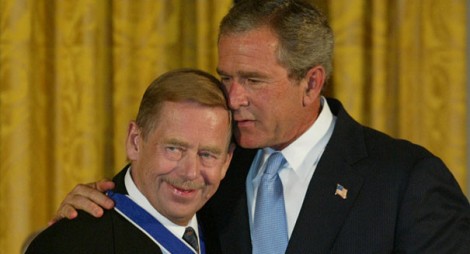 Václav Havel's death last week was less surprising than the reminder he was still alive. How he came close to reaching the Czech median life expectancy of 76, I have no idea. The perpetually wheezing, intermittently pneumonic Havel had been two sniffles away from his last since the re-election year of his friend Bill Clinton. That's when doctors removed a good chunk of his malignant right lung, so charred by a three-decades long chain of unfiltered Petras that it could have modeled for those EU cigarette-packs obliged to illustrate the consequences of the habit. Then there was Havel's half-decade as Prague's Papillon, breathing dank prison air and subsisting on Czech jail slop. That he managed to eek it out to a ripe old 75 is an act of defiance to rival his stands against Husak and Moscow. Or maybe there's magic on the Portuguese coast where Havel spent much of his last decade on this planet.
Because of his poor health, Havel's legacy question popped up some time ago. Mandela or Michnik? Triumph or Tragedy? Philosopher-King or Frankfurt School Fraud?
As a dissident, Havel undoubtedly shined. He was brave and cunning in his opposition to the communist regime and in competition against his rival dissidents for the mantle of opposition leader.
But as a politician, the domestic consensus is summarized by the title and content of John Keane's Václav Havel: A Political Tragedy in Six Acts. Only for Havel's casual fans around the world did the fairy tale never end. At home, it was over before the dust settled on the Velvet Divorce between the Czechs and Slovaks in 1993.
Havel's years in politics prove that beloved philosopher-kings exist only in Plato's Republic. In the Czech Republic, they become resented moralizers with room-temp public approval. Most Czechs came to feel patronized by his regular philosophical lectures to the nation. They were confused by his talk of a Creator. They were never comfortable with his being the mustachioed face of Donald Rumsfeld's New Europe.
There are multiple logics to focusing, as most tributes have, on Havel's dissident years, his ascent to the Castle, and his human rights advocacy. The accomplishments are real; it's an easy narrative to tell; it results in a flattering portrait that everyone knows and expects. When it came to championing human rights, he did important work following the withdrawal of Soviet troops. Many leaders of the Romani minority in the Czech Republic, for example, have been voicing their admiration for him as perhaps the only Czech politician who ever stood up with and for them. He was the first leader to welcome the Dalai Lama as a head of state, which explains the silence from China last week, even as Beijing mourned the late Kim Jong-Il. (Moscow recognized Havel with the back of its hand, sending a low-level official to the funeral, the ombudsman for Human Rights.)
But Havel's story doesn't end with human rights heroics sprinkled with fairy dust. The post-communist era wasn't all Dalai Lama dinners and teas with the Velvet Underground. The bravery he demonstrated against the powers-that-be as a dissident turned to craven cheerleading when it came to the worst of the West. Like Christopher Hitchens, who had the obit page to himself just a day before Havel, his late-life positions and associations sometimes contradicted and undermined his former self.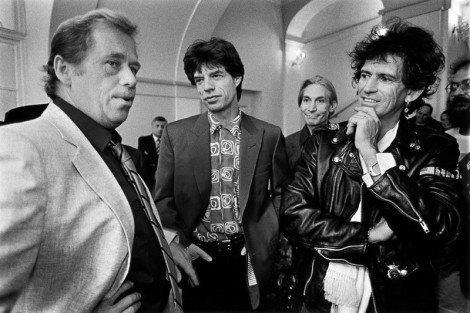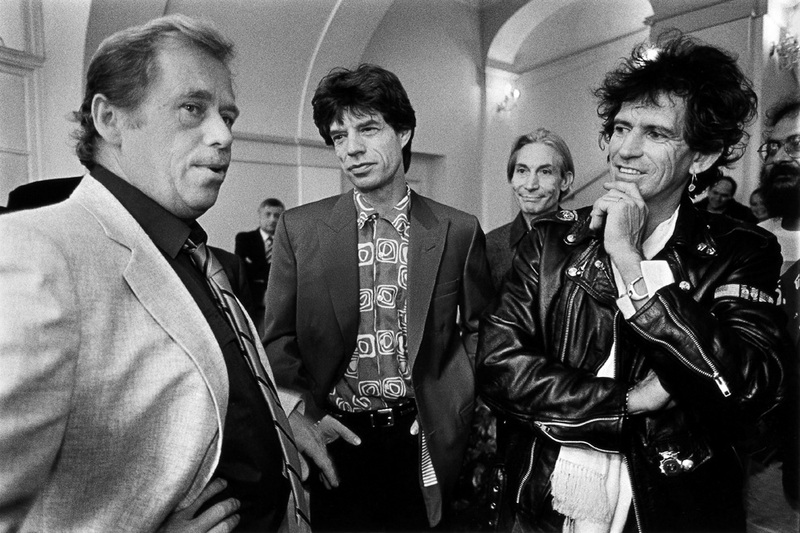 Havel's turn wasn't as abrupt as Hitchens'. He launched his statesman period with a speech to a joint session of Congress that absolved the West of any crimes during the Cold War. It wasn't exactly a mystery why an Eastern European leader would do this in 1990. As the Czechs say, "You sing the song of whoever's bread you eat." But Havel was supposed to be the gold standard of "living in truth." And by this standard Havel's victory-tour speech was a farce. Chomsky wasn't far off when he compared it to something a Vietnamese peasant might have said before the Supreme Soviet in 1975.
Havel's clean break with many in the broad social-democratic left occurred around the same time Hitchens left the Nation, and over the same issue. Throughout 2002, Havel became increasingly friendly with the Bush White House and often riffed over a drumbeat of war. On January 30, 2003, he appeared as the lead byline on a group Wall Street Journal op-ed entitled, "United We Stand." The piece lent Havel's moral stature to the idea that world peace depended on "ensuring that [the Iraqi] regime gives up its weapons of mass destruction [sic]."
To their credit, the cynical Czechs never bought it. Before a national wave of nausea settled, Havel had signed on with the Committee on the Present Danger, which had been the primary ideological force behind the nuclear arms race that dissident Havel had opposed. His signature began appearing on open letters published by William Kristol's Project for a New American Century. Havel even helped his new friends establish the Prague Security Studies Institute, a Czech outpost for neocon foreign policy ideas, where he was a founding board member along with Frank Gaffney and Michael Novak. (The newly energized Russian dissident leader Gary Kasparov was also involved with the Institute in the early days.)
Iraq wasn't the first time Havel broke with the majority of Czechs over a war. He came into office speaking of a new security-architecture in Europe, with the UN and the OSCE as its pillars, and of a society where "poets might have the same influence as bankers." But even before the Velvet Divorce, he and the entire Czech political class had become consumed by a single-minded obsession with joining NATO. Along with the Dalai Lama, lunch guests at the Castle included fellow human rights icon Henry Kissinger. The first round of NATO expansion finally happened around the time the alliance decided to bomb Serbia, and Havel proved a valuable show pony. And if you think that's unfair, go back and watch the NATO event footage in the run-up to the bombing campaign: Havel is always seated front and center, against the laws of rank and alphabetical order, next to Bill Clinton.
Things went downhill from there. In 2001, Havel backed a controversial billion-crown purchase of Grippen fighters while Czech health and education systems were falling apart. This was followed by a friendly visit to the state of Florida where he gave tacit support to the gubernatorial campaign of Jeb Bush. Havel and the Bush bros were a better fit than most realize. Havel once surprised a 1994 EU conference by stating that the "European Union is based on a large set of values, with roots in antiquity and Christianity." He defended NATO's extralegal attack on Serbia with the idea that a "higher law…God's" trumped international law. Even his dissident essays contained the odd theological flourish, such as references to God and man's "fallen existence."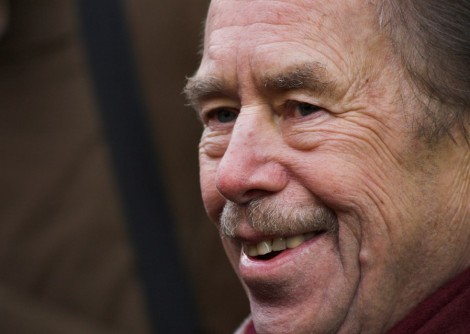 Like his theater, Havel's dissident prose is more mentioned than studied. Reading it today, one is struck by its radicalism. Havel the dissident wasn't just opposing the communist Czech regime or Moscow's imperial control. He opposed industrial civilization in the stride of European green radicals like E.F. Schumacher and Rudolf Bahro. Had he been writing from a Western university instead of a communist prison, the New Cold Warriors and later Neocons that embraced him as an icon for freedom would have mocked him as a dirty and dangerous Heidegger-reading hippie. A central theme of his essays from the 1970s and 80s is the idea that the industrialized mass societies of the two Cold War blocs were variant expressions of western rationality, which he believed inevitably gives rise to the scourges that crush the human spirit — propaganda, pollution, and giantism. Consider this representative passage from his 1984 essay "Politics and Conscience":
Totalitarian systems warn of something far more serious than Western rationalism is willing to admit. They are, most of all, a convex mirror of the inevitable consequences of rationalism, a grotesquely magnified image of its own deep tendencies… We must resist anonymous, impersonal, and inhuman power… whether it takes the form of consumption, advertising, repression, technology or cliché—all of which are the blood brothers of fanaticism and the wellspring of totalitarian thought.
This wasn't Havel going through some experimental phase. He was almost 50 and the leader of a famous dissident movement.
Often Havel struggled to find or make his point. This bit from "Two Letters From Prison" (1983) suggests Havel's limits as an essayist. It also helps explain why so many Czechs soured on his presidential radio lectures.
I don't care whether a lot or little is happening. I am interested only in whether what is happening — or not happening — has a meaning, and what that meaning is. I am in favor of things that have authenticity, roots, originality, verve, balance, taste, communicativeness, challenge, relevance to their time — in short, things that make sense.
Or don't make sense.
Havel is rightly remembered for his best essay, "The Power of the Powerless," which explores the morally enervating concessions and psychological survival strategies of normal people living under totalitarian systems. This is the essay that introduced the phrase "living in truth" to the global dissident lexicon, and which continues to inspire dissidents from Burma to Belarus, many of whom Havel personally met with and supported. Still, it's difficult to read today and not think about the regression from "living in truth" to the " lie of Rambouillet." The Havel who would die in league with John Bolton had written:
Dissidents understand systemic change as something superficial. Thus an attitude that turns away from abstract political visions of the future toward concrete human beings and ways of defending them [accompanied by] an intensified antipathy to all forms of violence carried out in the name of a "better future," and by a profound belief that a future secured by violence might actually be worse than what exists now.
Looking back, Havel's use of "might actually" to qualify this "profound belief" can be read as a warning about the limits of living in truth. Like the shimmering "Being" of his favorite philosopher Heidegger, perhaps Havel meant it as an idea in permanent flux, revealing and concealing itself in new and mysterious ways. Or maybe it just depends on whose bread you're eating.
Alexander Zaitchik, a former eXile editor, lived in Prague from 1997 to 2003.
Read more: Czech, Donald Rumsfeld, Vaclav Havel, Velvet Underground, Alexander Zaitchik, Gloats, Russia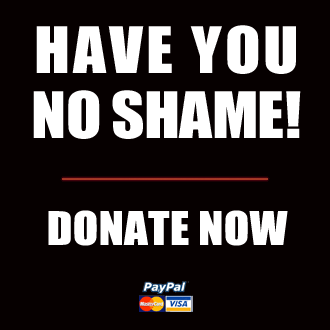 Got something to say to us? Then send us a letter.
Want us to stick around? Donate to The eXiled.
Twitter twerps can follow us at twitter.com/exiledonline