By Yasha Levine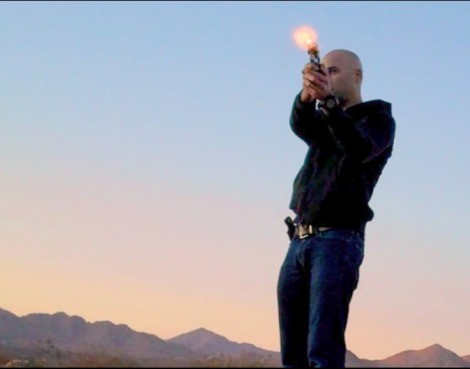 For months people had been asking me if I'm still living in Victorville and if so, why I stopped writing about it. Some dumbshit even accused me of running back to live the big city life, as if I was too embarrassed to tell people "da trufe." Well, I'm still here, still proud, still shooting and perfecting my aim. And I figure it's about time for me to crack my knuckles and see if I still got what it takes to do a proper Victorville update.
A lot of things have happened in the six months since my last dispatch. For one, the tough economic times have begun to take their toll, forcing me to trade down my dream McTractHome for a doublewide trailer. It overlooks a golf course and is in a quiet neighborhood on the other side of the freeway, filled with pensioners who retired out here in the 80s and have been waiting to die in doublewide trailers such as mine ever since. My only neighbor is a grandma just like that, or at least I think she's a grandma. Thing is, I haven't seen her leave her house ever since I moved here six months ago, but I do hear someone who sounds like a frail old woman greeting a male nurse that comes over once a day to change her Depends. Other than that, the flicker of a television set reflected in one of the windows is the only sign of life. Sometimes I get the feeling that she spies on me. I wonder what she thinks about the ghetto bird that constantly hovers above an apartment complex a few blocks away.
In other Victorville news, Ames visited a few months back and got arrested, I ate shit on my motorcycle, someone dumped a few tons of raw sewage—a.k.a. unprocessed human shit—on the edge of the city, someone else found a woman's head stuffed inside a backpack, the city is out of money and under grand-jury investigation for all sorts of fraud. Oh yeah, and it seems like not a week goes by without a roadside shootout or the cops or the SWAT team being called to take care of a domestic dispute gone wrong.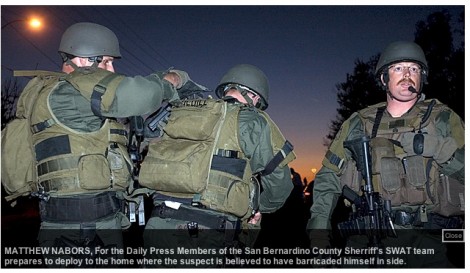 Like this lover' quarrel from last November, which opened up just like a horror movie: with a woman smeared in blood running down a deserted suburban street yelling for help.
The wounded woman ran into the street screaming, "He shot me, he shot me," according to witness Robert Evans.

Evans was on his way to visit a friend in the 16000 block of Majela Avenue near Village Drive and Clovis Street at about 3:40 p.m. when he spotted the victim.

"She came running across the street right in front of my car and she was bleeding all over the place," Evans said.

Deputies arrived and ordered the man outside but he did not comply, officials said.
"At that time we set up a perimeter and used the (Sheriff's) helicopter and units' (public address) to order him outside," Capt. Cliff Reynolds said.

According to reports, the unidentified man and 40-year-old victim were arguing when the shooting took place.

The relationship between the two was not established Friday night, although several witnesses stated the couple may have been married.

Several people were evacuated including Vanessa Serrano and her family.

"This is kind of crazy," she said. "There's never been anything like this here."

According to initial reports, the man may have threatened to kill himself before he barricaded himself in the residence.
The SWAT team was in no rush, so by the time they stormed the house that evening, all they found was a corpse. Obviously the cops weren't paying attention; they didn't even hear the single tell-tale gunshot. But hey, you can't blame them for being lazy. Just last week, the FBI announced that Victorville's crime rate has gone up, while the rest of the country, and even the surrounding Victor Valley, have seen major a drop. These days, Victorville cops have to work overtime just to log all the various murders, shootings, stabbings, fights, armed robberies and botched drug deals.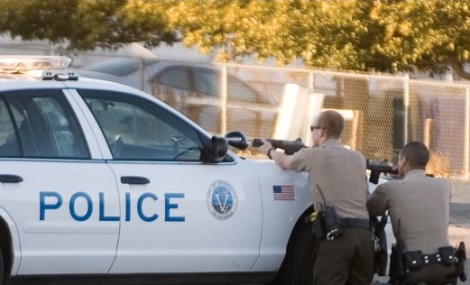 Fatigue might have been the cause of this whoopsie daisy, which happened on March 1st, when a patrol car double-teamed a pedestrian in a one-two combo with a civilian vehicle. I'll let Beatriz Valenzuela, the Daily Press crime beat reporter, take it away:
An unidentified man stepped into the path of a vehicle traveling east on Highway 18 and then was immediately struck again by a San Bernardino County Sheriff's patrol car, authorities said.

Investigators are now asking for help in identifying the man.

Robert Squire was traveling east on Highway 18 in his 2002 Mitsubishi Gallant Sunday night followed by an Apple Valley station patrol vehicle, according to sheriff's officials. A man stepped directly in front of Squire's vehicle and was struck, sending the man flying into the air. He was then struck by the Apple Valley unit.

Both Squire and the deputy stopped immediately to help the man and called for rescuers.

The man was airlifted to Arrowhead Regional Medical Center and his condition was unknown.

The man had no identification with him and is being referred to as John Doe. He is described as an adult Hispanic man.
If a cop wants to do some real policing, all they have to do is pull someone over. Chances are, they'll find some dope or nab a drunk driver, a car thief or a desperate hood who'd rather shoot it out than allow them to drag him back to jail, like in this routine traffic stop which could've been turned into one hell of a COPS segment:
A Victorville sheriff's deputy pulled over a vehicle near Mojave and Village drives Thursday evening when for unknown reasons, one of the occupants got out and began to argue with the deputy, pulled out a firearm and shot at her but missed. At least one shot hit her patrol vehicle, sheriff's officials said.

The driver sped away with the deputy in pursuit. The driver then made an abrupt U-turn and once again fired at the deputy again striking her vehicle, authorities said. At that point, the deputy returned fire. The 1993 Mercury Cougar sped off again.

The deputy then called for assistance, according to reports. In total, witnesses reported hearing about five to six shots.

Numerous sheriff's deputies from neighboring stations and California Highway Patrol Units including a helicopter descended on the scene.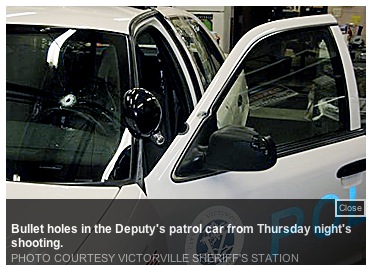 The guy was caught later that day, but you gotta give credit where credit is due: the hoodlum was one hell of a shot. Just look at the position of that bullet hole: He was able to squeeze off an almost perfect head shot, even while in mid-motion after busting a u-turn. That shows experience, and reminds me of a local who told me that gangbangers go out into the desert to practice their drive-by marksmanship.
All in all, Victorville appears to be developing just as expected. But there is a twist to the story.
Most people automatically assume that isolated subprime suburbs like Victorville will go the way of the Salton Sea, slowly emptying out and inevitably turning into ghost sprawl inhabited by degenerate half-mutant hobos. It's a nice fantasy, but reality doesn't provide such neat, poetic endings. As weird as it may sound, the exact opposite is true: Victorville is actually growing. Fast.
A couple of months ago, U-Haul International released its annual "Top 50 U.S. Destination Cities" index, and guess what? For the first time, Victorville made the cut, ranking #49, ahead of Fresno and behind Miami, on the national list and #11 for California. That's right. Far from disappearing into a sea of dirt and tumble weeds, Victorville is actually adding people faster than any other city in San Bernardino County, growing by 2.5%  from 2008 to 2009. Hell, Victorville grew at more than twice the rate of California, which added only 1.1% in the same period.
Why? Well, it might have something to do with the cost of living and the fact that Victorville's rents have been in a race to the absolute bottom. The market seems to be flooded with rental properties even more than it was when I moved here a year ago. I was paying $1,200 a month for a 3-bedroom McTractHome. Now you can find a similar rental for under a grand—like this one for $975.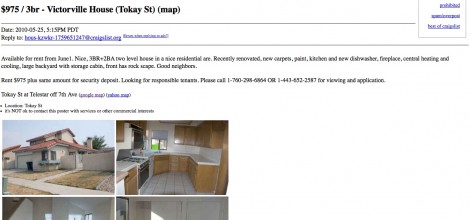 Whatever else might be making people move,  employment opportunity is definitely not it. If you didn't have a job before coming here, you might as well not bother looking. But it doesn't look like people are commuting, either. Three gas stations and a Starbucks in the center of town closed down recently. So where are people getting the money to pay for their rentals? Is the whole city living on welfare?
Stay tuned for more updates…maybe Ames will tell you about his run-in with the law. For now, I'll leave you with this: a picture of my trailer's manufacturer tag, which is sorta like the ones sewn into clothes. As you can see, it was made in the U.S.A. and should not be left out in temperatures under 25ºF.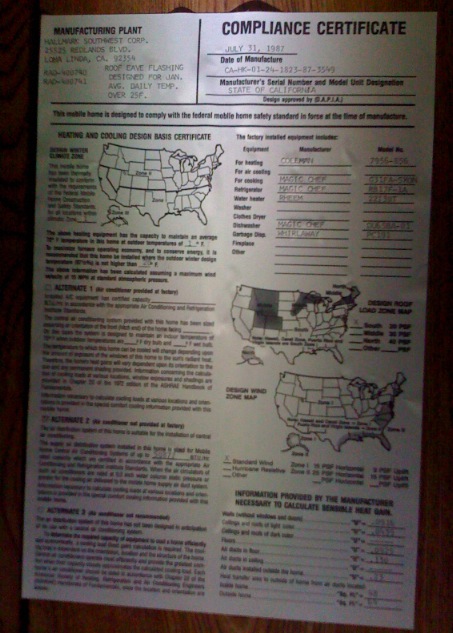 Yasha Levine is a mobile home inhabitin' editor of The eXiled. He is currently stationed in Victorville, CA. You can reach him at levine [at] exiledonline.com.
Interested in Victorville? Click here to know more…

Read more: crime, exurb, levine, real estaet, subprime, suburb, update, victorville, Yasha Levine, Dispatch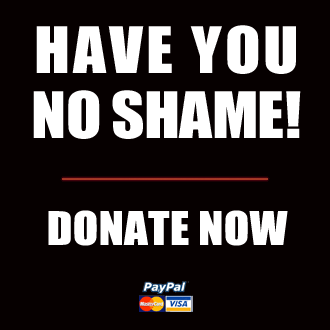 Got something to say to us? Then send us a letter.
Want us to stick around? Donate to The eXiled.
Twitter twerps can follow us at twitter.com/exiledonline