By Gary Brecher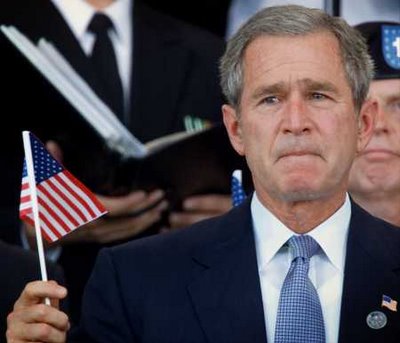 What George W. Bush loved best about his job was being a war president. Playing war, that is, as opposed to making war like a grown-up. Remember him strutting onto that carrier in his little flight jacket? You never saw Eisenhower, a real general, playing out his martial fantasies this way. You can take the drink out of the drunk, but you can't take the swagger out of a fool.
Compare Bush's eight years to Clinton's, and you see how much he loved to play the soldier. No one expected that from a Republican: Reagan and Bush senior were cautious about betting America's chips. Liberals used to make fun of Reagan for picking on tiny helpless nations that couldn't fight back. Now they are remembering with pure nostalgia Reagan's invasion of Grenada, air raids on Libya, and even our 1984 withdrawal from Beirut.
We'll never know how far W. would have gone to find himself a war because he had all he needed delivered by air on Sept. 11, 2001. Remember how people felt in those days? A friend of mine said, "It was like the aliens had invaded."
We needed our president to be a hero and made him into one, even though it was obvious he wasn't up to the job. He didn't take the first plane to Manhattan, stand there and say, "We're coming for you bastards!" Instead he sat in a roomful of children, reading The Pet Goat, then dropped off the radar for hours before his handlers got him ready.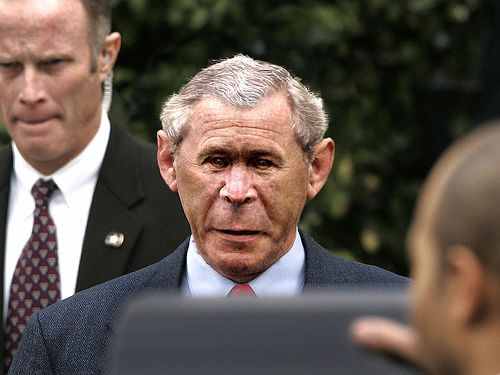 Maybe there's a lesson here: if the president doesn't cut it in a crisis, we're better off admitting that to ourselves and telling him so instead of pretending he's a great leader. When you make a weakling into a hero, you give him a lot of power. If we'd kept our eyes open and faced the fact that Bush reacted badly to 9/11, we might have been able to ask for a little more detail about his big plans.
Those came courtesy of Cheney and his neocon punks. What a crew these guys were! Like their boss, they were also woofers, boasters—but of a different variety. Dubya was your standard frat boy loudmouth, but Cheney, with his talk about "working the dark side," was more like the ultimate Dungeons and Dragons nerd. And you couldn't ask Hollywood to serve up a goofier selection of dorks than his neocon staffers, who drifted from the universities to D.C. the way has-been pop singers switch to country and western to leech off a new bunch of suckers.
On the one hand, they were scared to death of Arabs and hated all Muslims. On the other, they were convinced that every Muslim on the planet really wanted, deep in his heart, to be magically turned into an Ohio Republican. That was their theory: take an anti-American Arab country, add an invading army, and voila! a nice fluffy democracy soufflé.
So we poured American blood and treasure into the Iraqi dust to prove the half-baked theories of a bunch of tenth-rate professors. The most expensive experiment in the history of the world, all to learn something any 10-year-old could have told them: people don't take to foreign troops on their streets, and not everybody wants to be like us. You know those Ig-Nobel awards they hand out to the dumbest science projects of the year? The Iraq invasion is the all-time winner. Retire the trophy with the names of the winning team: Bush, Cheney, Kristol, Wolfowitz, Feith.
But first came Afghanistan—"the graveyard of empires." Every military-history wannabe was conjuring the ghosts of that Victorian British army slaughtered by the Afghans, along with all the propaganda we'd been pushing about the invincible mujahedeen who'd driven out the Soviets. Looking back, what they had routed was a dying Soviet state, and they didn't even manage to do that until we took the risk of giving them Stinger anti-aircraft missiles. But all the pundits' knees were shaking about going into the Afghan haunted house.
We started slow, the way American armies tend to do, taking a while to limber up. There were weeks of bombing the Shomali Plain to no visible effect and a Special Forces raid on Mullah Omar's compound that was more "Naked Gun" than "Top Gun." Then Mazar-i-Sharif in the north fell suddenly, and it turned into the kind of war that Northern Alliance fighters and fighter-bomber pilots both love: hunting down a fleeing enemy.
The campaign went so well, so fast, that it taught Bush and Cheney the wrong lessons. They started exporting democracy to Afghanistan, even hiring a local Pashtun girl to read the Kabul evening news. When you tell a big, backwards tribe like the Pashtun that you're going to turn their whole world upside down for them, you shouldn't expect them to be grateful. But we did, setting ourselves up for a whole lot of trouble later on.
Read more: afghanistan, Bush, Cheney, iraq, September 11, Gary Brecher, The War Nerd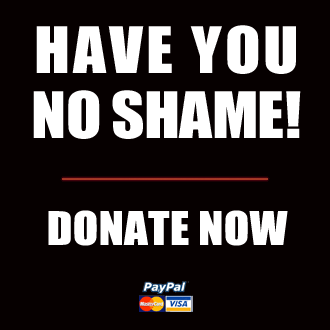 Got something to say to us? Then send us a letter.
Want us to stick around? Donate to The eXiled.
Twitter twerps can follow us at twitter.com/exiledonline