By Gary Brecher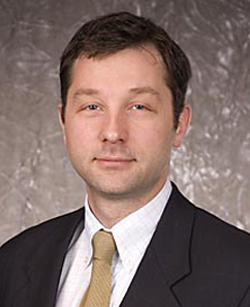 A funny thing happened while a GOP congressional staff weasel was doing his job last week. He actually tried to use European military history to justify one of his little twists. And when I say "funny," I mean hilarious. This guy was counting on Americans' total, absolute ignorance of everything that happened in Europe before 1945 beyond the fact that the Nazis were bad people. That's not a bad bet, most of the time, but this time, this particular weasel just went a lie or two too far.
The weasel in question is named—oh, but that's the problem right there: What exactly IS this weasel's name? Well, it used to be "Peter Simonyi." Nice Hungarian-American name, you'd think. Nothing wrong with that. But this guy, to use the old punchline, had been getting it all dirty, doing what weasels do: Skulking around K Street moving from regulatory agencies like the SEC to bloodsucking financial giants like Goldman Sachs and back to government by landing a job with Darrell Issa, the new GOP hetman of the Congressional unit in charge of corporate crime.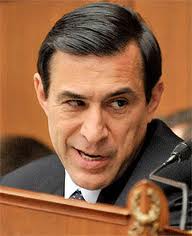 Would You Buy A Hot Car from This Man?
Before Issa took the job, this group was in charge of cracking down on that sort of crime. Officially, at least. Since Issa took over, they've dropped the whole front, and made it official that they see themselves as facilitators for the billionaires. I'm not saying Issa's a lifelong hood who graduated from Grand Theft Auto to locksmithing, a totally classic crime bio, then hit it big and became a rightwing thug on a whole new level. I'm not saying he even stole his Army buddy's car, then ditched it on the freeway when he felt the heat. But then I'm not not saying it either.
Naturally, a sleaze like Issa wanted a guy like Peter Simonyi on his new crime-helping team in Congress. And little Peter wanted to be a part, a small, humble, part, of that great big racket, by helping Issa write bloodsucker-friendly legislation.
There was just one problem: It didn't look squeaky-clean for the same Peter Simonyi who used to turn the thumbscrews for Goldman Sachs to be joining the Congressional staff who were supposed to be fighting corporate cartels.
But like Shakespeare or somebody said, what's in a name? Money, Peter figured, easy money—but only if he came up with a new one that he hadn't messed up yet. So just like that, Peter Simonyi officially changed his name to "Peter Haller." But it was his tear-jerker of an explanation that really had me in the aisles.
See, this reporter Lee Fang at ThinkProgress tracked down Simonyi/Haller's bio—the whole crawl of shame between lobbyists, congress and bloodsucking finance companies—and sweated him about why he needed an alias. And who was more entitled to ask than a guy with a standout name like "Lee Fang," anyway? Stonewall Jackson would've been proud to have that for a nickname. I bet there's a neo-Confederate bio of Jackson out with a name like that: "Stonewall Jackson: Lee's Fang."
Here's what Simonyi/Haller said when they pressed him on the name change:
"My mother, whose maiden name is Theodora Maria Theresia haller-koi gr Haller (in the U.S., Dora Haller), married Imre Gabor Simonyi and took his name. Her father Alfred haller-koi gr Haller was killed in Budapest in 1944 by fascists as he attempted to prevent children from being conscripted into the military. Prior to his return to Hungary in 1944, he served under Regent Miklos Horthy, as a Hungarian diplomat stationed in England supporting the British in opposition to Germany. His last request was that if Theodora marries, her husband and children would carry on the Haller name."
There are a lot of funny bits in that little one-paragraph melodrama Peter wrote, but the funniest of all is this line: "…He served under Regent Miklos Horthy, as a Hungarian diplomat stationed in England supporting the British in opposition to Germany." That is what is technically called a flat-out lie. One thing you can tell about Peter from this story: He thinks Americans don't know a thing about European history. And he's probably right, since a lot of the reader comments to this big lie called it "a touching family story." Whoo-ee! It's a story, all right. About as accurate as Rambo's version of Nam.
Miklos Horthy was "Regent" of Hungary from 1919 to 1944. If he was "supporting the British," it was a well-kept secret. If only Hitler had known that about his pal Miklos, he might not have posed with him in quite as many photo ops, where you can see the Fuhrer and the Regent shaking hands, strolling together, taking a little ride in a convertible together, just generally lovin' up a storm, as Jerry Lee would say.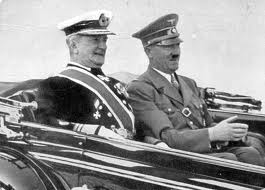 Horthy & Hitler: The 2H Love Tour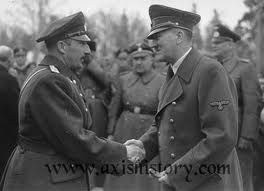 H&H: Secret "Pro-British" Handshake
I don't even know where Peter came up with that "pro-British" lie of his. The British weren't even a factor in that messed-up, landlocked multi-ethnic gangfight. South-Central Europe between the wars—well, it's a lot like South-Central LA back in the day, except a whole lot bloodier and more confusing. Basically it's pretty much the way Eastwood describes his killer past in Unforgiven: Nobody remembers much of it, they were drunk most of the time–the main ingredient for a war in those parts is slivovitz, or anything else if you can't get that, including hair oil and wood alcohol—and they shot a lot of people. And hanged a lot of people. And raped a lot of people. Hungarians, Germans, Slovaks, Rumanians, Croats, Serbs, Ukranians, with the Jews and Gypsies hiding in the bushes trying to sell a little booze and not get lynched—Did I leave anybody out? If so, they're lucky, because nobody was a hero in that mess. Primitive warfare with superb German or Czech weapons; you can imagine how that went. Killing everyone in the village before you leave—standard practice. Avoiding combat, torturing civilians until they tell you where their last side of bacon is—a day at the office. Raping every female before you bayonet them and go—part of the job. .
When the totally worthless, sleaze-ridden Austro-Hungarian Empire collapsed after Germany surrendered, some ethnic gangs rose in the rankings and others sank. The Hungarians lost out big, because as the second-meanest and biggest gang in the Empire (after the Germans), they'd had a sort of little-brother status that allowed them to beat up all the other ethnics lower than them. By local standards, believe me, that was a good deal.
But their big brothers, the Germans, lost out, so they lost too. In 1920, thanks to the Treaty of Trianon, which was the B-League version of the Treaty of Versailles that did such a good job of pacifying Europe, Hungary had lost three-quarters of its old territory and about two-thirds of its population. What was left was a core area, a Hungarians-only district—and that's what's now "Hungary" on the map.
You'd think that'd be fine, since those tribes couldn't live with each other. Why not split up? Well, remember the Balkans in the 1990s. A bunch of Hungarians got left behind in the parts that were grabbed by all the other ethnic gangs, and that drove the homeland Hungarians crazy. Crazier than before, I mean, because the truth about Europe before 1945, the one key truth nobody wants to hear, is that they were all, and I mean all, from London to Moscow, bloodthirsty creeps, totally out of their minds. The only difference is that they weren't all as good at war, or not at the same time anyway, and the ones who were more in the mood grabbed what they could, when they could.
The Goldman Sachs-turned-Darrell-Issa-staffer Peter Simonyi/Haller's hero, Miklos Horthy, was a classic specimen of South-Central European strongman between the wars. A fascist, absolutely. Not the worst of them, but a fascist all the way, in that half-comedy way the smaller European dictators had, from Mussolini on down. His title was a punchline in itself: "Admiral Miklos Horthy." Admiral? Take another look at Hungary on the map; Admiral of what? Turns out Horthy had been an Admiral in the Austro-Hungarian navy, which was another punchline in itself.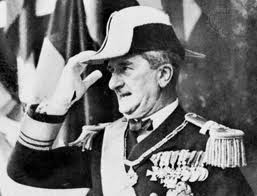 "Admiral? Admiral of What, the Zoo Ducks?"
Nobody thought it was funny, a landlocked country with an admiral for a dictator. Nobody thought it was funny that Horthy took power in the name of the official King of Hungary, but when the King tried to come back and take the throne, Horthy, his "Regent," told him to get lost. Twice. I'm telling you, Europe, before it got gelded in 1945, was dead serious, and blood-crazy.
Horthy came to power after the commies tried, and failed, to restore Hungary's glory with the "Hungarian Socialist Republic." The Republic, which should've had "Short-Lived" as part of its official name, started in 1919 woofing about workers' rights, but in a few months Kun was drafting every man under 60 to go fight the Rumanians. They marched east and got slaughtered.
So much for Communism. It was time to go back to what South-Central homies knew best: A strongman who had a fancy uniform and would snuggle up to the Germans. That was how they thought, and there was a kind of nasty South-Central logic to it. After all, it came down to the Germans or the Russians, and when you had that choice, most people, even the Jews, generally went with the Germans. The Russians just played too rough. At least the Germans tended to go easier on their allies; the Russians, then and now, played it more down the line, killing just as many of their friends as their enemies. Something about low self-esteem, I don't know.
And from 1933 on, "The Germans" meant "The Nazis." Hitler had pulled Germany out of starvation, or that's how the homies in South-Central saw it. And if you're really ignorant enough to think that anybody in Europe, circa 1935, actually objected to the Nazis' Jew-baiting, race-bragging stuff…well, you must be one of those pig-ignorant Americans little Peter is counting on.
Besides, kissing up to Hitler paid off, at first. Hungary got land back from all the other South-Central gangs, thanks to the Wehrmacht backing. And Horthy was so happy he jumped at every photo-op Hitler offered him.
When the war finally came, Horthy was all for it. Hungarian troops fought with the Wehrmacht all through South-Central, and even contributed a huge contingent to the Axis troops on the Don Front in Russia (where they got a rep for looting and cowardice that made even the Italians look down on them).
Then came Stalingrad and Europe suddenly got a conscience. As in, "Whoa, the Germans might actually lose!" Yes, children, that was the moment when the Great European Moral Awakening took place: When they realized that they were going to be explaining all those Hitler portraits on the wall to a Soviet Army political officer someday soon.
Horthy woke up a little later than most of them. Nobody ever said the old landlocked Admiral was a very smart fella. It wasn't until 1944, when the Soviets had been bleeding the Wehrmacht for years, that Hungary tried to withdraw. And even then, they failed: The Nazis, with the worst intelligence system of any modern power, managed to find out that Horthy planned to ditch them, captured him and put a reliably insane Hungarian fascist in his place.
And if I remember correctly, Peter, it was in 1944 that your brave, "anti-fascist" ancestor with that aristocratic German name came back to Hungary, right? Weird timing, huh? A Horthy supporter who was "killed by fascists" in '44—let's translate that into something that makes sense. Grandpa Simonyi-Haller was a Horthy loyalist, you mean, an ordinary garden-variety nationalist-fascist Hungarian/German upper-class diplomat whose backer, Horthy, had tried to ditch his Nazi sponsors and failed. So what you mean, Peter m'boy, is that your fascist granddad was killed by OTHER fascists—and with a name like Grandpa had, it was pure German-on-German violence we're talking about here—because his "moderate fascist" boss Horthy had double-crossed the German Army that he'd been cheering for as long as it helped him steal more land from the other gangs in South Central.
You're right, Peter. It's a heartwarming family story you've got there. You should coach your kids so they can tell it at those elementary-school "My Family's Ethnic History" days. Why not? People who'll vote for Darrell Issa will swallow anything.
There's another happy ending for the other hero of the story, Dear Old "pro-British" Admiral Horthy, so beloved by the entire Simonyi, I mean Haller, family. Those squeamish Nazis didn't do the sensible thing and stand this worthless traitor up against the nearest wall. In fact, Horthy must've talked fast in Nazi custody, because the old swine survived to snitch on his ex, Adolf, at the Nuremburg Trials. So you see, the story has a happy ending: The Germans, the only fascists who actually had courage to match their crazy, were the official bad guys and Admiral Horthy was an "anti-fascist" hero whose shining image is clean enough to make even a sleaze like Peter Simonyi-Haller look good enough to be a congressional GOP staffer.
You see where I'm going here. Where the whole miserable human race is going: Downhill fast. From brave and bloodthirsty to cowardly thieves.
You can see the bad old days, though—the much-better bad old days, fresh off the Steppe–if you look at Simonyi/Haller's picture. See those downturned eyes? Look at a painting of Genghis himself and you'll see the same eyes, turned down like a compound bow.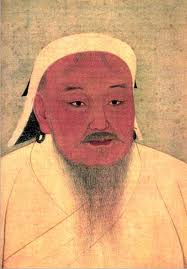 Genghis Khan-Haller-Simonyi
Those are steppe eyes, right out of the Central Asian grasslands into the plains of Pannonia.
You know what the Europeans called war in those days? "The movements of the peoples." They were a lot more honest in those days, in more ways than one.
Yes, and eventually some of the peoples moved all the way to DC, where they got busy fooling some of the people all of the time, looting without even being good warriors, with car thieves for leaders and little weasels like Peter writing crooked legislation. If you ask me, there was far more honor in being a Simonyi, descendant of the mounted archers who fought their way into the best grasslands in Europe and fought the Mongols almost to a draw.
Would you like to know more? Gary Brecher is the author of the War Nerd. Send your comments to gary dot brecher at gmail dot com. Read Gary Brecher's first ever War Nerd column by clicking here.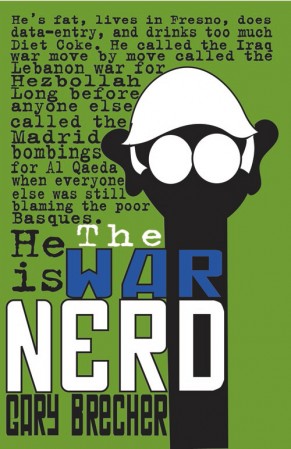 Click the cover, buy the book!
Read more: adolph hitler, darrell issa, fascism, Goldman Sachs, hungary, miklos horthy, Gary Brecher, The War Nerd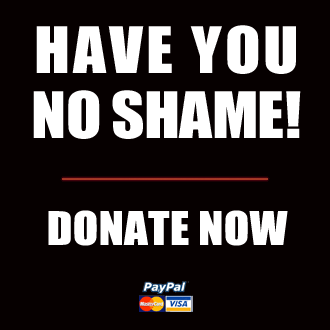 Got something to say to us? Then send us a letter.
Want us to stick around? Donate to The eXiled.
Twitter twerps can follow us at twitter.com/exiledonline