By Mark Ames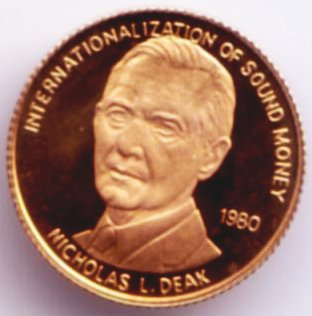 Gold coin issued by Nicholas Deak at the peak of the last gold boom
While working on my upcoming book out here in the High Desert, I went off on one of those research tangents that led me to an old Time article about the bizarre murder, 25 years ago, of a man Time once called "the James Bond of the world of money." The murderer was a classic  "lone nut" of the sort who conveniently appear every now and then to take out inconvenient people. But unlike other lone nuts who may or may not have been part of some bigger conspiracy, this particular lone-nut murderer–a homeless schizophrenic woman who somehow trekked thousands of miles to kill Nicholas Deak–creeped me out for very personal reasons. Back in 2002, when I was facing the scariest and most serious death threat in all  of The eXile's 11 years, I was told exactly how I would be killed–and the details described to me have an eery similarity to the way Nicholas Deak was murdered. 
First, the murder: On November 18, 1985, a homeless woman from Seattle walked into the Manhattan headquarters of Deak-Perera–which had been the largest foreign exchange company in the Western Hemisphere, and one of the largest gold brokers–and she shot and killed the company's founder, 80-year-old Nicholas Deak. The murderer was a 44-year-old woman diagnosed as a "paranoid schizophrenic," who had a history of trouble with the local police in Seattle. Somehow, just as Deak's firm was destroyed by the Reagan Administration's allegations of mass-money laundering, this homeless paranoid-schizophrenic decided to travel thousands of miles away, through Illinois, down to Orlando where she bought a .38 caliber gun, then up to Manhattan, and into the rump Deak-Perera headquarters on 29 Broadway. She took the elevator up to the 15th floor, walked in, killed the receptionist, then killed Deak, muttering, "Now you've got yours," before a policeman tackled her and disarmed her.
Under most circumstances this might be just another random murder, as American as apple pie– bad luck for Nicholas Deak. Except that Deak wasn't just any rich banker. At one time, Deak was a major figure in the American intelligence community, and later, in the 1970s and 80s, he was major drug money launderer for Colombian drug lords. Put Deak's huge foreign exchange network and gold brokerage business into that mix–as well as Reagan's cocaine-for-contras program, in which the CIA sold crack cocaine to America's blacks, and used the profits to buy weapons for Nicaraguan rebels–and you start to understand how unlikely it is that someone like Deak, the nexus between intelligence and money laundering, was killed so randomly by a lone nut from the other side of the continent.
Nicholas Deak was born into a wealthy Hungarian family in 1905, and he moved to America in the late 1930s as the Nazis geared up for conquest. Deak, a polyglot and economics whiz, joined the American war effort by enlisting in the OSS, which later became the C.I.A. By 1945, Deak rose up to the top ranks of the OSS, running missions in the Balkans and Southeast Asia. As an example of how high up Deak was, when the Japanese surrendered in Burma, they surrendered to Nicholas Deak.
Later in 1945, when Vietnam's communist guerrillas started to rise up against the French occupiers, Washington sent Deak out to assess the situation, line up support for the French colonial forces, and "observe" French counter-insurgency operations.
Deak returned to the US and started up his foreign currency and gold-trading firm. According to one book, when the CIA needed to launder money for its 1953 coup in Iran, it used Deak-Perera.
By 1964, Time magazine was swooning over Deak as the prototypical sexy spy character, only a real-life version:
He lives in a Scarsdale mansion in stead of a London flat, and never ever packs a shoulder-bolstered Walther PPK automatic. But there is more than a soupçon of the fictional counterspy in trim, urbane Nicholas Deak, who is the James Bond of the world of money.
Things went so well for Deak that by the late 1970s, as gold fever swept the country, people were lining up to buy gold coins with Nicholas Deak's profile stamped on the coin (see above). According to a 1978 Time magazine article:
Clients crowd his Hong Kong branch offices to buy newly minted "Deak Dollars," small gold coins that command premium prices because they are stamped with Deak's aquiline features. Other customers stand in line at his 42nd Street outlet in Manhattan to buy gold coins and Swiss franc traveler's checks, which they stash away as investments.
But then it all came crashing down in 1984 when Deak was accused of laundering tens of millions of drug money dollars, much of it in the company's New York offices. It was in the middle of the whole Scarface/cocaine/Contras era, when Reagan was looking for a good money launderer to finance his sleazy war in Nicaragua. At the same time, Reagan was cracking down on other money launderers not on their favored list. Maybe Deak wasn't being cooperative because in 1984, a Reagan-appointed commission on money-laundering accused Deak of laundering tens or hundreds of millions of drug dollars, and within a year, Deak-Perera was bankrupted and sold off in pieces, and Nicholas Deak was murdered in his office.
Who was this murderer, Lois Lang? The day after the killing, the New York Times offered up the cleanest, tried-and-true explanation for all suspicious murders:
SUSPECT IN DEAK-PERERA KILLINGS HAD BEEN IN MENTAL HOSPITAL, OFFICIALS SAY

The woman charged with murdering the head of the Deak-Perera foreign-exchange company and a receptionist in Manhattan was released from a mental hospital last August in Washington State, law-enforcement officials said yesterday.

A spokesman for the University of Washington Police Department in Seattle said the woman, Lois Lang, had been arrested at least five times in the Seattle area since 1982 and had once tried to wrest a gun from a police officer.

The spokesman, Sgt. Forest T. Franklin, said Miss Lang was known to the university police as a derelict who tramped through the campus at night, slept in university buildings when they opened in the daytime and stole food from the student cafeteria.

"She once mentioned to one of our officers that she was going to New York one day to set up her empire and rule the world," Sergeant Franklin said in a telephone interview.
It's certainly possible that a man as powerful and murky as Deak, with as many big secrets he held, could have been killed by a "lone nut" who randomly happened to come all the way from Seattle to Orlando to Manhattan and shoot him. But that story strains belief.
I wouldn't really give a shit about Deak's murder myself if the way he was killed didn't trigger a bad flashback to Moscow. It was 2002, I was running The eXile almost alone because Taibbi and Krazy Kevin split to start up a paper in Buffalo right when this problem started to heat up. After a few months, it snowballed into something serious, and then scary. I was determined not to give in, and the very night that I was about to publish an aggressive article slamming the goons and daring them to kill me, a good Russian friend called me to tell me that they were going to take up my dare and I was a dead man if I didn't back down quickly. This friend, I'll call him Pavlik, was by this time nearly an oligarch in terms of his power and money (I'd known him back in the mid-90s when he was looking for work). He'd heard about how I was confronting people from a particular grupperovka, told me at 3am to stop production of the newspaper and cancel my articles, and had his driver pick me up from The eXile's offices.
I was driven to a bar where Pavlik was waiting, along with two old pals of his who were on the criminal-underworld side of Moscow's economy. When I walked in, they all gave me an almost embarrassed look, something like pity, and that's when I realized I'd fucked up. I was already a dead man–and one of the stupidest they'd ever come across.
"Don't you know who these fucking people are?" Pavlik said. "Listen, Mark, this isn't a game, mate. [He always preferred the British "mate" to our "dude."] It doesn't matter that you're American–they don't give a fuck about your passport. You will 100 percent for sure be killed if you do not back down now and do everything as I say. You understand? You will be killed. I don't want to see you die. I don't know how else to make this clear to you, mate. I've already seen plenty of it, and I don't want to see it again. It's not worth it, mate. You can't win, you're just fucked. That's what these people do. And let me tell you how they will kill you, so that you understand. Because I know, okay? These fuckers, they won't shoot you today, they won't shoot you tomorrow. It won't happen like that. They won't break into your flat and kill you. They'll do it in a way that no one would think of the connection. They will wait and it will look random, totally random. Six months from now, a year, two years from now, whatever is most convenient for them, some random thing will happen to you. You'll be walking down a street, and some crazy bomzh with a knife will just fucking stab you, okay? Or some junkie will just stick you with an infected needle. Or a brick will fall from a construction site. It will look like an accident, or like something completely random, and that will be it. You'll be fucking dead."
Seeing Pavlik switching from hysteria to resignation was enough to convince me. I took his advice to the T, and he rescued my ass (so far at least). He talked to his people, who talked to their people. Money was paid, apologies were written. I sure as fuck didn't want to die like that, knifed by some Russian homeless person, for no apparent reason.
Reading about Deak's murder, I couldn't help but think, "Hey! I recognize that! It's a hit job!"
According to one report, Deak didn't die right away after being shot. He died later, just as he arrived at the hospital. For such a crazy woman, she wasn't a bad shot–one to the receptionist's head, one to Deak's heart, both fatal (and a couple of strays). She even got off her final line, "Now you've got yours." It's as though she was speaking someone else's words.
Either that, or she was just crazy just as the reports said. And it was all just a bizarre and tragic death that needs no explaining.
Correction: Deak was murdered on November 18, 1985, and not November 19. The article has been corrected to reflect this.
Mark Ames is the author of Going Postal: Rage, Murder and Rebellion from Reagan's Workplaces to Clinton's Columbine.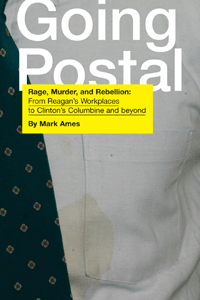 Click the cover & buy the book!
Read more:, Mark Ames, Banking Porn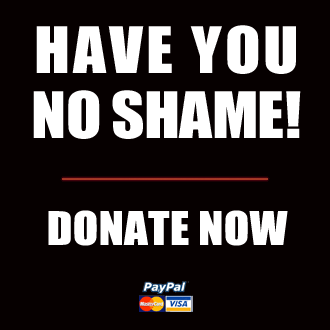 Got something to say to us? Then send us a letter.
Want us to stick around? Donate to The eXiled.
Twitter twerps can follow us at twitter.com/exiledonline