By Gary Brecher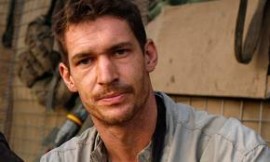 Somebody with a face finally died in Libya. His name was Tim Hetherington, an Oxford literature graduate who made that documentary Restrepo about an Afghan base.

Hetherington didn't just have an Oscar-nominated face, it was a real good-looking face too, which all the tributes to him seem to repeat over and over. Take this one from the editor of Vanity Fair, the magazine that sent him to Libya:
"Devilishly good-looking and impossibly brave, he was both a ladies' man and a man's man," he said. "There were few like Tim, and there will be fewer like him."
I know people are supposed to say dumb stuff when somebody dies, it's part of the proof that you're all discombobulated by the passing of the great one, but god damn, does it have to be THIS stupid? That last sentence is pure comedy, whether it wants to be or not: "There were few like Tim, and there will be fewer like him."
Yeah, dude. One fewer, by my count. Tim minus Tim equals zero, according to my keyboard calculator here.
It's kind of hard to get too choked up over killed combat photographers because they're all like Tim, these dashing throwbacks to colonial-war heroes in the Victorian days.
Back then the cool, handsome Oxford grad would dash off to Waziristan to battle the wily Pashtun. Today they leave that to the working class, but that doesn't mean they have to settle for dull civilian jobs. They came up with a solution that lets them soak up the blood and the cool of a war zone without getting any of it on their hands: they take pictures of it instead of getting dirty shooting people.
It's exactly the same pattern with the other shooting game these guys used to play, big-game hunting. A hundred years ago, if they were jilted by whatever horseface damsel they fancied they'd go off to the Rockies to shoot Grizzlies, or to the African savanna to slap lions around. Now they go to the same places, but it's to coddle those Grizzlies, collar them and encourage them to breed, or back to the savanna to frown disapprovingly at the local farmers for shooting lions in an ungentlemanly fashion, with AK bursts.
If you've read Michael Herr's Nam book Dispatches you know what these guys (and they're almost all guys) are like. Herr has the same kind of man-crush on one of them, Sean Flynn, Errol Flynn's son, as the Vanity Fair editor had on Tim.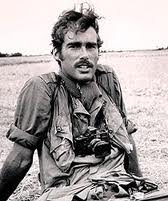 Sean Flynn, beautiful corpse
There's an article in that disgusting HuffPo where Steve Kettman, another starry-eyed reporter, talks about his crush on Sean even though Flynn's kid had been a rotting corpse in the jungles of Cambodia before he ever heard of him.
He quotes Herr talking about Flynn in terms so ridiculous I just have to quote it:
"Sean Flynn could look more incredibly beautiful than even his father, Errol, had thirty years before as Captain Blood, but sometimes he looked more like Artaud coming out of some heavy heart-of-darkness trip, overloaded on the information, the input," Herr writes. "The input! He'd give off a bad sweat and sit for hours, combing his mustache through with the saw blade of his Swiss Army knife."
Tim Hetherington was the same breed, a "man's man"—that's pretty damn clear—"and a ladies' man" in an age where most men are nobody's man, just a scared Dilbert in a cubicle. You can decide that makes them heroes, like most people seem to, or decide they're just decadent freaks, no-touch perverts who want to roll in the gore without getting dirty. Goddamn aristocrats.
And so we commit the earthly remains of our brother Tim to the ground. I should've been a preacher.
Anyway, the real military significance of Hetherinton's death is straight out of the Victorian Brit playbook. I told you in one of my last blogs that the British innovation in making war in the hot countries was never, ever to talk about how many they'd killed but to pick one photogenic victim from their side and plaster his or her picture all over the media. If it was a woman, like Edith Cavell in WW I, so much the better: "lovely womanhood brutally savaged by the Huns"—and never mind the fact that she actually WAS running a spy network in German territory.
Hetherington is perfect for this job. Most of the people who've died in Libya til now never got an Oscar nomination in their lives. They weren't all that good-looking, either. That's a huge handicap when you're getting those hanky-fluttering NATO honchos to intervene.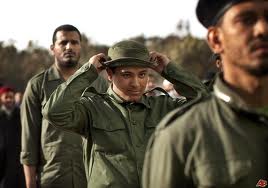 Ordinary Libyan rebel: Looks like Abbot and Costello, no good at all.
You've got to have a good-looking face to front for you, like that surprisingly cute Albanian girl who tipped it for Clinton to hit Serbia.
So Timmy has done the right thing here, probably by accident. If he really cared about Libya so much, he's done the best thing for the rebels he possibly could: dying now and leaving a "Devilishly good-looking" corpse. Just the dead face NATO needed.
Read more:, Gary Brecher, The War Nerd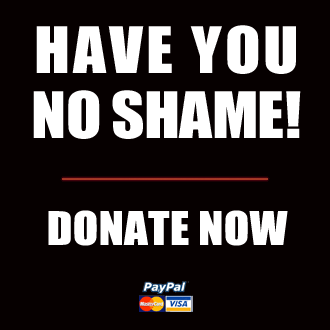 Got something to say to us? Then send us a letter.
Want us to stick around? Donate to The eXiled.
Twitter twerps can follow us at twitter.com/exiledonline