By Gary Brecher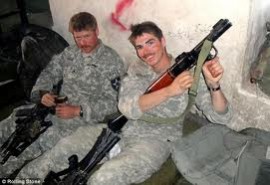 NOTE: My links are messed up here, I realize. Found out what's wrong. I'll have it fixed in tomorrow's column. Meantime, here's the link to the video I'm talking about:
I've been watching the famous motorcycle-shooting video from Afghanistan, the one leaked by Rolling Stone.
Tell you one thing, it's weird getting used to the idea of Rolling Stone breaking all these war stories. First it was Michael Hastings's career-ender profile of Gen. McChrystal, now it's these "Kill Team" revelations that some US troops were killing Afghans for fun, having little contests, and taking trophies off the dead.
That shouldn't really be a surprise, unless you're purposely ignorant about what bush wars are like. I'm not interested in justifying it, or un-justifying it either. In fact I'm not very interested in trying to crazy-glue war and justice together at all. I'm just saying it always happens.
Every time conventional armies fight guerrillas, they take trophies and start kill-competitions, mainly because they're pissed off and bored. Pissed off because they keep getting ambushed, bored because in between ambushes they're walking around in someplace where the daytime temperatures are about the same as the planet Mercury and everything that moves is poisonous. I remember the one guy my family knew who'd actually been in Nam. I was looking forward to some great stories but he wasn't having any of that. Kept saying, "Look, it was mainly guys standing around in the heat getting nervous wondering if somebody was going to shoot at them and eating candy bars. I gained 20 pounds in Nam, that was the worst of it." Took the fun right out of it, especially the weight gain bit.
People get mean, start trying to find ways to make it more interesting. I remember when I was writing about the Brits' wars against the Sikhs, one Brit wrote in a letter to his friend something like, "I was just calmly scalping this Sikh corpse when this other Sikh jumped up, not dead as I'd supposed, and tried to hack at me with one of their damned swords, the blighter!" For him, the point of the story was those dirty wogs don't play fair, jump up after playing dead, but for me it was, Whoa, back up a little, Limey boy, did you just say "I was scalping this corpse"? And yup, that's what he was saying, so it was probably standard practice.
It didn't happen as much in the big conventional wars because soldiers get enough bodies that the main worry is getting them buried before they start to stink up the place. Low-intensity warfare means not that many corpses, so when troops have one they make a big deal of it, like hunters posing with a 12-point buck. It's no accident counterinsurgency always gets compared to hunting.
That's what's happening on this video from Afghanistan that's stirring people up. You better watch the first few seconds hard because all the real action is over by the 13-second mark.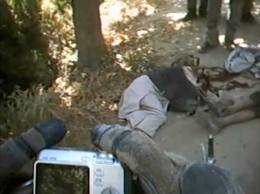 A GI has his camera, cell phone or digital camera, pointed up this dirt road under with the usual adobe wall you get in Afghanistan. The shade is nice-looking, though; I didn't know they had such decent shade trees in Afg. It looks hot and dusty anyway, like Bakersfield in the summer.
Then a buzzy little Afghan bike comes around the corner with two guys on it. The troops fire, about a dozen shots, and the bike goes down in a little dust cloud. Did the bikers fire too? Did they have a weapon? I can't tell. Maybe somebody's got better resolution or faster video than I do.
After that, an American voice, probably whoever's in charge of the squad—and whoever he is he's got a classic Barney Fife voice–yodels, "Take'em down!" Kind of a little late, Deputy Fife. The two riders are already as dead as the housing market. But orders are orders, so one soldier steps up and fires another ten shots into the corpses.
Then Cpl. Adenoids yells, "Cease fire, cease fire, cease fire!" The most important part of any ambush: making sure you don't shoot each other. Big part of any fighting. Just ask those Libyan rebels who thought it'd be cool to zip around in captured Qaddafi MBTs, only they forgot to tell NATO air. Kaboom!
So they stop popping and stand up, check out the dead. So far, typical combat video: hard to see what's going on, lots of yelling, everything repeated lots of times so people can hear it over the noise. Now comes the talk part, where the soldiers mess around with the bodies and convince themselves it was a good kill for five minutes. It's typical too, a lot of dumb conversation that reminds me of high school, every second word is fuck this and fuck that, showing off, getting the story straight in advance:
"You see that fucking motherfucker haul off on me? Draw down on me?"
That's where I got my first surprise: "Draw down on me"? What is this, Dodge City? Deadwood, South Dakota? I guess you need a lot of different expressions for trying to shoot somebody in combat, but jeez, you could find something better than that. I like the Cubano way myself: "Echa palante si eres hombre!" But I didn't direct this thing, so what can you do?
The guy with the camera is standing watch up the road so he calls his buddy over: "Lemme check out my kill, man."
The rest of them are getting the story straight, telling each other what they saw: "That motherfucker, as soon as he got…to where Domingo's at right now…I came out like this…and he fuckin' kept coming, he raised his rifle and started blasting back at us…"
Maybe, maybe not. I can't see any rifle on the two dead guys, but maybe the squad kicked it away to be safe. Or maybe there wasn't one. I guess that's the part that people are worried about, but what do you expect? This is how bush wars go. Two young males come toward a squad on a narrow road, they're not going to get a wave and a dixie cup like marathoners.
The rest of the video is like a demo on how boring war is when you're not actually about to die. The camera guy should be fired, first of all, worse than that Blair Witch Project for jumping around and blurring everything. They do a few closeups of the two dead men. One has a cartridge belt on. I don't know if that proves anything. A GI says, "This guy's got a mag carrier too." They try to figure out where the bikers came from, checking it out on a map. They look over the bike, a crappy looking Chinese thing: "This the battery?"
The bodies look tiny, that's what hit me. Very skinny little guys in rubber shoes and long shorts. Eyes closed, that surprised me too. The video ends with another rehash of the 12 seconds of actual action, and I really like the last line you hear, which kind of sums it all up: "I 'uz like, FUCK!"
Read more:, Gary Brecher, The War Nerd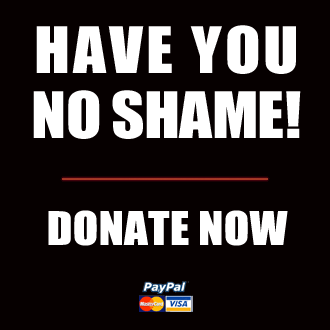 Got something to say to us? Then send us a letter.
Want us to stick around? Donate to The eXiled.
Twitter twerps can follow us at twitter.com/exiledonline