By Gary Brecher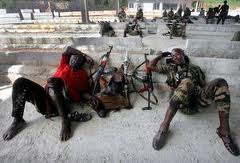 Strange doings in Ivory Coast. Well, no, actually; what's going on in Ivory Coast is perfectly standard West African procedure. The strange goings-on are in the way the UN has been handling things and the press has been reporting them.
You don't develop a lot of respect for the free press if you read what they write on Africa. It's not that they don't have a clue. That would be understandable. It's that they don't WANT a clue. That's kinda hard to forgive in a reporter.
A couple of days ago, the press was full of stories about massacres by Muslim/Northern troops in the Catholic city of Duekoue.
Sounded like they were going to do their standard atrocity story, send in that skull-faced Orla Guerin, Goddess of the Panga, to deplore the whole thing. It's an image you'll know from memory, even if her name doesn't ring any bells. Just imagine that Swedish painting of the bloodless skinhead screaming, put a microphone in its hand and add some tropical plants and you've got the Orla Guerin logo.
But you never heard a word from Orla about them, and there's nothing on those massacres today. The UN officially asked Ouattara to investigate the massacres. That's wonderful: "Manson Asked to Investigate Reports of Hollywood Massacre." And Charlie has a press conference, "No, man, wasn't us, musta been aliens, or the Monkees maybe…"
In other words, they don't want to know. They've chose up sides, and they're with Ouattara. So today it's all about how the UN "and French forces" are bombing every place in Abidjan, the capital city, where the Southern/Christian leader Laurent Gbagbo might have stashed weapons. French attack helicopters are bravely leveling garages owned by the Gbagbo clan right now. And they're doing it in support of our friend Alassanne Ouattara, generalissimo of the Northern/Islamic tribes.
Which is a little odd, because those massacres they were screeching about yesterday were done by…yup: the FN, "Forces Nouvelles," directed by Alassanne Outtara. His men were evidently a little over-excited when they smashed their way into Duekoue, a city right on the big demographic border between Muslim North and Christian South. Duekoue is a Catholic city, and you know how it is when Hizb-ul-Whatever-Deity fight their way into town and find kaffirs worshiping the wrong imaginary friend. They get very upset.
So naturally Ouattara's men worked off their aggression by killing a few hundred locals with machetes (pangas). I guess there's something special about killing somebody with a panga, or maybe the Hutu made it the massacre weapon of choice. Can't figure out why else these heavily armed troops would kill 500-odd people with pangas.
I'm putting the total here at 500 because as usual "estimates vary." Oattara's spokesman said his guys killed a mere 168 people, a misdemeanor under West African war law—a good lawyer can generally get you off with a stern UN warning and 50 hours of sanctimonious bullshit on a figure like 168. But then you might not be inclined to trust Ouattara, on the grounds that when you ask a mass killer his totals he generally lowballs the figure on you. No honor among slashers, like they say.
The estimates for the dead are all over the place, starting with that lo-ball 168, then the Catholics' figure of 330, to the locals' own figure of 800-1000. To figure out which figure to trust, you have to squint hard at a lot of angles, like the horror that makes civilians overestimate the dead after they've seen their first massacre. But most of all, you've got to figure out which way the powers that be are leaning…and in this case I'm betting this massacre will turn out more like the 800-1000 dead figure than the loball 168, because it looks like the UN and the French have decided to airbrush the massacres. They've come down hard on Ouattara's side. Especially the French. Damn, I've liked the French ever since Yorktown but it's hard, it's damn hard, liking them much when you see them getting up to nonstop bloody sleaze in Africa. Not even sensible sleaze, not even smart sleaze. They were behind the Hutu in Rwanda, and they're just as tight with Ouattara.
It was France that pushed through the first version of a Security Council resolution making the UN officially pro-Ouattara, anti-Gbagbo. The reason was that supposedly Ouattara got more "votes" in the "election." Sorry, but it's hard to write those words here without quotes. Even if Ouattara really did outpoll Gbagbo, any French official with even a little clue about Africa has to know that an African election isn't just Candidate A vs. Candidate B—it's the ultimate Us vs. Them, our tribe vs. their tribe. It's more like an ethnic census than how Jefferson imagined an election. So when you push all your attack helicopters and UN alliances behind one candidate in a country tearing itself apart like Ivory Coast is now, you're giving the green light for massacres like the one that just happened, because you're telling the locals, "We like your tribe, we don't like the other tribe, so go get'em."
I used to see these starlings swirling around some trees by the dumpster around sundown and wondered why, so I looked it up. Turns out it's called "epidectic behavior" and a lot of birds do it. It just means they get together to say, "Look, there's all this many of us, we're strong." That's the most you can say about an election: there are more of us and we hate you and want to wipe you out. It's not about a difference between one guy who wants a two percent tax on, I dunno, drinking straws vs. another guy who wants a 3% tax. It never is. It's always tribal and it's always war by bet-hedgers.
I don't think it's that different with people I know, they just realize they're not allowed to vote with pangas in America…not yet. Not just yet. But they're itching to, believe me. They dream about it. If you ask me, the real reason everyone in Fresno voted to reelect Bush in 2004 was that by that time they KNEW he was a total disaster, and they LIKED the idea of rubbing the faces of every cool rich celeb in Malibu with another four years under a guy who was like a liberal's nightmare of a dumb, mean hick. Suck on that, Susan Sarandon! They aren't stupid, inland people—they're just mean, and hate the coastal types more than they care about themselves. They'd call down an airstrike on their own housing tract if they could get a guarantee that a few goddamn liberals would be hit by the shrapnel.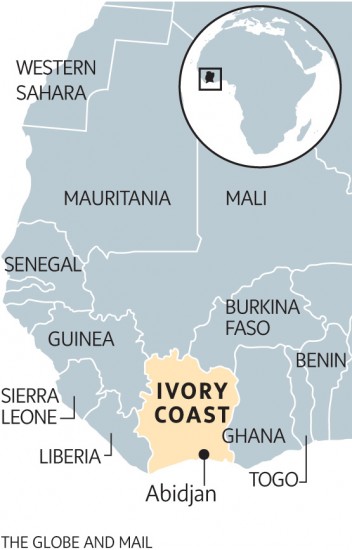 What's weird is that every word of that sentence I just wrote goes for Ivory Coast too, even though I was thinking of California. And that's how the pangas come out when the inlanders cross that demographic border and see semi-French fancypants Catholic churches and women walking around with men with their faces naked. And the French, for some weird reason, they never back the Africans who want to be French. They always back the Africans who hate the French and anyone who tries to be like them. So they're backing Ouattara all the way, helping him cover up the massacres his guys did.
I like the way this one site summed up the do-gooders' U-turn (maybe they should call those UN-turns): "UN Presses Outtara over Massacres…And Then Backs Him with French Helicopters."
There's something kind of classic about imagining Laurent Gbagbo, this fat nerd (probably why I sympathize) hunkered down in his bunker in Abidjan while the French and UN attack choppers (the UN is using Ukranian choppers, probably Mi-24), trying to make sense of the last day of his life. The poor trusting bastard. Like I said in an earlier column, he grew up as the Frenchest of the French; his friends called him "Cicero" because he'd waste the whole day reading those Latin classics the French love to teach. He grows up to be a student radical, just like the cool kids in Paris, hits the bigtime as monsieur le president…and now his colonial masters are hammering on his head with air-to-ground weapons.
I don't even know why. Anybody know? I mean, why back Ouattara over Gbagbo? Don't tell me, I mean please, just don't waste my time—don't tell me it's because Ouattara got 54% vs. Gbagbo's 46% in an election that was just a pre-war starling census. That's such crap, that the French or the UN are doing this for democracy. I don't know why they are. Maybe Ouattara offered a few francs off on the price of his next coffeee and chocolate shipment to Paris. But you can't just assume there's a sane reason. More likely they're bombing Gbagbo because they can; nobody's afraid of that fat poindexter Gbagbo or his losing tribe. The power's shifted north to the Mosques, and power is a beautiful thing, real easy to mistake it for goodness or democracy or whatever crap you think you believe in.
YOU CAN CONTACT GARY AT gary.brecher@gmail.com
Read more:, Gary Brecher, The War Nerd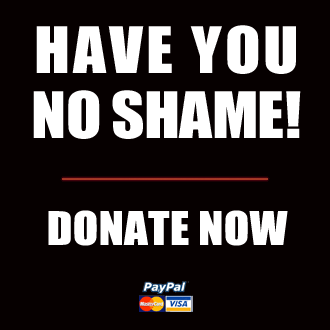 Got something to say to us? Then send us a letter.
Want us to stick around? Donate to The eXiled.
Twitter twerps can follow us at twitter.com/exiledonline