By Gary Brecher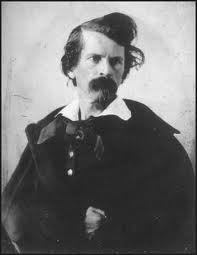 Gen. Earl Van Dorn: Dixie girls thought he was handsome, more proof Dixie was insane.
If you ever need to remind yourself that military command isn't as glamorous as people think, it doesn't hurt to go over the short, ridiculous Civil-War career of Earl Van Dorn.
He's one of those "dashing" Southern commanders who got a coat of tinsel from writers like Shelby Foote, who never met a Dixie nutcase he didn't admire. These guys always come off much better than they really deserve in Foote's stories. Foote goes on and on about how much they suffered for "the Cause," and conveniently leaves out a couple of important points. One: The Cause was, like Grant said after, "one of the worst for which men ever fought." And Two: A lot of that big-time suffering was self-inflicted, because these guys were more interested in making "a burning name" for themselves than thinking about war like grownups. Actually it's worse than that: the suffering caused by idiots like Van Dorn wasn't suffered by themselves, it was suffered by the poor gullible white trash who followed on foot, bare feet most of the time, while the romantic idiots rode ahead on horses they hadn't even paid for.
That ridiculous quote, "a burning name," comes direct from Van Dorn himself. That's what he said he was looking for in the war. There's a whole set of words that are nature's way of saying, "Don't follow this idiot into combat." Another good one is "elan." Stay away from elan. Others are real, and important, but dangerous when some fool with epaulettes think they can substitute for logistics, like "esprit de corps." Esprit is great, but you have to make sure there are supplies for the men too, even if it means going through every page of the Georgia census and tax returns the way Sherman did when he planned his march. The way he did the math to see how many trains he'd need, how many cars, before moving on Atlanta. Math, accounting, admin—being a real commander means dealing with all that boring stuff.
Van Dorn ignored all that, and that's why he lost every battle in which he held a large command. He was no genius, 52nd out of 56 in his West Point class–but that's not always a good indication of a smart general. After all, Grant ranked in the low-middle at West Point, didn't stand out at anything except horsemanship and math. Besides, plenty of West Point academic stars like Halleck (third in his class) and McClellan (second in his class) bombed in combat.
But even if you don't have to be a genius to be a good general, you do have to be a grownup. If you're not, you get so "dashing" you dash around without thinking about dull stuff like food and ammo and fuel. Oh, sure, I know you're thinking, what about Patton, huh Brecher? Patton was just a big kid, and he was a great general. Or Pancho Villa? Pretty macho and hard-charging, and it worked for him, didn't it? Well, I got two snapshots for you:
1. Pancho Villa at a staff conference after the first day of Celaya, the biggest battle of the Mexican Civil War and his life, after his lieutenants tell him "We're running short of ammo," replies "Courage will be our ammunition." Next morning they charge Obregon's lines; Obregon's using actual lead ammo. Guess what happens.
2. Patton runs out of gas in the middle of Operation Market Garden. I know, I know, it wasn't his fault, but all the same I can't imagine Eisenhower or Abrams hitting the pedal and mumbling, "Uh I fergot ta check the gas guage."
Boyish generals have their place: in the cavalry, around brigade level. Van Dorn was promoted way beyond that because the South was a romantic delusion itself so it just naturally loved delusional romantics when it was picking generals. And in the west, at least, where Van Dorn operated, they got what you'd expect: rotten, lousy generals. Van Dorn was one of the worst: just plain silly, a kid on horseback. Mark Twain always said that all those romantic novels and poems were what got the South screwed, and Van Dorn was the living proof. Well, "living" until 1863, when he finally died of romance, but I'll get to that.
Van Dorn's two big battles were Pea Ridge and Corinth II. He lost both. And not because he was doing Shelby Foote's po' ol' little Southland Underdog thing either. Van Dorn outnumbered his Federal opposition, 17,000 to 10,000, at Pea Ridge and still got stomped. Van Dorn did everything boy generals do: dreamed up a complicated plan that involved splitting his forces, didn't spend a second on logistics, never thought about how hard he was marching his men, and ignored the weather. He sent his troops marching the long way around a fortified enemy through a sleet storm, abandoned his wagons to make better time, and was surprised when his exhausted, frozen and hungry troops failed to make their complicated rendezvous.
Sherman, the textbook example of a grownup general, had a great line on these smart-looking complex maneuvers generals love, something like, "These complex arrangements nearly always fail." I can't find the quote, but he was talking about the Battle of Iuka, when Grant blamed Rosecrans for failing to trap Sterling Price in one of those pincers. I always thought Grant was unfair to Rosecrans for not making these pincers work. Sherman says it best, something about how you don't ever rely on those pincers to work, and most of all you don't do them early in the war with raw troops. McMahon went on to destroy the French army and prove the point by trying the same crap with civilian levies at Sedan.
In fact that war was the best example I can think of of the way logistics and command structure kicks elan's ass every time.
Straightening the mess out made so much noise and used up so much time that the Federals repositioned themselves between Van Dorn's separated forces . The only grownup Confederate commander on the field, Ben McCullough, got himself killed early in the battle, and it was all up to the dumbnastic duo, Van Dorn and Sterling Price —and when Price got wounded, it was Van Dorn all by himself, a private's nightmare. On the second day of battle Van Dorn was all ready to make another valiant mess when some brave aide told him that there was no ammunition; Van Dorn had sent it all down the wrong road.
So Van Dorn did what he always ended up doing: lied and fled. He blamed his officers and troops for his own romantic-ass stupidity and left all of Missouri to the Union.
He proved Pea Ridge was no fluke at Corinth.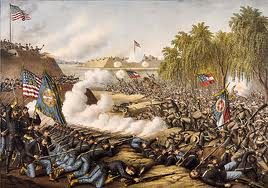 Battle of Corinth: When elan meets logistics, elan gets killed.
He marched his men in the wrong direction, turned them around when he had an attack of elan and decided to attack the fortified town of Corinth MS in tandem with Sterling Price. A real Brain Trust. I'll have to write about Price sometime, another comic character, but he and Van Dorn agreed the best thing to do was to launch a mass attack on an equal number of Federal troops fighting behind parapets, with plenty of artillery. Somehow they broke the Feds' line and crashed into town, but whoops! Van Dorn had forgotten to bring ammo again, so they had to flee over a mile of open ground, making great practice for the gunners and sharpshooters. "Our lines melted like snow," was the way one Confederate officer remembered it. They dropped everything and ran. Some men were too worn out from marching, hunger and combat even to run. They just waited to be taken prisoner, and it was probably a smart move; you stood a much better chance of surviving the war as a Confederate POW than serving it out under the kind of commanders the South put in charge outside Virginia.
Van Dorn made such a mess of the battle and the retreat—a whole train of wounded was just plain forgotten all night, men screaming in pain and nobody around—that he finally had to deal with a court martial where his own officers testified he was too "dashing" to think about logistics. But the South loved its dashing ol' fools, and Van Dorn was acquitted. They put him where men like him belonged, in the cavalry where his only job was to wreck things, a breeze for him. But he still managed to die of romance, like I said: He was shot in the back of the head by a jealous husband whose wife he'd been seeing. That was Van Dorn to the end: Romance at all costs, never mind worrying about what might go wrong. It was the first time his dashing crap didn't kill somebody else, and finally got the idiot who really deserved it.
Read more:, Gary Brecher, The War Nerd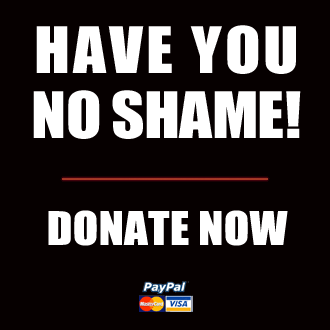 Got something to say to us? Then send us a letter.
Want us to stick around? Donate to The eXiled.
Twitter twerps can follow us at twitter.com/exiledonline