By Gary Brecher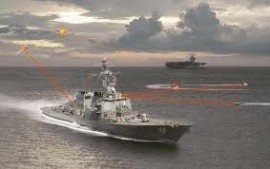 All the gizmo freaks are drooling because the US Navy has supposedly demonstrated a fearsome new "ray gun," the HEL, High Energy Laser, designed to burn planes, missiles or boats that get too close to surface ships. The trusting Dilberts over at Wired's Danger Room just about came in their khakis at the news.
Those Wired guys don't know a thing about how people really make war in the dirty parts of the world, but oh, they love their nice clean hi-tech gizmos.
Just listen to this hysterical start to their article:
"With clouds overhead in the salty air, irritable Pacific waves swelled to up to four feet. Perfect conditions, in other words, for the Navy to fry a small boat with a laser beam — a major step toward its futuristic arsenal of ray guns."
Jeez, are these guys in fourth grade or what? Although I did like the bit about  "irritable Pacific waves." Nothing pisses off an ocean like having lasers tested on it.
Or maybe the Pacific just isn't as liable to believe USN press releases, since its seen too many Navy boondoggles over the years. What you see so clear it's painful in this Wired story is every eight-year old boy's dream of that "arsenal of ray guns." Lasers were the coming thing when I was a kid. I bet they were the coming thing for guys ten years older than me too, and ten years younger. In other words, they've been the coming thing for a Hell of a long time, but they never seem to arrive.
There are three simple things that the middle-aged kiddies at Danger Room try hard not to think about when they make their little lightsaber noises, imagining cool ray-gun battles in Da Fyuchah:
1. Air. It's this thing, you can't see it but—well, blow on your hand. Feel that? That's air. Unfortunately we need it to breathe, and even more unfortunately it absorbs the energy of laser beams. The experts call that "blooming," and it's even worse when there's any smoke or haze in the air. And gosh darn it, wouldn't you just know it, it seems there's this tendency for battlefields to be full of all this nasty smoke'n'haze stuff that gets right in the way of our cool ray-gun dreams. So unfair!
2. Energy. The same buzz-kill of an issue that stops us driving Caddies, and now it's messing with our lightsabers. The sad fact is that with the power sources we have now, the old dream of a shoulder-fired laser rifle is impossible. You'd need to be Godzilla to carry the power pack, but then Godzilla's already got eye-lasers, so maybe he's using an internal frame pack. For now, the only lasers we have than can do more than fry an ant like a kid's magnifying glass are gigantic, with even bigger battery packs—which is why they're mounted on surface ships. The Pacific Ocean is maybe irritable because it's gotta displace the ten-ton power pack this gizmo takes.
3. Weather. This is another really gosh-darn annoying thing that's related somehow to #1, "air." Apparently this "air" moves around and sometimes there's water in it and if there's any of this water in the air, lasers just don't work, period. If this water-in-the-air thing is warm, they call it"rain" and the laser beam can't poke through it. If it's cold it's this thing called "snow," and that gets in the way too. Unbelievable! It's like the whole planet is just trying to ruin all our fun!
Those are just the big three, the top contenders in a long list of reasons that grown-ups don't waste a lot of time on ray guns. I'm not even talking about the problems with a pure line-of-sight weapon like a laser (hint: if you can see them, they can see you), or the fact that the beam creates a mist of melted target material that acts as an incredibly effective shield against further damage…or the real elephant in the Star-Wars room: the fact that we've got about a million boring conventional alternative weapons that can do the job now, without needing to imagine an engineering miracle.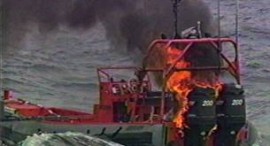 Death Match: Laser vs. Plastic Outboard Cowling
If you actually see the video the US Navy released to show the magical boat-burning laser, you have to laugh at what a cheap, obvious fraud it is. I'm calling it out right now. I said FRAUD, and I mean FRAUD. In fact I can't believe the gizmo fans have been naïve enough to buy this crap. The most obvious fakery in the video is the cuts. The video is 49 seconds long, but it has three distinct cuts: one at the six-second point, another at about 32 seconds, and a third at the 42-second mark. That means we don't know the actual time required for this wonder weapon to set fire to an outboard engine—which my half-brother used to be able to do by accident in about a millisecond, without lasers.
Didn't you hi-tech Danger Room fellas notice that? I guess you were too worried about that irritable ocean. Science just goes out the window when Star Wars comes onscreen, I guess.
So, maybe somebody could ask the Navy what the ACTUAL ELAPSED TIME is between the laser firing on the Evinrudes and the Evinrudes' cowling catching fire.
Which raises another totally obvious problem nobody's mentioned: IT'S A FUCKING PLASTIC EVINRUDE COWLING! OF COURSE IT CAUGHT FIRE! I COULD SET IT ON FIRE WITH THE SAME MAGNIFYING GLASS I USED TO FRY ANTS WITH! What if our no-fair future enemies play dirty by making their engine cowlings out of reflective metal? Gee, are they allowed to do that? What if they bring Mom's dressing-table mirror and hold it in front of their engines? What if the dirty cheaters even go so far as to use INBOARD ENGINES!!!!! Oh No!
Every blogger or so-called journalist who swallowed this story should jump in the irritable Pacific, right now. There are just so many obvious questions they don't ask, don't even think about. Here's one: "How long would it take a 57mm deck gun to blow up those outboard engines?"
Answer: the time it took for the shell to fly there. A whole lot less than the 49 seconds plus God knows how much time between cuts it took that laser. And a 57mm gun doesn't take a battery the size of Manhattan, either.
All the services lie when they're pushing programs, but the Navy lies most of all. In fact the Navy is the only one of the services that's actually built around a lie, the carrier group. The carrier group should be renamed "Tomorrow's Dive Site" because it won't survive ten minutes in a serious war. Carriers are indefensible, period. That's why we're getting this noise about lasers: because even the surface navy, who survive by denying the obvious, have had to face up to the fact that carriers could not survive if they have to rely on their current defenses.
But look—I'm getting frustrated here, because it's just so damn stupid—look, suppose we solve all the impossible engineering problems with weaponized lasers. They still wouldn't save those dead-man-walking carrier groups. Maybe the US Navy and the Danger Room kiddies can't think hard about this, but I can. I've already talked about how a low-tech swarm attack could destroy carriers, and lots of bloggers have mentioned the new Chinese ballistic carrier-killer missile, but those are just two ways to kill this bloated, helpless target. Suppose the Chinese get impatient and just detonate a nuke in the high atmosphere over a carrier group? I'm not talking about nuking them, thought that's a totally plausible scenario, I'm talking about the EMP killing every system on the carrier group. Imagine the aftermath of that. They could come in on 31-foot Bayliners and attach limpet mines while the crew was trying to get the M-4 lockers open, then putt-putt off while the hulls blew open. Or Hell, they could TOW the damn things to the Shanghai scrap yards.
But we're talking about a whole service that lives by not thinking about stuff like that. And that's why they want you to believe in the Magic Laser.
Would you like to know more? Gary Brecher is the author of the War Nerd. Send your comments to brecher@exiledonline.com. Read Gary Brecher's first ever War Nerd column by clicking here.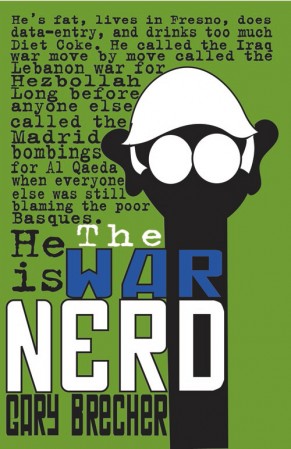 Click the cover, buy the book!
Read more: carrier, high energy laser, laser, navy, wired, Gary Brecher, The War Nerd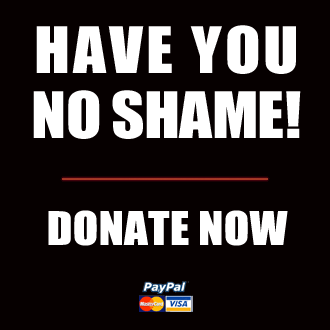 Got something to say to us? Then send us a letter.
Want us to stick around? Donate to The eXiled.
Twitter twerps can follow us at twitter.com/exiledonline