By Gary Brecher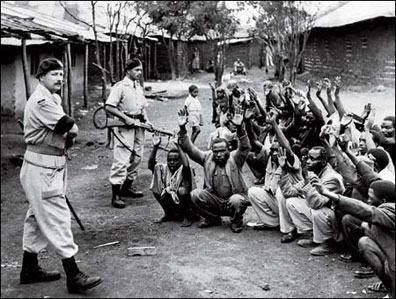 A good empire needs torturers, but more than that it needs torturers who keep their mouths shut and tame professors who'll never, ever mention what they find in the torture archives.
If the history of the last century proves one thing pretty damn clearly, it's that pure combat power isn't as important as control of information. And the world champions in that are the British. They have an oath of silence going that makes every organized-crime family seem chatty as Oprah. And that's why they've gotten away with more horrible shit than any other modern empire because: their torturers kept their mouths shut, their home-front audience always shouted down anybody who tried to kill their Imperial buzz, and their history professors were either working full time for the intelligence agencies or just in 24/7 volunteer mode, shooting down anybody who brought up the wet work of empire.
Everything was going fine in the Brit PR Department, with the nice upstanding harmless/cute Brits denouncing the evil Russians and Germans. Then this Harvard professor named Caroline Elkins—looks like a nice lady from her pictures, probably never caused trouble in her life—started going through the archives of the British Empire's fight against the Kikuyu "rebels," the Mau-Mau, in the 1950s.
Good PR Keeps It Simple: "Naked Terror!"
The Mau-Mau had this scary rep when I was a kid. People still talked about them going into white people's houses and doing horrible things to them. Besides, they were "rebels." I remember my elementary school teacher, Mrs. Long, telling us about the Mau Mau atrocities for like half an hour when we were supposed to be memorizing the whole dull string of California missions, south to north. (Uh…Mision San Diego de Alcal-something…Mision…uh…the one the swallows come back to?") Nobody particularly wanted to know the names of those 21 crumbling adobe mounds, so we were all for her talking about black monsters "disemboweling women"—didn't exactly know what it meant but it sounded dirty and racial.
Years later I actually started to read up on Kenya and thought the stats were a little weird. One in particular: every account I could find agreed that the Mau Mau, these crazy bloodthirsty cannibals, had killed 32 British settlers. 32? That's less than the KIA for a holiday weekend in the UK. That was what all the fuss was about?
It was a lot harder to find out how many of the Mau Mau had been killed. In fact, you got the idea that no blacks died, just those poor white women all alone in their houses.
And it was even harder to get any idea what made the Africans so mad. We all just thought, they were just like that, ready to go off. And frankly, we had echoes of Watts and Detroit in our heads, we were all flat-out scared of black people, which made the Mau Mau horror stories easy to swallow.
When I really learned about Africa, my whole idea of the cute/harmless Brits and violent crazy Africans went away real fast. What blew me away first was the patience of the Kikuyu, the tribe the Brits were trying to wipe out. They stood for it and stood for it and only fought back after the Brits made it real clear that the only good Kikuyu was on his knees or better yet, dead. The Kikuyu were the first Africans I started to see as full-membership human beings—nobody'd ever told me Africans could be anything but sad victims or crazy killers–and when I did, the whole picture changed very, very fast. In fact, I'd say that if you really want to understand irregular warfare, the most important thing you can do is actually think of Africans as people, just frickin' people with the usual range of crap going on in their heads. But you better be able to handle being in a tiny minority if you do, believe me.
The Mau Mau were an armed group from the Kikuyu, the tribe that was settled on the Kenyan Highlands when the Brits arrived. Unfortunately for the Kikuyu, the Brits liked the Highlands. The altitude kept the weather mild, even cold in the winter, so the coastal swamp fevers didn't hit Europeans as hard, and the land made for excellent pasture. That meant every Brit who immigrated to Kenya became an instant aristocrat, with land and horses and a plummy accent and lots of black slaves—the people whose land he was squatting on.
If there's one iron law of history, it's: Don't be the tribe occupying a piece of land British people take a liking to. Way back in the 19th century, the local British agent said (people were more honest about this stuff back then): "The only way to improve the Kikuyu is to wipe them out, but unfortunately we depend on them for food supplies." Yup, it was the old dilemma: exterminate them or use'em as slaves. Laziness won out; they let the Kikuyu live so they could do all the actual work, while the Brits settled into plantation life, a 20th-c. version of the Old South. The settlers turned out to be even more degenerate than the old plantation South—I remember reading that at one plantation in Kenya, the first thing a guest was offered was a tray (carried by a Kikuyu maid) with a hypo full of morphine and a little packet of cocaine, and whichever you picked, they'd keep it coming as long as you were there. Colonial hospitality.
The Kikuyu were being wiped out, to the point that even Churchill, not exactly a bleeding heart, complained that it seemed a bit much to keep killing Kikuyu "on such an enormous scale." But they had to do it; they wanted the land, and it was infested with these surplus black people. You only need so many maids, herders, sex slaves and so on; everybody else is surplus natives. To push more Kikuyu off the land, the Brits used a whole rule-book of laws designed to kill off local populations, laws they'd been perfecting in other colonies for hundreds of years. Suddenly every Kikuyu mud hut was subject to a "hut tax" that cost as much as most Kikuyu could make in a year. Can't pay it? Get off my land, darkie. The Kikuyu, who were talented farmers, tried to raise the money by growing cash crops, until it was suddenly illegal for Kikuyu to grow those crops. "Sorry, blackie, against the law." That "law" thing is a big part of why the Brits were able to get away with so much for so long, in so many parts of the world: they were great at making it look like some big impersonal thing, some rule that was made up in Heaven, was responsible, and the colonial officer who turned you out of your hut in mid-winter was just following orders.
Same thing when they forced the Kikuyu onto "reserves." Any Kikuyu stepping out of the reserve was a "squatter." That's another thing the Brits did better than anybody: mess with the language. How do the people who've lived there for hundreds of years turn into "squatters" against the thieves who took it from them last week? Same with "rebel"—how come everybody who fights the Brits is a "rebel," even if it's been their land since the Flood and the Brits just marched onshore a month ago? Because it makes a better story, that's why.
Another innovation in storytelling that the Brits understood way, way better than the Germans, who were amateurs at PR, was this one: never talk about how many of them you killed; only talk about your people that they killed. That policy was why I never heard as a kid how many Kikuyu died when they finally rose up against the Brits. The Brits never tell you how many natives they killed. Instead they pick some martyr from their forces and plaster his face all over every newspaper and tv station for years, literally years, until everybody knows him like their long-lost martyr cousin.
The Germans never got that, with their junior-high deaths' heads and black uniforms. That crap doesn't work. What works is making YOURSELF the martyr, the victim, so nobody thinks about what you've been doing to the natives.
And it was all going just fine, everybody thinking of Hugh Grant's little apology-grin when they thought of the Brits…and then this American woman, Caroline Elkins, had to ruin everything by actually looking at the archives from Kenya.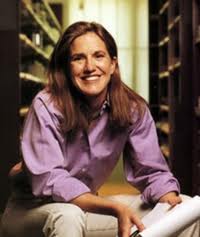 Caroline Elkins: Portrait of A Troublemaker
Seems like they forgot to get her to sign in blood to keep total silence about what went on there. She told it all in a great book called Imperial Reckoning: The Untold Story of Britain's Gulag in Kenya.
Elkins estimates the number of Kikuyu killed by British forces at something like 300,000. Quite a little massacre there. Funny you haven't heard of it, huh? Well, like Elkins said in an article she just wrote after archives were released that totally confirmed her version, that's because the Brit historians who should have told the story decided not to. They knew, all right. They just didn't care to tell.
Turns out the Brits basically put the whole Kikuyu population in concentration camps—more than 1.5 million civilians inside the wire, and if they died of every African disease that was going, all the better. Actually the Brits used the same technique against the Boer women and children in the Boer War—purposely killed off 25% of the total civilian population to demoralize the guerrillas they couldn't beat in a fair fight—so it shouldn't surprise anyone . But it will, because they've sold y'all their Hugh Grant version of themselves.
Now all the really gross stories are coming out. Seems that castration, burning suspects alive, and ass-rape with broken bottles was a favorite counter-insurgency technique for British troops in Kenya:
"Bottles (often broken), gun barrels, knives, snakes, vermin, and hot eggs were thrust up men's rectums and women's vaginas. The screening teams whipped, shot, burned, and mutilated Mau Mau suspects, ostensibly to gather intelligence for military operations, and as court evidence." At the time, the British government sought to circumvent international accords. Forced labour was constantly imposed in the camps. Kenya's defence minister had said of the use of detainee labour: "We are slave traders and the employment of our slaves are, in this instance, by the Public Works Department."
Gross as it all is, you can't help thinking that the Brits understand the importance of silence, as well as active propaganda, in maintaining an Empire. Nobody else has kept their silence as long and hard as they have. All those Brit historians war nerds love, John Keegan and Niall Ferguson—anybody want to bet they didn't know about all this? Hell, I'll give odds of 12-1 and no sane man would take me up on it. Of course they fucking knew. And they kept their yaps shut.
And all the while, they'd put on their innocent Hugh Grant mask and lecture the evil Germans and the evil Russians and the evil Chinese on their human rights abuses. I don't know whether to admire it or laugh or just throw a brick at them.
Jesus, this stuff was happening years after Nuremburg, years after the Brits started their endless self-worshipping for their brave stand against fascism. Anyone for Nuremburg II in Nairobi? A lot of the bottle-rapers are still alive, watchin' a bi' o' futball in South London. Anybody wanna do a Nuremburg on their ass?
Didn't think so. So lemme get this straight: I can't enjoy the Wehrmacht, an Army that kicked British ass every time they met on anything like equal terms, because they killed white Europeans. But it's fine to make little Spitfire models and puff up Dunkirk because THEY killed black Africans. Is that the deal?
I guess so. Well, shoulda known. This is what a healthy empire looks like, folks: it never apologizes, it has no conscience, it doesn't do Oprah, it never gets Nuremburg'd. There ain't no karma, or comeuppance, or nuthin'. There's just bluffing it out til they find the bodies, and the Brits are the world champions at that.
Hey Nerdoids and Nerdettes! Note Gary Brecher's functioning email: gary dot brecher at gmail dot com
Would you like to know more? Gary Brecher is the author of the War Nerd. Send your comments to gary dot brecher at gmail dot com. Read Gary Brecher's first ever War Nerd column by clicking here.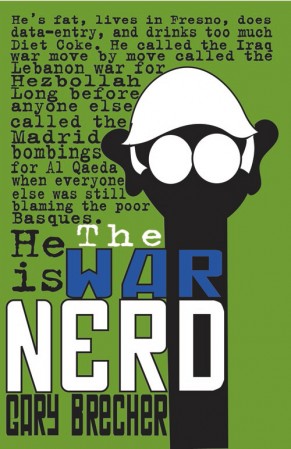 Click the cover, buy the book!
Read more: britain, caroline elkins, churchill, kenya, kikuyu, mau-mau, oprah, wehrmacht, Gary Brecher, The War Nerd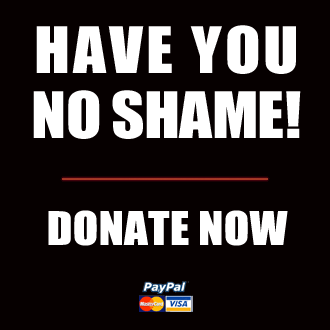 Got something to say to us? Then send us a letter.
Want us to stick around? Donate to The eXiled.
Twitter twerps can follow us at twitter.com/exiledonline