By Eileen Jones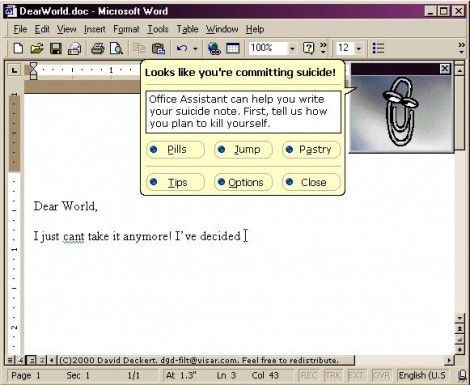 While critics go through the farce of compiling their Best Films of 2011 lists, I'm working on my suicide note. Here's the latest draft:
Dear Hollywood Movies,

When you find this note, I'll be dead. And it'll be your fault. You ruined my life. I wish I'd never seen you.

Sincerely yours,

Eileen J.
When I shoot myself, it'll be the direct result of having seen Sherlock Holmes 2, Mission Impossible 4, War Horse, and Girl With the Dragon Tattoo in quick succession.
(I feel a gun is the best way to go, don't you? More American, I mean. That loud, cheerful BLAM that ends everything, and leaves a giant mess for someone else to clean up. It's in the spirit of the season, too—eggnog, relatives, presents, "Auld Lang Syne," BLAM, they all follow nicely in logical succession.)
The thing that's driven me to despair, since you ask, is the Christmas-time gusher of Hollywood films that was supposedly going to redeem 2011, the worst film year ever. Only it didn't. Not even close. Each movie in itself wouldn't have been so bad. No, it was gulping them down one after another that made it all so vomitous.
I mean, have you seen these things? If you've seen them in the USA, you're part of a shrinking group, the filmgoers of America. You might've heard attendance is at the lowest point since 1995. They're claiming ticket prices are to blame, ignoring the fact that, increasingly, movies reek.
Anyway, getting back to the year-end glut of films. Let's say we give Sherlock Holmes and Mission Impossible a pass—sequels, trying to keep franchises going, that involves special difficulties. (Though I'd really like sober explanations from the various crack-smokers who wrote glowing reviews of Brad Bird's supposedly brilliant Mission Impossible 4. They've got "brilliant" confused with "not unwatchable.") But never mind—let's just focus on War Horse and Dragon Tattoo and see where we stand, Hollywood-film-wise.
War Horse is Stephen Spielberg's latest debacle. People awaited that movie with a certain amount of trepidation—I know, I read the blogs, I shared the fear—because obviously the poor horse would be in peril through the whole movie, and who wants to see a horse imperiled for a whole movie? Would the horse die, people asked each other? Would Spielberg actually go to the awful extremity of killing the horse?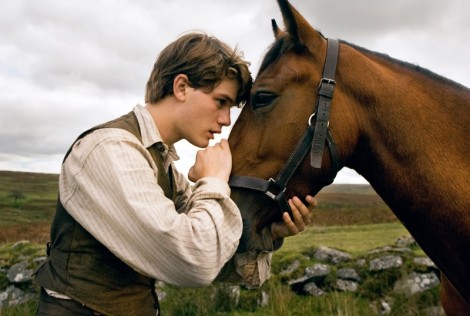 Well, of course not. The horse is the protagonist, the only consistent character connecting the various vignettes that make up the plot, so you can't kill him. They only kill the lead animal when he's the best friend of the human protagonist in a coming-of-age story (The Yearling, Old Yeller, My Friend Skip). That's an evil tradition, by the way, but never mind, never mind!
The point is, everyone knew it would be a harrowing experience, watching War Horse.
Only it ain't. Because the whole movie's such an exercise in fakery and incompetence, you can't feel a thing. Every single goddamn moment of the movie is false. Not one right moment from the first sight of the phony computer-tweaked idyllic English countryside where farmers fake-toil and the fatuous boy-starlet (Jeremy Irvine) with the big pink lips stares at a colt being fake-born, to the last digitally-painted, acid trip orange sunset meant to turn the pink-lipped soldier's homecoming into an epic moment. It's all crap. Watch it and you'll find it hard to believe Stephen Spielberg is such a big noise in the world.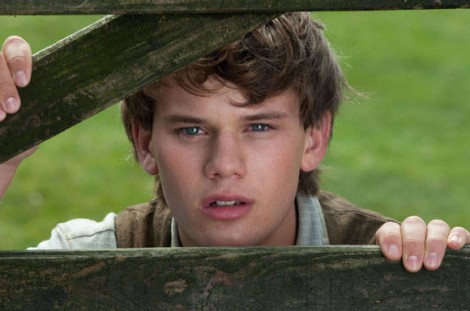 You go to the movie thinking, it's called War Horse, so at least it'll be exciting and terrifying watching the horse protagonist going into battle for the first time. You can imagine the nervous thoroughbred—named Joey in the movie—stepping into World War I all unprepared for shot and shell. But in this film Spielberg has the most uncanny instinct for shooting a bunch of stuff you don't care about and missing the crucial moment altogether, or shooting it from the wrong angle, or somehow gumming things up. So we spend all sorts of time getting to know a bunch of WWI Brit toffs swanking around in a manner that was perfectly conveyed in the great BBC comedy Black Adder, but should be avoided by everybody else.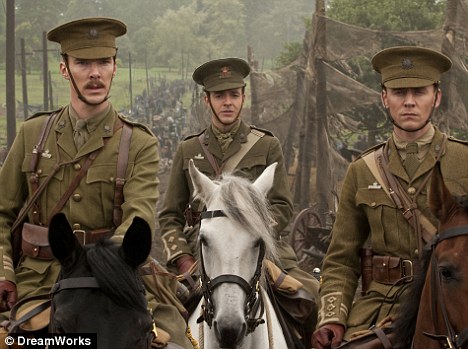 When Joey gallops into the fray at last, he's got an effete saber-wielding officer on his back, and the Brits are doing a fatheaded cavalry charge at a sleeping German encampment that looks like easy pickings, only it turns out not to be. As the German machine guns, unseen in the woods beyond, start firing at them, Spielberg focuses on the face of the British officer, wide-eyed, registering "Oh I say, bad show…!"
CUT TO—
Joey tearing along riderless through the woods. And that's it, end of sequence. From this you surmise the Brit officer died and Joey didn't like war very much his first time out. Which, y'know, figures. But  since you paid your ten bucks to see it, you expected to have it dramatized a bit more.
We see a bunch of sprawled horse carcasses after the battle. But Spielberg, he doesn't give a damn. Not interested. Horses schmorses. So the drama never really gets underway, because Spielberg never commits to the horse as our point of identification. He makes the horse serve as a mere narrative link, shoving us toward various humans on both sides of the conflict who take possession of Joey in turn—the pink-lipped farmboy-turned-soldier, the Brit officer, the German farmer and his niece, and so on. If you ever read Black Beauty as a kid, you know the drill: the horse starts off happy but gets handed off to different owners and has to go through no end of hell before he winds up happy again at the end, because most people are such godawful pricks. But in Black Beauty, you're in the horse's head the whole time. In War Horse, you get a few minutes of horse consciousness here and there in the film, and it's not enough to matter.
And don't bother telling me that's how it worked in the theater version of War Horse, because the theater version had large, elaborate puppet-horses worked by stagehands, and there's a world of difference between clever stagecraft and actual horses you can see trotting around, drawing breath and flicking their ears and so on.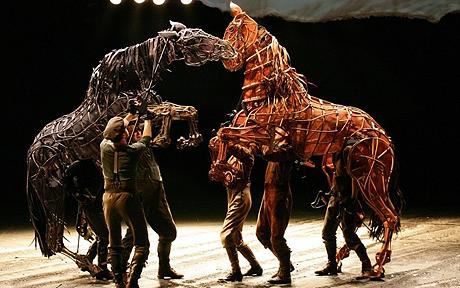 A real horse makes certain demands on the attention. It's no good using the horse as just another trite way to demonstrate that War Is Hell.
And where does Stephen Spielberg get off telling us War Is Hell, anyway? Every few years he does a film-lecture like this and tries to collect Academy Awards for it. He's made a way bigger deal out of how War Is Hell than General Sherman ever did, and Sherman knew what he was talking about. Let's have a new rule, shall we? From now on, unless you've seen as much action as Sherman did, you don't get to indicate in any way that War Is Hell.
Regarding The Girl With the Dragon Tattoo, first you'll want to know, how was the rape scene? It was fine, thanks. Not nearly as horrifying as the marketers foretold. Unless, of course, I've lost all capacity to feel anything while watching Hollywood films, which may be the case. That'd be weird, if these four movies were actually a sensory wow, and I couldn't tell.
The numbness was especially noticeable while watching Dragon Tattoo. The movie seems to play at an abstract remove, behind many layers of protective glass. It's punishingly slow, for one thing. The cinematography is so crystalline in its clarity you can admire each separate hair in Rooney Mara's dyed-white eyebrows, and you have time to do it, too.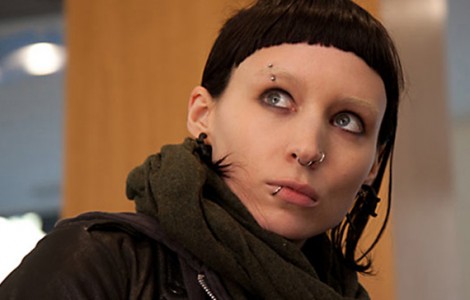 She plays Lisbeth Salander, the punked-out computer-hacking genius who gets violently raped by a paunchy social worker and, like all movie-women who get violently raped (in this case to the point of bleeding copiously from the anus in the inevitable shower-shame scene that follows), she's up and ready for sex scenes with Our Hero immediately thereafter. So you'll see lots of Rooney Mara's pale hide, never fear.
This is one of those "well-made" movies, "well-shot" and "well-acted." All the characters strike glum poses that indicate depth and seriousness, and smoke angst-ridden cigarettes, and stare at computer screens with tense self-importance, and gaze out at the snow. Daniel Craig plays the lead guy, and it takes the movie about 45 minutes to show, in oppressive detail, that he moves into a remote cabin in the middle of Swedish winter, and it's cold there. Daniel Craig takes a cab to the cabin! Daniel Craig totes in his luggage! Daniel Craig shivers and goes "Brrr!" Daniel Craig wraps up in a blanket! Daniel Craig huddles in bed under mounds of quilts! Meanwhile you mentally cancel anything you planned to do after the movie that day, because clearly this is going to take a while.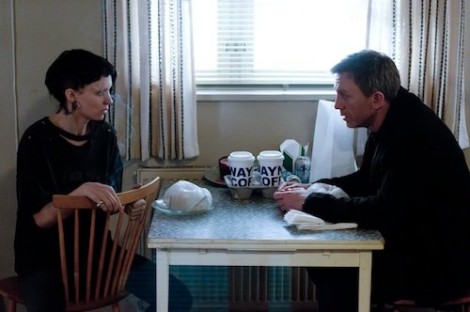 There's a murder mystery the Daniel Craig character is supposed to be solving, which is fitfully interesting, mainly when Christopher Plummer, playing the nicest member of a despicable clan full of rich former Nazis, describes how loathsome his family is. But that promise of entertaining awfulness is never really fulfilled; the rogues gallery of family villains doesn't get much play. We spend time with Plummer's character and his son played by Stellan Skarsgard. That means one of them has to be the killer. You guess which. Yeah, it's a fifty-fifty shot, and not tough to place your bet.
The only really likable character is a cat, and from the second you see him, you know he's D.O.A.
Anyway, I'm depressed. Years I've spent watching fucking Hollywood films, years and years and years. Had a whole line about how great they were, what a point of pride for Americans, that we owned the best of film culture for decades, made the sharpest and the liveliest films, and that we could still draw on our heritage and do admirable things with it.  And now look where we are. I tried to make a Best Films list for 2011 and came up with one: Rango, a feature-length cartoon.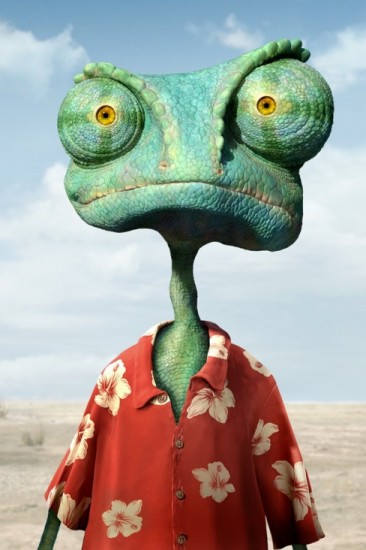 If I didn't go international so I could include 13 Assassins, a Japanese samurai film, I couldn't make it to two. And technically, that opened in 2010, in Japan, anyway…
BLAM!
No, not yet. I still have to see a lot of Thai martial arts films, I'm way behind on those. I just saw one called Chocolate about an autistic fourteen-year-old girl who can learn martial arts just by watching them practiced, and soon she's kicking ass like a size-junior-petite Terminator. So that was pretty good.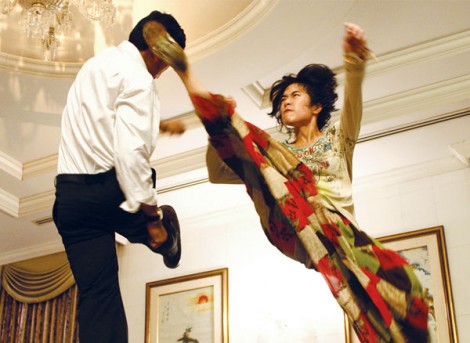 I'm netflixing enough of them to get me safely to 2012.
Read more: 13 Assassins, Best Films of 2011, Daniel Craig, Jeremy Irvine, Mission Impossible 4, Rooney Mara, Sherlock Holmes 4, Stephen SpielbergRango, The Girl With the Dragon Tattoo, War Horse, Eileen Jones, movies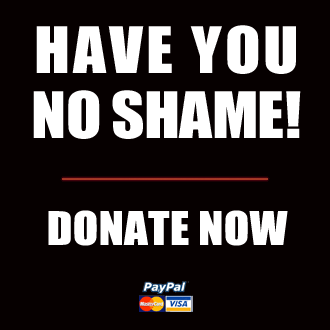 Got something to say to us? Then send us a letter.
Want us to stick around? Donate to The eXiled.
Twitter twerps can follow us at twitter.com/exiledonline