By Gary Brecher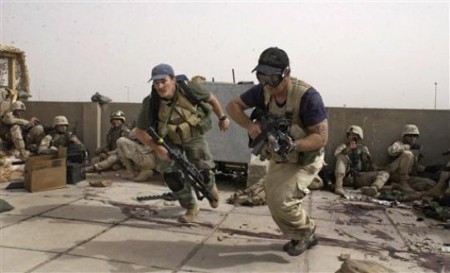 For the next week I'm going to try blogging every day. Things have just been happening too fast for the occasional article. Every day there's something I want to talk about, and that's how I'm going to do it.
Today's big news, or comedy skit, however you want to call it, was the news that five Blackwater guards have been indicted on Federal charges of manslaughter and using a machine gun in the commission of a crime. No joke I could make about this could top that great line from Apocalypse Now: "Shit, charging a man with murder in this place was like handing out speeding tickets at the Indy 500."
The Blackwater guys are on trial because they messed up in a big way in a place the Iraqi government actually cared about, at a time when the Iraqis were already massively pissed at the occupation. They're a sacrifice to Iraqi-US relations: "Here, take these five steroid-casualty overpaid hicks and stop making us look bad with yer bellyachin'!" You can't exactly say they didn't do anything wrong, but you can say what they did was SOP for the time and place.
On September 16 2007 A Blackwater guard heard a backfire or felt threatened or was just in a bad mood or  something while escorting a State Department convoy through Nisoor Square in Baghdad. The guards were nervous because there'd been a car bombing about an hour before. So this Blackwater guy did what came naturally: shot and killed a kid driving toward the square. The trouble with shooting the driver is that the car keeps moving. That made the Blackwater mercs nervous, so they all started shooting at anybody they saw.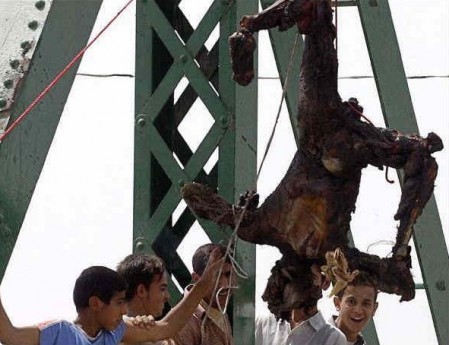 Let Black Water hang?
That happened a lot in Baghdad in those days, but this wasn't Sadr City, this was Nisoor Square, and the people who died included a doctor, a med student, a car dealer (OK, nobody was complaining about him) and a couple of government people with serious connections in al-Maliki's administration. It was like those weddings that NATO loves to bomb in Afghanistan: you can get away with vaporizing some white-trash wedding in the sticks, but when we blew up a wedding of Hamid Karzai's own kin a few years back, the Afghans were seriously annoyed. I mean, fun's fun, but you have to know who you can safely blast and who you can't.
Blackwater tried to stonewall, naturally, but they'd done this shit just once too often. Even by Baghdad standards they had a bad rep: incompetent trigger-happy illiterate rednecks—and damn it, they get paid too much for it! Lotta jealousy from lower-paid hitmen.
Blackwater is in its own little steroid-shooting, wild-west, overpaid boondoggle world. They've got their fancy HQ with its old Deadwood style gate with the sign on it, "Enter at your own risk," although the biggest risk for Blackwater guys is dying like Lyle Alzado from all the shit they inject into their biceps, or falling over with clogged arteries from all the steaks they eat on their ridiculous salaries. Army guys hate these people because they get paid about 20 times what a combat grunt makes to ride around taking pot shots at civilians. If there's a megamansion going up in the middle of the recession in a Redneck neighborhood, you can pretty much bet it's the new abode of your local Blackwater vet. (Of course it might be a pot dealer but that's a much riskier business from what I hear.)
Back when he dropped out of high school he never realized that being dumb, pumped and crazy was the way to riches, but I bet his guidance counselor is ready to admit defeat, now that all the engineers and lawyers are begging on the street and little Johnny who liked to shoot songbirds and torture cats comes back from Iraq with enough loot to buy and sell them all.
So OK, these are not saints. But it's still ridiculous to charge them with manslaughter, especially since the State Department bureaucrats they were paid to protect are on record telling their Blackwater bodyguards that they had total immunity for anything they did in Iraq. That's just plain dangerous, telling this kind of guy that kind of thing. I can think of about two-thirds of my high-school PE class who'd kill for fun if they knew they could get away with it. I wouldn't but that's only because it's not sporting, like the Brits used to say. I've got standards, see. Most of those feral little fuckers would pay you for a chance like the Blackwater guys had.
And that claim that they used a machinegun to commit their crimes—that's insane! That's a statute the feds passed in one of their little fits of screaming about gangsters taking over, and now they're using it to try guys who were using standard military automatic weapons in the middle of a war zone. The feds are famous for using laws like RICO to get people they were never intended to get. I have a friend of a friend who imported guns for a living; suddenly he was volunteering to teach literacy to gigantic thugs in a federal pen in Kentucky because he didn't have his licensing forms all filled in right.
There's no good guys here. Blackwater's incompetent and mean and stupid—quick, how many of these guys speak Arabic?—but they were doing what they were supposed to do, what these cowardly State suits begged them to do: keep them safe by blowing up any Iraqi who even coughed in the vicinity. Did you know State had to shanghai an entire graduating class of their foreign service academy for Iraq? I love that bit: the prissy bastards thought they were training to sip cocktails, trade quips and get sarcosy with Mrs. Sarkozy, and they find themselves in highspeed convoys hunkered down with buzzcut killers who look like Robert E. Lee's finest, give or take a hundred pounds of artificial beef. Too bad none of them bought the farm that day.
Well, it won't be too bad for these five Blackwater guys in stir, if they ever go at all. I'm betting they won't, but if they do, they're ready: lots of pumping iron, the gummint feeds you, and you kill the rest of the day sleeping or swapping bullshit kill stories. The only difference is—oh, about $160,000 a year, minimum.
Gary Brecher is the author of the War Nerd. Send your comments to brecher@exiledonline.com.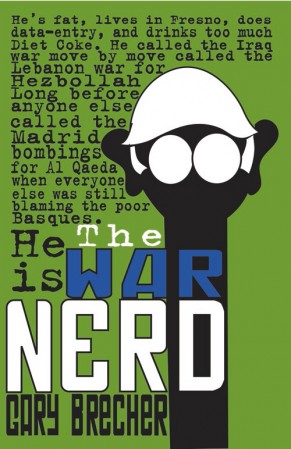 Click the cover, buy the book!
Read more:, Gary Brecher, The War Nerd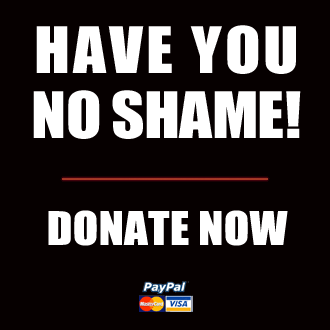 Got something to say to us? Then send us a letter.
Want us to stick around? Donate to The eXiled.
Twitter twerps can follow us at twitter.com/exiledonline