By Alexander Zaitchik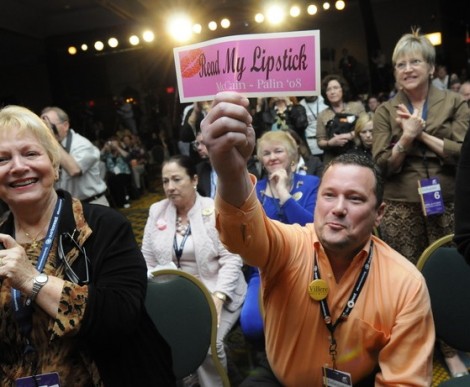 Story first published on AlterNet
Anyone interested in taking the pulse of the GOP base in 2010 has a few options. They can watch Fox News at any hour of any day. They can trot down to their local Tea Party, where the overwhelming majority of participants vote, and have always voted, Republican. They can visit the various official party Web sites, where the leadership has crafted a message to resonate with the angry anti-government mood that defines today's conservative grassroots.
But while all of those political thermometers are fine as far as they go, there's really no substitute for hanging out at the New Orleans' Riverside Hilton bar during the Southern Republican Leadership Conference. Only there can you relax in comfort and enjoy a Caesar salad while being lectured to by the president of the Louisiana Women's Republican Club on why the idea of a secular American republic is "a lie sent directly from the flaming pits of Hell," and why secular Jews (like this reporter) must accept the Word of God before the coming Final Battle, after which it will be too late.
Yes, you can experience that and much more at the annual SRLC, which concluded on Sunday with a "Pink Tea" event for Republican women. By now, the newspapers and blogs have relayed the major news items from this year's gathering in New Orleans. The conference, part midterm pep rally, part starting-gun for 2012 jockeying, was marked by a predictable mixture of bombast and contrition.
Liz Cheney tore into what she sees as Barack Obama's foreign policy of appeasement, apology and abandonment. Newt Gingrich railed against the Democrats' "secular socialist machine," pausing only long enough to offer an Orwellian 2010 GOP slogan of "2+2=4." Rick Santorum apologized for endorsing Arlen Specter in 2004. Michael Steele apologized for everything. The conference featured about 25 teleprompter jokes, plus one gay joke (see below). It concluded with a meaningless straw poll that saw the absent Mitt Romney triumph by a single vote. One after another, speakers preached a message of conservative unity and focus in the run-up to November.
If all that sounds like more fun than a French Quarter whorehouse, here are five other memorable SRLC moments you can kick yourself for missing.
Newt Gingrich playing tough guy to 'Eye of the Tiger'
In a perfect world, politicians would have their own entrance songs on debate nights. But blasting your pump-up music before a set piece of shadow boxing? For that, only one song really works, and that's the one song associated with the most famous training-scene montage in film history. Yet even that might be hard to pull off if your name is Newt Gingrich. On the opening night of the conference, following a 30-minute speed bag display by Liz Cheney, the portly Gingrich attempted to play the role of Rocky Balboa for an excruciating two minutes.
To raucous applause, the former House speaker and presidential hopeful appeared through a ground level entrance just as stage speakers spat out Survivor's famous power-chords. This brought the crowd of 3,500 southern Republicans immediately to its feet, each one trying to catch of view of Gingrich as he worked his way, eyes ahead and without irony, through the crowd.
Gingrich might want to review his Rocky films. "Eye of the Tiger" appeared in Rocky III, in which Balboa is not the underdog challenger, but the 10-time defending world champion. Using the Rocky III template, Rocky is Obama, who is in possession of the championship belt known as the White House. Gingrich is not only without a belt, he is fat and retired, busy making direct-to-DVD Bircher-circuit documentaries about Christ and Country.
Only one aspect of Rocky III matches up well with reality: Gingrich appears to see Obama much as Balboa saw Mr. T's Clubber Lang. The speech Gingrich delivered in New Orleans painted the president as a wrecking-ball crazy black guy, the "most radical" president of his lifetime, driving a "secular, socialist machine" that must be stopped. But it is Obama, not Gingrich, who has been looking and sounding more like Rocky of late. Since health care passed, Obama has even taken to borrowing some memorable dialogue from Rocky III. Before the big fight, Lang tells the champ, "I'm going to bust you up." To which Rocky responds, "Go for it."
Sarah Palin just put a salt-dried piece of Bambi on my chair
On Saturday afternoon, day two of the conference, delegates entered the main hall to find sitting on their seats a genuine "Alaskan snack." Stamped with the logo of SarahPAC, Sarah Palin's fundraising arm, was a plastic strip topped with red ribbon containing eight ounces of authentic Alaskan jerky, made from "Reindeer Meat, Chopped and Formed."
It's one thing to hear Palin talk about the joys of shooting wolves from helicopters, or joke about how her family loves all kinds of animals — "right next to the mashed potatoes." It's something else to watch thousands of her fans munching on dried deer meat she had shipped across the continent from Indian Valley, Alaska. After taking the podium, Palin quickly brought up her love of Alaskan wildlife, which is not just a biographical detail, but the subject of her new Discovery Channel nature show. This love of nature has limits, however, as symbolized by the machine-made jerky. Palin explained to cheers that if "Drill, baby, drill" means "drilling through some caribou" in the Arctic Refuge, so be it. "We're at war!" she exclaimed. "As for some of the birds, they may have to take one for the team!"
Romney, it should be mentioned, was also competitive in the "Creepiest Gift" category: his supporters spent the weekend handing out little pink piggy banks branded "Evangelicals for Mitt."
Borderline pornographic descriptions of an elderly Ronald Reagan — including his burial
With each passing year, Republicans' hero worship of Ronald Reagan grows in inverse proportion to their understanding of his actual record. When Reagan left office in 1988, he was in the conservative doghouse; in 2010, he is a conservative godhead. This transformation was on particularly fascinating display at the SRLC, where speaker after speaker slobbered over the Gipper's legacy in one breath, and in the next attacked Barack Obama for embodying that same legacy.
The GOP's ignorant Reagan fetish hit one of its freakiest peaks during a talk by Louisiana Representative Rodney Alexander, who grew misty reminiscing about the details of Reagan's funeral. He reviewed everything he could remember from that historic day, from the swelling he felt in his chest to the way the light of the setting sun played off the dead man's casket. The more Alexander went on, the more likely it seemed he might close with the hope that Reagan would claw his way out of his grave and rescue the country, much as he does in the Onion's zombie Reagan video. None of the speakers seemed to understand that if Reagan somehow managed to rejoin the living, the first thing he'd do is applaud Obama's new arms control treaty with the Russians.
Hard-charging homophobe Tony Perkins tells a gay joke
The modern Republican Party has been described as the nation's largest walk-in closet. If so, then the Family Research Council is the hiding space for the dildos and cock rings. The FRC — which once embraced Ted Haggard as a role model, and whose senior officials are on record calling for the criminalization of gay sex — spends more time thinking about the subject than any other organization this side of NAMBLA. And so it was no surprise that FRC president Tony Perkins carried the anti-gay banner in New Orleans, where male speaker after male speaker went out of their way to stress how long they've been married to their wives, and talk up how many children they have, each of them the product of heterosexual sex with those very same wives.
After explaining that he had just had a fifth (and no doubt extremely heterosexual) child, conceived in an act of heterosexual sex, Perkins told a military-themed gay joke that had the conference in stitches (but which did not make its way into the official transcript of Perkins' speech as sent out by the FRC flack). Perkins had recently been speaking by phone with one of his old Marine buddies, who, along with totally not being gay, is about to retire after decades of service to his country. When Perkins asked his friend why he was hanging up the uniform, the friend replied, "When I joined, homosexuality was illegal. When I reenlisted, it was optional. I want to get out now — before it's mandatory!"
The SRLC erupted at the punch line. It's unknown how many of the participants lingered on the fact that they, who claim to be at the least "risk" of gay behavior, are the ones most terrified of being around gays. As Perkins proved, they also tend to be the ones most likely to tell jokes about Marines forced to bend over for their stern, patriotic, and lean yet muscled superiors.
The ghosts of Richard Nixon and Lee Atwater screaming 'Who dat!'
The Republican gathering in New Orleans was loaded with meaning, and not just because the Superdome was just around the corner. The SRLC has been held in the city only twice before. The first time was the SRLC's 1969 inaugural meeting, which celebrated the electoral success of Richard Nixon's Southern Strategy (whose media component was orchestrated by a young Roger Ailes). Two decades later, the SRLC returned to New Orleans fresh off the success of Ailes' most accomplished protege, Lee Atwater. The Republican campaign of 1988 was so brazen in its use of racist code language and imagery that even Atwater, while dying of cancer, basically admitted he was a scumbag and recanted his life's work.
But much like Reagan's arms control accomplishments, Atwater's deathbed apology was forgotten at this year's SRLC. In her speech on Friday night, Mary Matalin took time out of her extremely long and bizarrely worshipful build-up for Liz Cheney ("My beautiful, patriotic, hero, daughter of Darth!") to call Atwater "a late great son of the South." Perhaps it did not occur to Matalin that it is precisely because of great sons of the South like Atwater that the SRLC had more black speakers than black delegates. Each time one of these speakers took the podium, the room looked like the negative print of a GOP candidate addressing the NAACP.
The effect of this racial imbalance was only heightened during the dozen of occasions that the room exploded in catch-phrase praise of the New Orleans Saints' Super Bowl victory. If one thing can make you forget about 3,500 Republicans chomping reindeer jerky, it's Sarah Palin screaming "Who dat!"
***
Alexander Zaitchik is a Brooklyn-based freelance journalist and former editor of The eXile. His book, Common Nonsense: Glenn Beck and the Triumph of Ignorance, will be published by Wiley in June. Pre-order it today!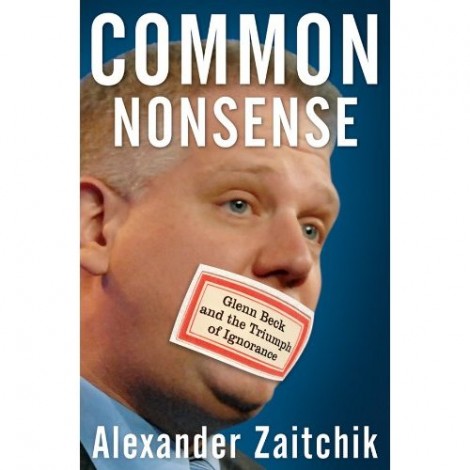 Read more: Closetcase Homophobes, Dispatch, Ebonics, Gay Jokes, Memorable Moments, newt Gingrich, Palin, Racist Hicks, Southern Republican Leadership Conference, Alexander Zaitchik, Dispatch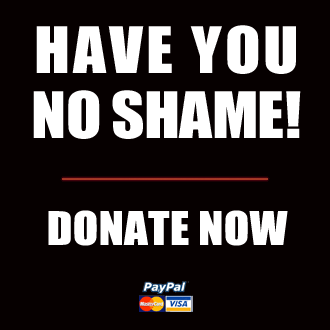 Got something to say to us? Then send us a letter.
Want us to stick around? Donate to The eXiled.
Twitter twerps can follow us at twitter.com/exiledonline